Yes, we Accept: PAYPAL
& SQUARE
We are always interested in purchasing, whether you have a single item or an entire collection for sale.
© 2020 Mt. Gothic Tomes and Reliquary, LLC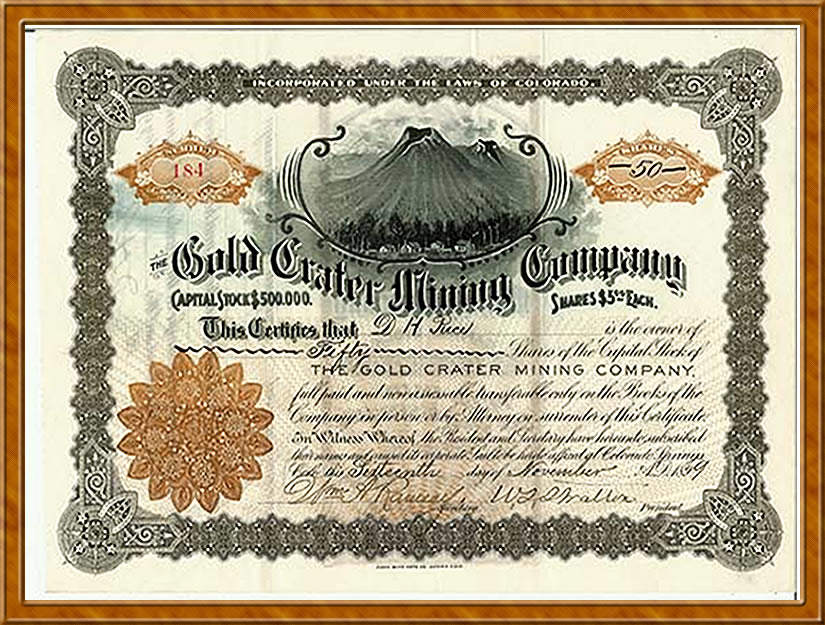 COLORADO CATALOG
Page 2
September 2015
11

JIMTOWN, CREEDE MINING DISTRICT, AFTER FIRE, 1892

Cabinet card photograph taken by E. F. Hilton and mounted on Hilton's Alamosa, Colorado studio card. Compared with the Hilton photograph of the same year (Item # 2) Jimtown appears to have been almost totally consumed by the June 5, 1892 fire. As was usual with Colorado mining camps, after suffering a devastating conflagration the camp was rebuilt in brick and stone. Photograph dimensions: 7-1/2 inches by 4-1/2 inches. Some water-staining in upper right-hand area (mostly in monotone sky); otherwise very strong tones and contrasts. One small hole punched in each corner of the mount.
12

PUEBLO: ITS ADVANTAGES AND RESOURCES, 1888

A Descriptive Pamphlet of the City of Pueblo, Colorado by C. L. Stonaker. C. J. Kelly, Printer, Denver. Original printed wrappers; 65 pages; illustrated with pen and ink drawings. Threaded binding. Oblong publication. Dimensions: 9-1/4 inches by 6 inches. Pueblo Board of Trade Association, circa 1889. Includes "List of Members of the Pueblo Board of Trade Association." Also, a one-page "Business Directory of Prominent Firms." Contents include: Description of city; manufactures; smelters; Pueblo as an ore market; Colorado Coal and Iron Company; railroad interests; retail trade; architecture and building; banking; Pueblo land office; post office facilities; municipal affairs and city improvements; churches; climate and health; social life; schools; and real estate. Numerous pen-and-ink drawings of Pueblo scenes (possibly by Pikes Peak Region artist, Thomas C. Parrish): Colorado Coal & Iron Co.; Pueblo Smelting & Refining Co.; Philadelphia Smelting & Refining Co.; Colorado Smelting Co.; Tenth Avenue residential scene; Union Avenue from the Viaduct; The Grande Hotel; Abiendo Avenue; Pueblo Opera House; Colorado Insane Asylum; Loretto Academy; C. C. & I Hospital; and more. Publication condition: very good plus; covers very lighly dusted; one small chip on lower edge of back cover; internal pages clean and bright. Two OCLC listings. Wynar 1356.
13

A DESCRIPTIVE HISTORY OF EAGLE COUNTY, COLORADO, 1899

Relating to Mining, Agriculture, Stock and Scenery. Red Cliff, Colorado, September 1899. Preface by William McCabe. Original printed tan wrappers; 64 pages; illustrated with photographs. One-page of local advertisements. Publication dimensions: 5-1/2 inches by 7-3/4 inches. Condition: very good plus; some light conservation. Contents include: History of Eagle County; Irrigation; Stock Raising; Other industries; Condition of County; Assessed valuation; Scenery and Climate; Mining; Mines and Placers; Ores and metals; Society; Schools; Hunting and fishing; Our Cities: Red Cliff, Gilman, Minturn, Wolcott, McCoy, Eagle, Fulford, Gypsum, and Basalt. OCLC lists 4 original copies. Wynar 908.
14

DEATH OF "BOB" FORD, Creede. Colorado 1892

Original cabinet card photograph, #109, "Removing the body," attributed to photographer Charles H. Goodman. On June 5, 1892, a fire destroyed a good portion of the Creede mining camp. Undeterred, owners returned went back into business within days, including Bob Ford with his saloon and dance hall. At 3:50 p.m. on June 8, 1892, Joe Duval gave Edward O'Kelly a shotgun outside Ford's establishment. Ford was in the process of raising funds to bury one of his dance hall girls, Nellie Russell, who had taken a morphine overdose. O'Kelly followed Ford to the back of the tent saloon, and as Ford turned around O'Kelly fired both barrels into Ford's face from a distance of five feet. O'Kelly was immediately arrested by Deputy Sheriff Plunket of Rio Grande County, Colorado. Ford was buried on June 11, 1892. Cabinet card image dimensions: 7-3/4 inches by 4-3/4 inches. Condition: very good; hole-punch near each corner; light damp-staining near edges; good tones and contrasts.
15

TUBERCULOSIS HOSPITAL AND SANATORIUM CONSTRUCTION, 1911

Publication written for The National Association for the Study and Prevention of Tuberculosis by Thomas Spees Carrington, M.D. New York, 1911. Original printed gray wrappers; 164 pages; illustrated with photographs and architectural plans. Publication condition: very good; some wear to covers; conservation reinforced square-bound spine. Enamel-coated pages; clean and bright.
16

GREEN MOUNTAIN FALLS, COLORADO, circa 1915