Yes, we Accept: PAYPAL
& SQUARE
We are always interested in purchasing, whether you have a single item or an entire collection for sale.
© 2020 Mt. Gothic Tomes and Reliquary, LLC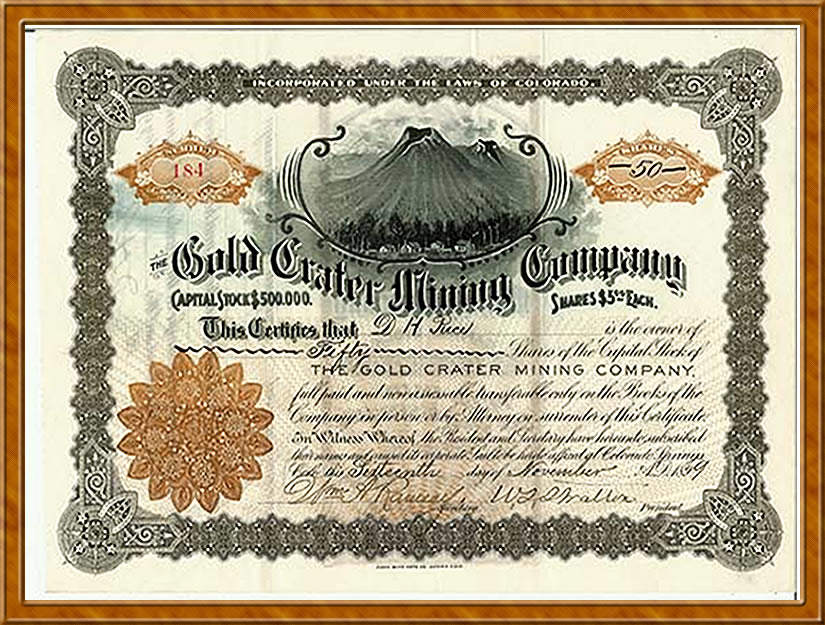 COLORADO CATALOG
Page 4
September 2015
31

CONSTITUTION OF THE COLORADO ASSOCIATION OF PHYSICIANS AND SURGEONS, 1897

Original printed wrappers; 16 pages; no illustrations. Pamphlet dimensions: 3-3/4 inches by 5-1/4 inches. Calhoun & Holmes, Printers, Denver. "For Circulation among members only." Very good plus condition. List of original members.
32

THE 1915 GRAND COUNCIL: A Greeting, Knights Templar

Pamphlet: original illustrated wrappers; 31 pages; illustrated. Front cover illustrated by Clarence Ellsworth, 1885 – 1961. The Colorado Publicity League, Publisher. Smith-Brooks Litho., Denver. Introductory poem by Walter Juan Davis. Preface: To the Knights Templar of America. Articles: Indian of the Past; The Indian of the Present; The Plan of the Grande Council. Interior illustrations by Helen Dowe. Near fine condition. Pamphlet dimensions: 5 inches by 7 inches.

33

THE PRUDENTIAL MINING, TUNNELING AND TRANSPORTATION COMPANY, Georgetown, Colorado 1902

Mining Prospectus: original blue and white printed stiff wrappers; string-tied binding; 24 enamel-coated pages, plus fold-out map of Company's mining claims. Illustrated with photographs. John J. White, President. Will C. Hood, Secretary and General Manager. Engraved and printed by The United States Colortype Company, Denver, Colorado. Near fine condition. Dimensions: 10 inches by 8 inches. Eight George Dagleish full-page, highly detailed photographs. Nineteen recorded mining claims on Republican Mountain west of Georgetown, Clear Creek County, Colorado. Prudential Tunnel was projected to be driven 6,000 feet through the consolidated mining properties.
34

BLUE BOOK OF SOUTHERN COLORADO AND TOURIST GUIDE, 1936

Pamphlet compiled by A. M. Dupree. Original printed gray covers; 40 pages; illustrated. Printed by the Huerfano County News, Walsenburg, Colo., 1936. Dimensions: 6-1/8 inches by 8-7/8 inches. "Spend your vacation in the wonderland of Southern Colorado, the Land of Huajatolla, where the clouds are born that brings the summer rain." Promotional with regional advertisements. One-page map of area, compliments of the Boosters' Club, Aguilar, Colorado. Pronunciation of Indian, Spanish Names. Details on Walsenburg, Huerfano Park, Hacienda del Monte, La Veta, Aguilar, Rye, La Jara, Antonito, Del Norte, and Trinidad. Business directory and scenic drives. Near fine condition.
35

ADOLPH COORS GOLDEN BREWERY LITHOGRAPH, 1900

ADOLPH COORS GOLDEN BREWERY, GOLDEN, COLO., printed by The Denver Litho Company, 1900. Original lithograph, frame, glass, and brass plate. Lithograph dimensions: 40-1/2 inches by 28 inches. Frame dimensions: 47-1/2 inches by 35 inches. Printed by The Denver Litho. Company, 1900. Original lithograph, frame, glass, and brass plate. Period emblem on back with "Framed by Wm. Roberts, 611 - 15th Street, Denver, Colorado." Condition: near fine; vibrant colors. No tears or noticeable flaws. Original 1900 glass with some waves and thin bubbles. Original oak frame in near fine condition, gold-painted interior rim, with original brass plate embossed, "Adolph Coors Company 1900." In 1900, the Coors Golden Brewery produced 275,549 barrels of beer, an increase of approximately 40% over 1899. Colorado's population was close to 540,000. This lithograph was printed as a celebration of the Coors Company's expansion since 1873; and given to Coors outlets that sold an exceptional amount of product.
36

CAVALRY COMPANY, COLORADO STATE MILITIA, BEAVER PARK, CRIPPLE CREEK DISTRICT, 1894

Cabinet card photograph by Horace S. Poley, Colorado Springs, Colorado, 1894. Albumen image of the Cavalry Company near Gillette, Beaver Park, in the Cripple Creek Gold Mining District. This Company was preparing to move deeper into the District, closer to Victor and Altman, the heart of the Western Federation of Miners strongholds. Deep tones and strong contrasts. Condition: very good plus to near fine. Image dimensions: 7-1/2 inches by 4-1/2 inches. Horace Poley's emblem on back of mount.
37

ANNUAL REPORT OF THE COLORADO SPRINGS AND CRIPPLE CREEK DISTRICT RAILWAY COMPANY, 1908

To the Interstate Commerce Commission of the United States for the Year Ending June 30, 1908. Annual Report Form B – Small Roads. Printed boards with black cloth binding; 125 pages. "This Form for Annual Report should be filled out and returned to the Interstate Commerce Commission, Division of Statistics and Accounts, Washington, D. C., by September 30, 1908." This was a copy on an original Report Form B retained by the CS & CC District Railway Company. Highly detailed report that includes, but is not limited to, the following sections: Organization; Largest Holders of Voting Securities; Officers; Transportation Corporations Controlled by Respondent; Road Operated; Capital Stock; Funded Debt; Recapitulation of Funded Debt; Security for Funded Debt; Expenditures for Road; Expenditures for Equipment, General Expenditures and Recapitulation; Income Account; Profit and Loss Account; Operating Revenues; Operating Expenses; Separately Operated Properties; etc. Form dimensions: 9-1/4 inches by 11-1/2 inches. Very good plus condition; tight binding; clean and bright pages. Hand-written document.
38

SOUVENIR OF THE NORTH FORK VALLEY, COLORADO, circa 1906