Yes, we Accept: PAYPAL
& SQUARE
We are always interested in purchasing, whether you have a single item or an entire collection for sale.
© 2020 Mt. Gothic Tomes and Reliquary, LLC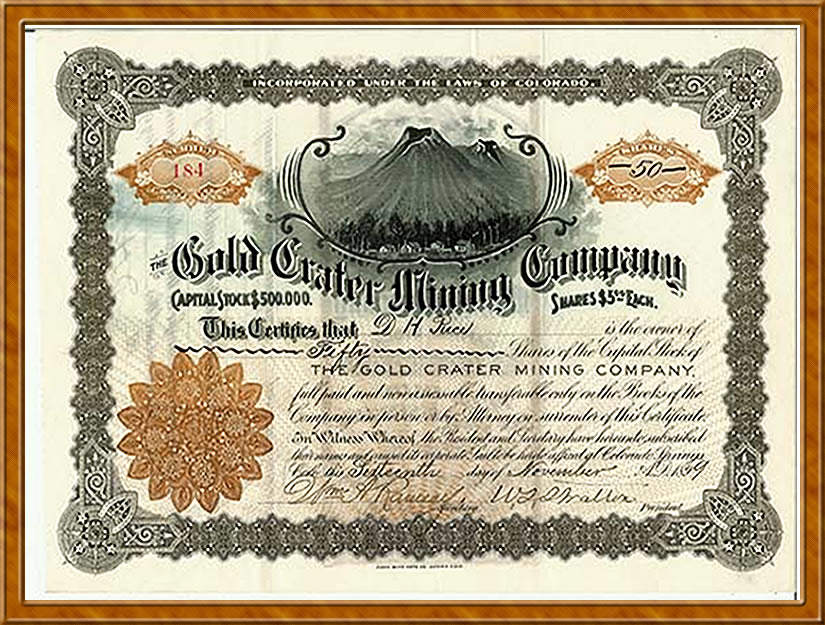 COLORADO CATALOG
Page 5
September 2015
41

RAPID TRANSIT RAILWAY: Pueblo and Beulah Valleys, Colorado, 1903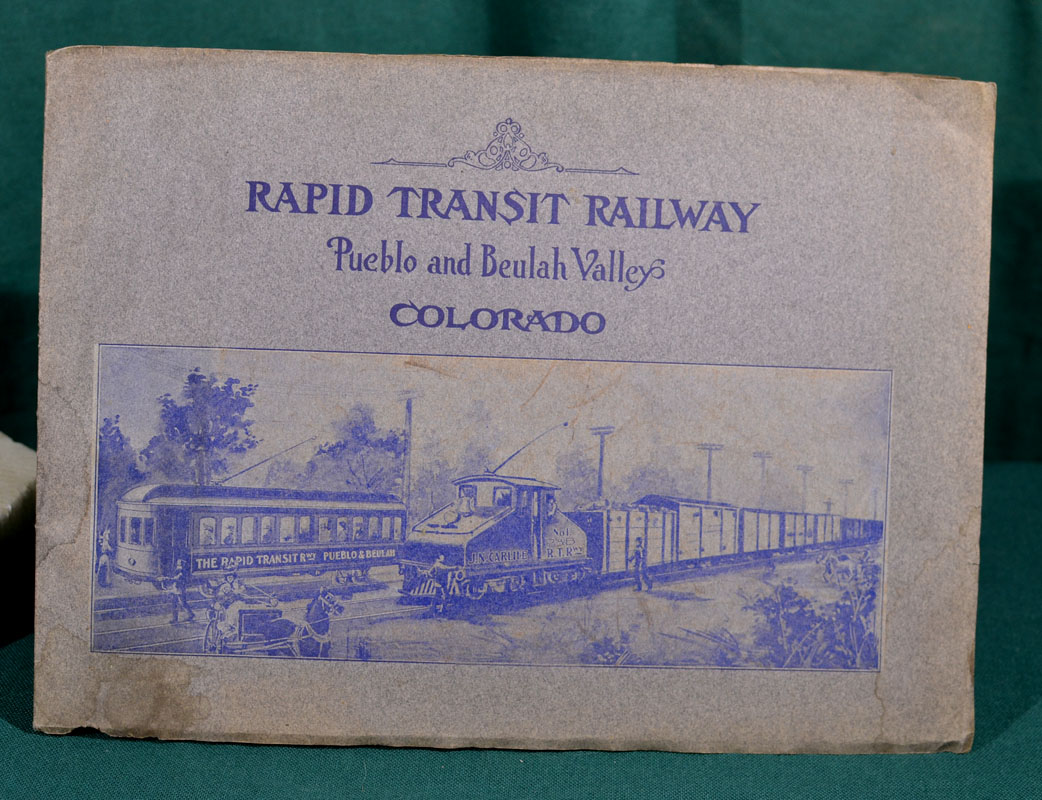 Pamphlet: F. G. H. Manns Co., Engravery & Printery, Cincinnati, Ohio. Original illustrated gray wrappers; 42 pages, plus 20 printed descriptive tissue pages between each enamel-coated page; fold-out panorama tipped on frontispiece. Illustrated with numerous photographs of businesses, buildings and scenery in the Pueblo and Beulah Valleys. George Peck, Fiscal Agent. Very good plus condition; some light damp-staining to lower right-hand corner of several front pages. Descriptive of the Company's organization, franchise and right-of-way, plans and purposes, mineral resources, etc. Excellent production. One OCLC listing; no Wynar listings.

42

SOUVENIR OF TRINIDAD, COLORADO Photo-Gravures, circa 1900

Pamphlet: original illustrated tan wrappers; tied-string binding. Dimensions: 7-3/8 inches by 5-1/2 inches. The Albertype Company, Brooklyn, New York. Fourteen pages: 1 page is a 3-panel fold-out of Trinidad; another page is a two-panel fold-out of the A.T.&S.F. Railway Depot and the Cardenas Hotel. Condition: very good plus. No listings.
43

OFFICIAL SOUVENIR PROGRAM, SECOND ANNUAL DENVER HORSE SHOW, 1901
Pamphlet: G. A. Wahlgreen, Publisher, Denver and New York, 1901. George Ford Morris, artist. App Engraving Company, Denver. C. E. Stubbs, President. Location: D.A.C. Park. September 3 – 6, 1901. Pamphlet dimensions: 10-1/4 inches by 6-7/8 inches. Original illustrated covers; tie-string binding; 48 pages. Numerous illustrations: photographs and engravings. Regional advertisements. Elaborate program. Condition: very good plus to near fine. No OCLC or Wynar listings.
44

PALMER LAKE AND ENVIRONMENTS: The Wonderland of the West, 1894

Pamphlet: "A Realm of Grandeur and Beauty. An Unrivalled Health and Pleasure Resort. A Rich Agricultural and Grazing Country. A Promising Mining Camp. A Country of Many Diversified Resources. A Land Which Offers Homes. Health and Happiness to Rich and Poor." Published by the Town of Palmer Lake. Compiled by E. Chapin Gard, 1894, first edition. Original illustrated yellow wrappers; 38 pages, plus 10 pages of local advertisements. Introductory by Dr. W. Finley Thompson. One OCLC listing. Wynar 920. Second edition, was printed in 1895.
45

THE PIKES PEAK REGION, PHOTOGRAPHS BY LAURA GILPIN, 1926

Publication: "Reproductions from a Series of Photography by Laura Gilpin. The Gilpin Publishing Company, Colorado Springs, Colorado. Cover design by Dean Babcock. Halftone plates by The Beck Engraving Co., New York City. Printing by the Dentan Printing Co., Colorado Springs, Colorado, 1926. Original illustrated blue wrappers; 16 pages, with tissue paper bound-in between each page. Publication dimensions: 8-1/8 inches by 11-1/8 inches. Gilpin photographs include: A Panorama of Broadmoor and Colorado Springs; Colorado Springs at the Foot of Pikes Peak; Spirit of the Prairie; Enchanting World of Timberline; Massive Gateway, Garden of the Gods; Moonlit Temple, Garden of the Gods; Final Dash of Seven Falls, Cheyenne Canon; Leisure Hours in Monument Valley Park; Tunnel Vista, Corley Mountain Highway; Mysterious Cave of the Winds; Cameron's Cone, Guardian of Crystal Park; Manitou from the Top of Williams Canon; Pike's Peak, The Snow Capped Sentinel; Glen Cove, Pike's Peak Motor Highway; and, Majestic Pike's Peak from Woodland Park. Covers condition; very good with damp-staining. Interior pages condition: enamel-coated paper very good plus to near fine. 8 OCLC listings. Wynar 2413.
46

"REMINISCING": An Account of Early Days in Glenwood Springs, Colorado, by Virginia Crowner, 1948

Pamphlet: Approved by the Glenwood Springs Chamber of Commerce. Author-published. Original printed light-tan covers; 31 pages; no illustrations. Near fine condition. Dimensions: 5-1/4 inches by 7-3/4 inches. History of Glenwood Springs, 1879 – 1947. 3 OCLC listings. No Wynar listing.
47

ABOUT THE LINE OF THE GILPIN AND CLEAR CREEK DISTRICT RAILWAY, December 1904

Pamphlet: original maroon-printed tan wrappers; 29 pages; fold-out map in back; string-tied binding. The Hall Construction Company: Denver, Colorado, 1904. No illustrations other than fold-out map. Index: Letter – D.H. Moffat, President of the Denver, Northwestern & Pacific Railway; Something About Gilpin County; Recent Mineral Production; Southern Gilpin County; Northern Gilpin County; The Obvious Future of Gilpin County; Gilpin County Miners; Veins, Continuity Laterally; Continuity Vertically; The Present Mining Situation in Gilpin County; Metallurgy of Gilpin County; More Mills Needed, Capacity Inadequate; Existing Railroad Facilities; the Gilpin & Clear Creek District Railway & Branches; New Mills on the Gilpin & Clear Creek District Railway; Tourist and Summer Resort Resources; What the G.&C.C.D. Ry. Will Do for Gilpin County; Coal; What Gilpin Will do for the G.&C.C.D. Ry.; Gilpin County as a Whole; Our Engineer; Engineer's Report; Grades and Curvature; Letter – R.L. Martin; Letter – John C. McShane; and, Endorsement of Prominent People. Fold-out map: "Map of the Gilpin and Clear Creek District Railway, connecting with the Moffat Short Line at Pactolus and running through the Mining Districts of Gilpin County to Central City with Terminals to Blackhawk, Nevadaville and Russell Gulch." Map dimensions: 18 inches by 12 inches. Very good plus condition. Plus postcard, "On the Line of the New Central City Railroad to Moffat Line" and 4-page fold-over Prospectus of The Gilpin and Clear Creek District Railway Company, The Hall Construction Company, vendors with Engineer's Report by H. R. Carpenter, C.E. 1 OCLC listing. Wynar 2261.