Yes, we Accept: PAYPAL
& SQUARE
We are always interested in purchasing, whether you have a single item or an entire collection for sale.
© 2020 Mt. Gothic Tomes and Reliquary, LLC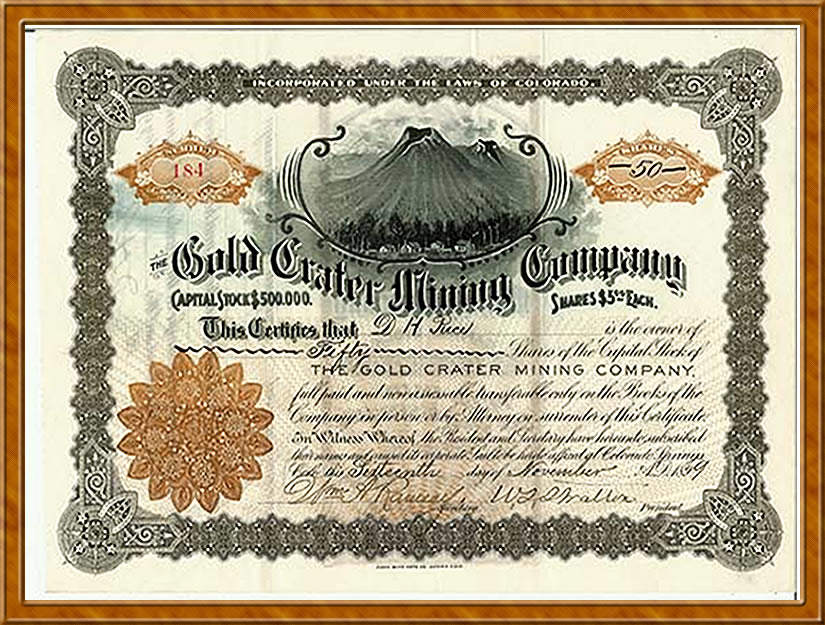 COLORADO CATALOG
Page 7
September 2015
62

THE SAN CRISTOBAL QUARTERLY, March 1901

Publication issued quarterly. Lake City, Colorado. Volume 1, Number 1. C. C. Wright, Publisher. Original illustrated tan wrappers; 24 pages; illustrated. Contents: "Opportunities for Investment of Capital in Hinsdale County," Golden Fleece Mill, Hidden Treasure Mill, San Cristobal Mill; Park Mining District by H. E. Wright; Carson Mining District by R. L. Ray; The Duel by William P. Harbottle; The Deadly Slide – Riverside Slide between Ironton and Ouray; The Black Hermit of Henson Creek – The Story of W. H. Brewster; The Story of the Peak by Phil K. Stephens; plus advertisements. Publication dimensions: 5-3/4 inches by 8-1/2 inches. Condition: very good. No OCLC or Wynar listings.
63

BOULDER, COLORADO FLOOD, May 31, 1894. Glass-plates negatives by Biles Studio
On September 14, 1892, the Boulder County Herald printed an article stating that C. W. Biles had purchased the photographic gallery of Lawrence P. Bass. Less than two years later, Biles was in the position to photograph one of Boulder County's most devastating floods. The winter of 1894 had seen an exceptionally heavy snowfall. The spring that followed was warm and laden with rainfall. Rapid flooding spread throughout Boulder County beginning early on May 31st. Nearly all of Boulder's major rivers and tributaries were inundated with deep run-off. Soon, the City of Boulder was under water. Bridges and railroads on Fourth through Seventeenth streets vanished; and then, the railroad depot was engulfed. Boulder County became an island. The fourteen C. W. Biles images in this lot dramatically illustrates the deluge Boulder County suffered in 1894. Each glass plate measures 8-1/2 inches by 6-1/2 inches; and the condition is almost the same as when Biles printed his photographs, with few scratches or flaking. Detail is excellent; contrasts strong. Superb images can be easily scanned from these negatives as exemplified here. An Epson Perfection V850 Pro was used to acquire these images off the Biles' glass-plate negatives.
64

GLASS-PLATE NEGATIVES OF TINY TOWN, COLORADO, circa 1920

Tiny Town, Colorado. Located in Turkey Creek Canon, near Morrison, Colorado. Seventeen original glass-plate negatives; unknown photographer. George Turner built this miniature town – 1/6th normal scale – for his daughter, starting in 1915. Initially, he christened the town Turnerville; however, by the time it opened for public viewing (1921) it was known as Tiny Town. Soon, George Turner's project for his daughter became a major Colorado tourist attraction.
All seventeen glass-plate negatives are in very good plus to near fine condition, with few scratches or little, if any, flaking. Using a scanner like the Epson V850, sharp and detailed images can be made.
65

SOUVENIR BOOKLET: Montrose County, Colorado, Where Apple Is King, 1905

Promotional publication: original black-printed, illustrated red wrappers; tie-string binding; 88 pages; profusely illustrated with photographs. Publication dimensions: 12 inches by 8-1/2 inches. Montrose, Colorado: The Press Book and Job Printing, 1905. For The Press Souvenir Booklet by Barton W. Marsh, Montrose. Contents: Bits of History of Montrose County; Irrigation by Ira H. Monell; Dairying Is Profitable by A. Shore; The Department of Cattle by T. W. Monell; Immense Coal Deposits by W. H. Fleming; Sugar Beets by C. H. Barnes; Olathe's Prospects; A Healthful Climate by A. Johnson, M.D.; Map showing approximate areas lying under the Uncompahgre Valley Reclamation Project; Horticultural Side; The Sheep Industry; Potatoes; Naturita and the San Miguel; Maher and the Muddy Country; Gunnison Tunnel; The Paradox Valley; La Sal Mining District, etc. Large section devoted to individual businesses and business people. Biographies of prominent personalities. Very good plus condition: covers chipped; interior coated pages generally clean and bright; several pages have been conserved near bottom edges; all information present.
66

THE GREAT GUNNISON COUNTRY, 1904

Promotional pamphlet: "Westward the Star of Empire Takes Its Way." Original maroon-printed light-green wrappers; 40 pages; illustrated with photographs. By E. R. Lore. Contents includes: Healthful Climate; Attractive Scenery; Wild Game; Our Rainbow Trout; Mining; Agriculture and Stockraising; Gunnison; Ohio City; Pitkin; Bowerman; County Enterprises: Midland Mine; Belzora-Bassick Mine; Augusta and Black Queen mines; Gold Cup Mine; Gunnison Valley Ice Company; First National Bank; Utah Fuel Company; Gold Link Tunnel; Sunlight Gold Mines; Cortland Mine; Continental Mine; Raymond Mine; Golden Islet Mine; Carbonate Camp; Colorado Fuel & Iron Company; West Gold Hill Company; Colorado Supply Company. Plus local advertisements. Pamphlet dimensions: 5-7/8 inches by 8-1/2 inches. Some conservation work on covers to repair tears. Interior pages bright and clean. 2 OCLC listings. No Wynar listing.
67

CANON OF THE RIO LAS ANIMAS, circa 1882
Cabinet card photograph: #3260. Canon of the Rio Las Animas by William Henry Jackson. W. H. Jackson Photo. Co., Denver, Colo. Railroad scene taken at Rock Point between Durango and Silverton, Colorado. Intriguing view of a Denver & Rio Grande narrow gauge engine, caboose, and flat car on cliff above the river. Image dimensions: 7-1/4 inches by 4-1/2 inches; image on an 8 inches by 5 inches mount. Strong contrasts and tones, light yellowing with minor soiling.
68

RIVERSIDE SNOW TUNNEL OURAY TOLL ROAD, circa 1891

Cabinet card photograph: G. W. Moore, photographer. Stagecoach before Riverside Snow Tunnel on the Ouray Toll Road, Colorado. Caption states, "Tunnel is 400 feet long and 40 feet high." Image shows several people on the stagecoach; another group of people, including two on horseback, is above tunnel. Image dimensions: 7 inches by 4-1/2 inches. Mount dimensions: 8 inches by 5 inches. Stamp on the back of mount is from W. D. Shank's Curiosity Store in Ouray. "Aug. 22 1891" is written on back. Photograph is in near fine condition. Mount has rounded corners and light damage to the lower left-hand corner.
69

JULIA SKOLAS, PHOTOGRAPHER, Cripple Creek, Colorado mines, 1907 - 1915

Julia Skolas, professional photographer, 1863 – 1934. Skolas was a pioneer female photographer in the American West. She moved to Colorado Springs in the late 1890s and opened a photography studio in 1899.

In 1906 – 07, Skolas moved to Cripple Creek and opened a photography studio at 419 – 421 Bennett Avenue. Her subject matter ranged from portraits to mines. In fact, Julia Skolas was one of the first noted female photographers to take her camera underground.
| | |
| --- | --- |
| | |
Group of nine photographic postcards by Julia Skolas; all dated 1907 – 1915. General condition: very good plus to near fine. Views include: 1) Trilby Mine, not mailed, light smudging in sky area; 2) Poverty Gulch with the Lillie Mine in the foreground, not mailed; 3) Isabella Mine with Midland Terminal railroad tracks in foreground, not mailed; 4) Southwest slope of Bull Hill, with Delmonico, Findley, and American Eagles mines, not mailed; 5) Delmonico Mine, not mailed [near fine condition with glue stains and tape residue on reverse]; 6) American Eagles Mine, not mailed; 7) Gold Dollar Mine, not mailed. 8) Gold King Mine, not mailed, near fine with minor surface scrapes in upper-right quadrant; 9) Rare interior view of three men working in a mine stope, handwritten note on back, minor edge wear in upper right area.
| | |
| --- | --- |
| | Group of nine different photographic Cripple Creek Gold Mining District postcards by Julia Skolas are being offered as one group. |
More web pages in this catalog: