Yes, we Accept: PAYPAL
& SQUARE
We are always interested in purchasing, whether you have a single item or an entire collection for sale.
© 2020 Mt. Gothic Tomes and Reliquary, LLC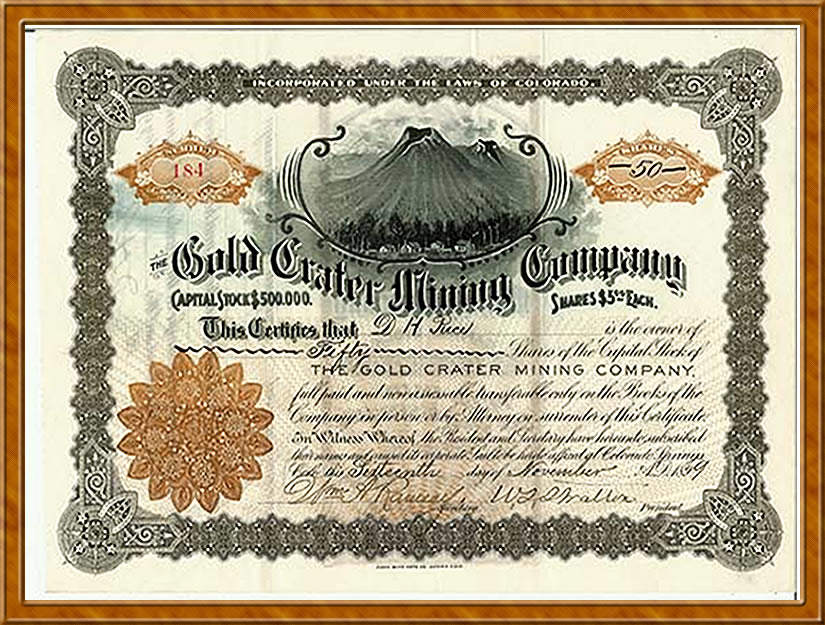 COLORADO CATALOG
Page 8
September 2015
70

WILLIAM HENRY JACKSON PANORAMA OF COLORADO SPRINGS, COLORADO, 1900

Panoramic Jackson photograph #010426, Colorado Springs. Triptych format published by Detroit Photographic Company. Three panels mounted on linen (in 1900), allowing image to be folded as if to fit into a "salesman's sample album." Panorama dimensions: 38-1/2 inches by 12-1/2 inches; actual image dimensions: 36 inches by 10 inches; dimensions of each panel: 12 inches by 10 inches. Each panel was developed on coated printing-out paper. Overall condition of panorama: very good plus; some light scratching in various tiny areas; a light discoloration on the top margin of the left-hand panel. Each panel has strong tones and contrasts; however, the middle panel appears to be a touch darker than the left and right.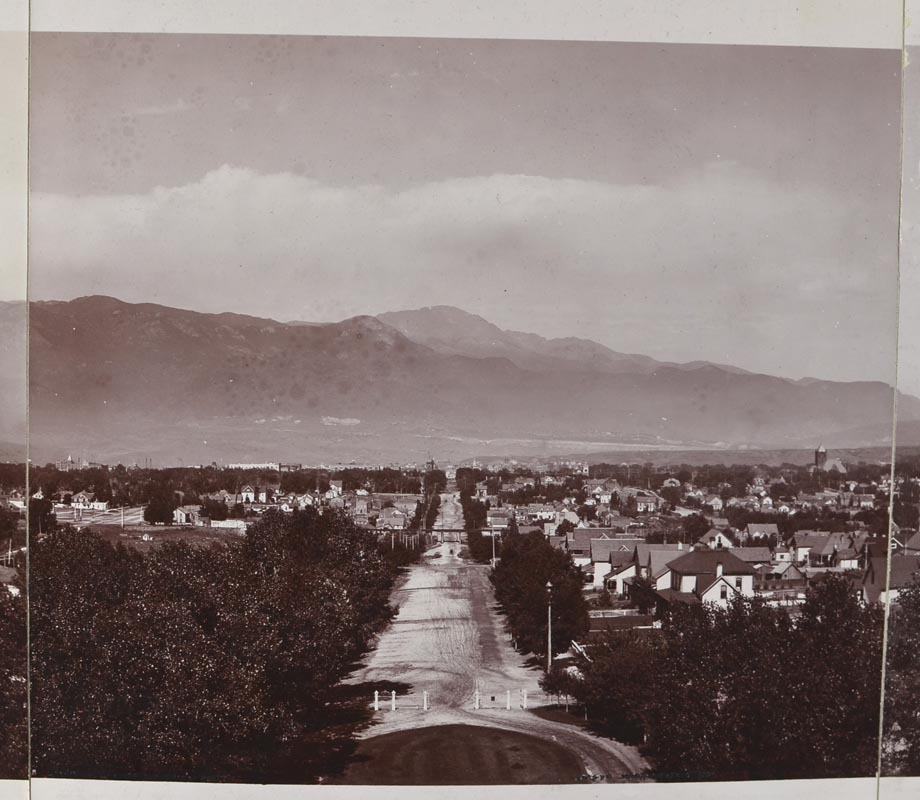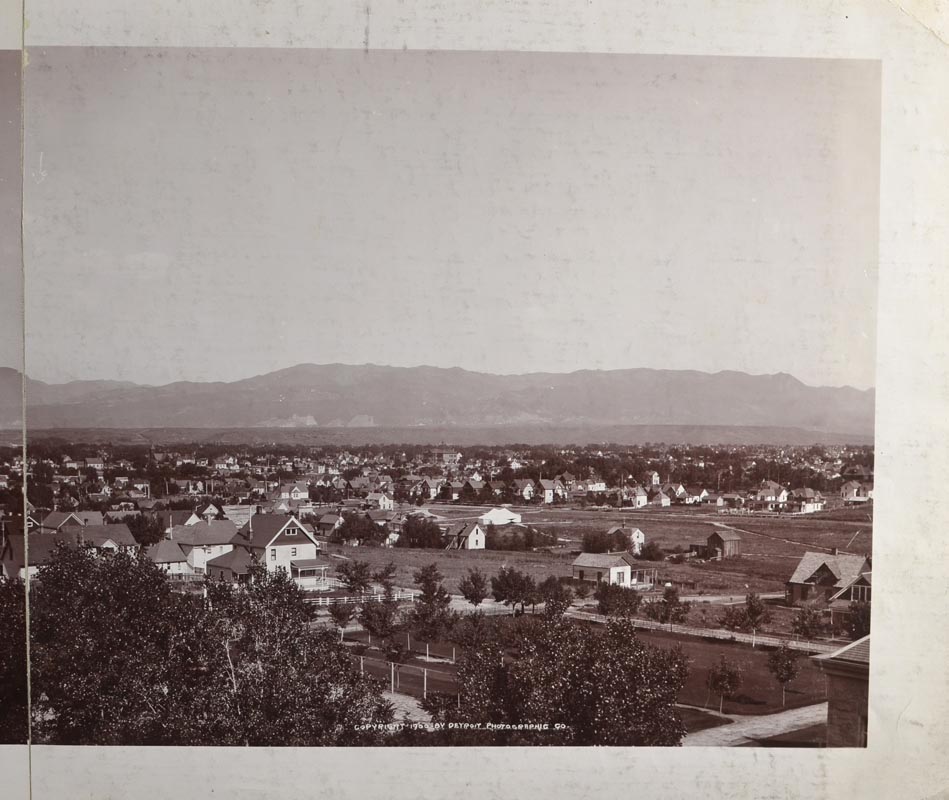 71

LUDLOW MASSACRE, COLORADO Photo-postcard group, 1914

Rare group of Ludlow Massacre photographic postcards showing scenes leading up to and after April 20, 1914.

On September 16, 1913, following earlier coal mine disasters in the Primero and Starkville mines, the conflict began. The United Mine Workers (UMW) presented a list of demands to coal mine owners that included enforcement of existing safety laws, an eight-hour work day, a ten percent pay increase, and union recognition. The demand for union recognition was particularly contentious and tensions escalated until a week later eight thousand miners walked away from their jobs. Mine owners, with the Colorado Fuel & Iron Company (CF&I) acting as spokesperson, attempted to reopen the mines with nonunion labor. The miners vehemently opposed this action and Colorado Governor (Elias Ammons) sent National Guard troops to the area. Ammons appointed General John Chase, a veteran of earlier Cripple Creek strikes, to lead the strike-breaking action. In response to the National Guard deployment, strikers abandoned the mines and formed nearby tent colonies, such as the one at Ludlow.

Between November 1913 and March 1914 nearly two hundred UMW members were harassed and detained General Chase's troops. Violence erupted on April 20, 1914, when a detachment of National Guard troops attacked the Ludlow Tent Colony and set it on fire. Catastrophically, two women and eleven children died of smoke inhalation in a cellar below one of the tents. This incident, called the Ludlow Massacre, triggered a civil war that lasted ten days. Over one thousand armed miners fought skirmishes with the National Guard and destroyed several mines. Eventually President Woodrow Wilson sent sixteen hundred federal troops to assist in quelling the violence.

See postcard scans for condition. 1) Colorado National Guard Camp at Trinidad; not mailed. 2) General Chase and Staff at Trinidad; mailed Sept. 2, 1914. 3) March to free Mother Jones from jail; not mailed. 4) Mounted National Guard troops breaking up the parade; mailed but no date on card. 5) Mounted guardsmen on sidewalk in front of the White Front Bar; not mailed. Handwritten note on back says "Soldiers taking two women to jail. Notice the soldiers on horses on the sidewalks clearing the streets. One of these women died in jail." 6) Camp Beshoar. UMW of A Military Headquarters. Trinidad, Colorado; not mailed. Armed miners in foreground. L. R. Dold photograph. Card has vertical creases. 7) Ludlow Tent Colony After Fire, showing the devastation caused by the fire. 8) Empire Mine Tipple After the Battle. L. R. Dold photograph. 9) McNally Mine, Walsenburg, Colorado. Shows damage from fire that erupted during a battle between the National Guard and strikers. Two diagonal creases.
72

FREMONT, CRIPPLE CREEK GOLD MINING DISTRICT, Summer 1891

Cabinet card photograph: Early Fremont, Cripple Creek Gold Mining District, Summer 1891. Photograph by Horace S. Poley, 713 N. Tejon Street, Colorado Springs, Colorado. Image dimensions: 6-1/2 inches by 4-1/4 inches; mount dimensions: 7 inches by 5 inches. Gilt around edges of mount. Albumen photograph with very good tones and detailed contrasts. Horace Poley's emblem printed on back of mount. Primitive and tent structures on George Carr's Broken Box Ranch, El Paso County, Colorado, before the rush to the area radically changed the landscape. Near the first gold mines discovered in Poverty Gulch in and around the area where Bob Womack staked out his discovery claim, the El Paso Lode. A very early photograph of the recently discovered Cripple Creek Gold Mining District. Photograph condition: near fine.
73

LAURA GILPIN PHOTOGRAVURE POSTCARDS – NAVAHO GROUP

Group of eight photogravure postcards from Laura Gilpin's Navaho Series. Printed by the Meriden Gravure Company and published by The Gilpin Publishing Company of Colorado Springs, Colorado. For more than 60 years, Gilpin earned her living as a photographer, making photographs of the Southwest and its Native people. Her long involvement with the Navajo began in l930, when she and her companion, Elizabeth Forster, ran out of gasoline in a remote section of the Navajo reservation. Gilpin's early Navajo pictures focused on particular individuals. Through these portraits, she came to understand the difference between sentimentality and sentiment; and created a compassionate record of traditional Navajo life of the era. Gilpin's early Southwestern pictures reflect the influence of her training, placing greater emphasis on the evocation of mood than on detail and favoring the soft grays of platinum printing papers. All postcards are in near fine condition or better and have not been mailed. 1) Navaho Silversmith. 2) Navaho Woman, Child and Lambs. 3) Navaho Weaver. 4) Navaho Indian Woman. 5) Navaho Madonna. 6) Navaho Girl. 7) Navahos by Fire Light. 8) Navaho Summer Hogan.
74

LAURA GILPIN PHOTOGRAVURE POSTCARDS – MESA VERDE

Six photogravure postcards from Laura Gilpin's Mesa Verde Series. This rare series was printed by the Meriden Gravure Company and published by the Gilpin Publishing Company of Colorado Springs, Colorado. All postcards are in near fine to very fine condition and have not been mailed. 1) Cliff Palace. 2) Round Tower of Cliff Palace. 3) Spruce Tree House. 4) Square Tower House. 5) Sun Temple. 6) Shiprock from Mesa Verde.
More web pages in this catalog: