Yes, we Accept: PAYPAL,
Venmo & SQUARE
We are always interested in purchasing, whether you have a single item or an entire collection for sale.
© 2021 Mt. Gothic Tomes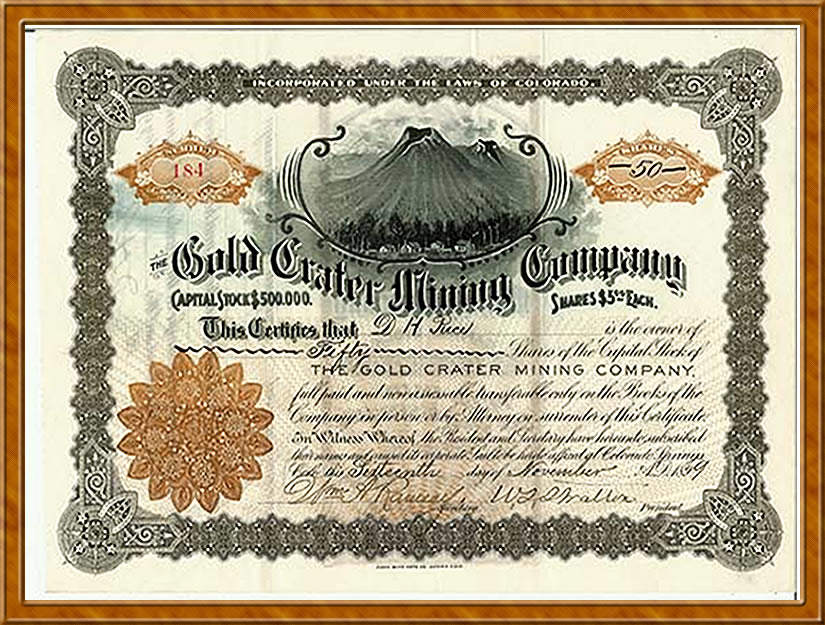 H. A. W. Tabor's Pioneer Stage and Express Company, 1882
Signed by T. C. Sewall, General Manager, at Rockwood, San Juan County, July 27, 1882. Near fine condition.
Price: $250.00
W. C. ROBY & CO., Proprietors of the HOLY CROSS CITY DRUG AND BOOK STORES, Holy Cross and Gold Park, Colorado, 1882
Dealers in Drugs, Medicines, Dyestuffs; Toilet Articles, Cutlery, Notions; Paints, Oils, Varnishes, Brushes; Stationery, School Books, Blank Books, Legal Blanks, etc.
Signed by R. R. Warfield, Holy Cross, Colorado; ordered pick handles.
Very good condition. Price: $150.00
E. E. Runkle, Telluride, Colorado, February 29, 1896
Dealer in Diamonds, Watches, Jewjelry, Silverware, Spectacles and Eyeglasses. Established 1887. Quick Train Watches. All kinds of Repairing Promptly Attended to and Satisfaction Guaranteed. Signed by E. E. Runkle, Watch Inspector. Hall & O'Donald Litho. Co., Topeka.
Very good plus condition. Price: $100.00
Panoramic postcard: Birds-Eye View, Looking North on Colorado Avenue, La Junta, Colorado, 1906
Photographic image on a postcard, dated August 20, 1906. Folded in center; removal of old tape from back and replaced with neutral pH, acid-free conservation tape. Lower left-hand corner chipped. Good plus to very good condition.
Price: $25.00
CENTRAL PRESBYTERIAN CHURCH, DENVER, 1911. Rev. Robert F. Coyle, D. D. exceptionally large original postcard.
Postcard announces a Rally Day, Sunday, October 8, 1911. J. S. Temple, superintendent. Church located at the corner of 17th and Sherman streets, Denver. Postcard dimensions: 9-1/2 inches by 7-1/2 inches. Condition: very good; only condition problem is chipped upper left-hand corner. Unused.
Price: $25.00
THE WINDSOR, Denver, Colorado. Bush, Tabor & Co., Proprietors. The Rocky Mountains as seen from The Windsor, 15 to 100 miles distant: Gray's Peak, 14,341; James' Peak, 13,283; Arapahoe Peak, 13,520; Long's Peak, 14,271. Denver, Colo. March 24, 1884.
Letter written by J. T. Herrick, general manager of The London Mining Company, Berlin Mining Company, Vienna Mining Company, and Rome Mining Company, all with mining property in Mosquito Gulch, near Alma, in the Mosquito Mining District, Park County, Colorado. Herrick, who lived in Fairplay, wrote to H. R. Smith, vice president of the aforementioned mining companies, in New York asking for the pay and stock he contracted for in lieu of his managing the four mines. Steel-engraved letterhead design copyrighted by Bush, Tabor & Co., Denver (William Bush and H.A.W. Tabor, proprietors). Letter in near fine condition.
Price: $200.00