Yes, we Accept: PAYPAL,
Venmo & SQUARE
We are always interested in purchasing, whether you have a single item or an entire collection for sale.
© 2024 Mt. Gothic Tomes
"... My whole theory of writing I can sum up in one sentence: An author ought to write for the youth of his own generation, the critics of the next, and the schoolmasters of ever afterward ...." from The Author's Apology, THIS SIDE OF PARADISE, 1st edition, 3rd printing, 1920.
Please note: all our F. Scott Fitzgerald signatures and/or inscriptions have verifiable provenance. We invite you to inquire about any of the signed or inscribed Fitzgerald books that are of interest to you.
THE BEAUTIFUL AND DAMNED, 1922
Original first edition with original second state dust jacket
Inscribed by Fitzgerald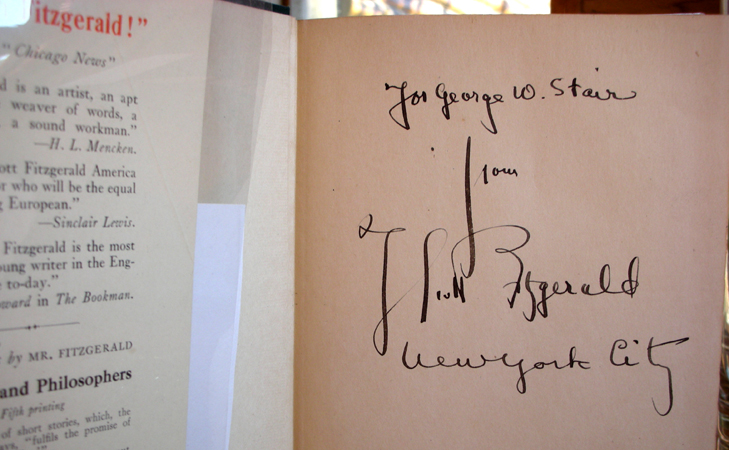 Original dust jacket, 1st edition, Second printing, first state [Bruccoli A.8.I.b1
Detail of Fitzgerald inscription to George W. Stair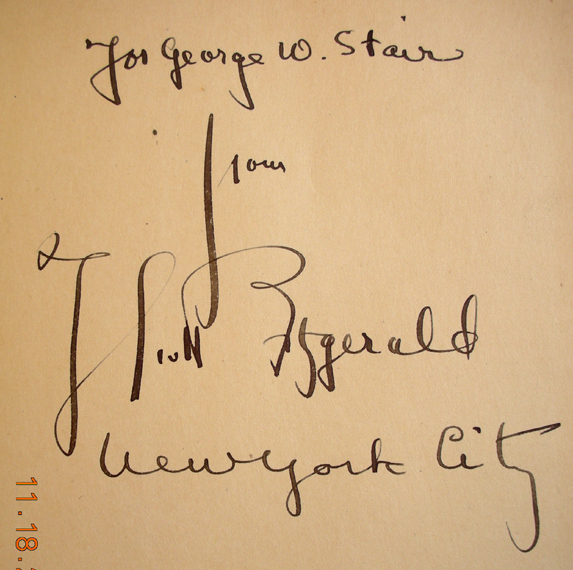 George W. Stair
George W. Stair owned and operated a bookstore near Rockefeller Square in New York. After he retired, the owners of Brentano's asked him if he would like head the rare and fine book department in their New York store. This book has an excellent provenance and one of Fitzgerald's artistic inscriptions.
Book and original dust jacket are in very good plus to near fine condition, as the images on this page exhibit this. Scribner seal. This book has excellent provenance.
For more books by and about F. Scott Fitzgerald, please click on the following links:
More literary first editions: