Yes, we Accept: PAYPAL,
Venmo & SQUARE
We are always interested in purchasing, whether you have a single item or an entire collection for sale.
© 2021 Mt. Gothic Tomes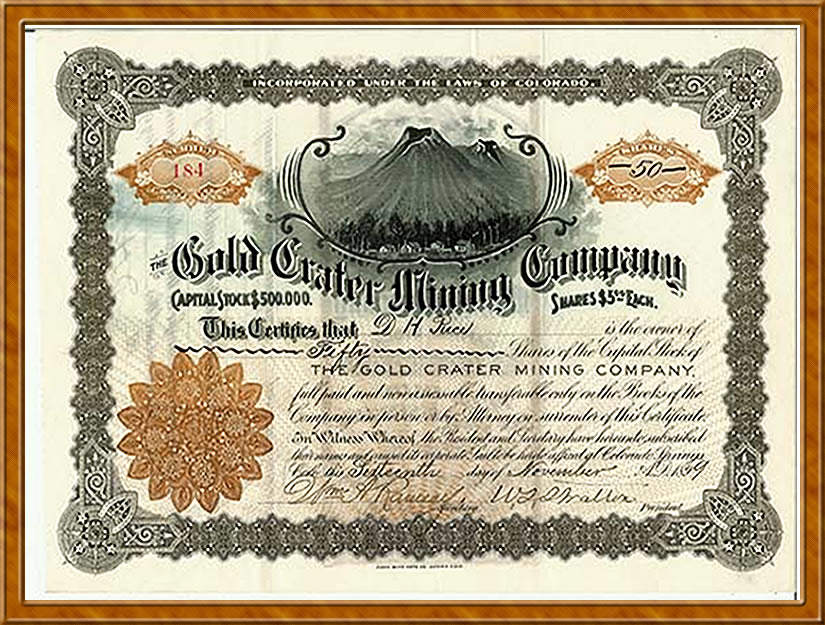 Breckenridge and Dillon, Summit County, Colorado. Blue, Snake and Swan Rivers. Gold Pan and Oro Grande placer mining companies. Gold dredges of Summit County, Colorado.
Collection of over 320 glass-plate negatives: mining, street scenes, personal & artistic portraits, mountain panoramas taken by
MARY M. MARKS.
Amateur Colorado photographer, Mary M. Marks, developing a glass-plate image, near Dillon, Summit County, Colorado, ca. 1897
THE WORK OF MARY M. and JOHN H. MARKS
By Brian Levine, Mt. Gothic Tomes & Reliquary, Crested Butte, Colorado
Colorado history encompasses a bright spectrum of entrepreneurial personalities. Those who made permanent landmarks, like Enos Mills, Helen Hunt Jackson and Adolph Coors; and those who enjoyed a brief pyrophoricity, such as Horace Tabor, Mattie Silks and Sherman Bell. Many others have already been filed on the dusty shelves of museum inventory and others have yet to be retrieved from the rich stopes of forgotten mines. Mary M. and John H. Marks are two rainbow-colored characters who have faded into the majestic panoramas of Colorado's past. That is, until now.
Just recently, over three hundred glass-plate negatives have come to light focused on the work of both Mary M. and John H. Marks. John was a mining and civil engineer whose career can be traced back to Aspen, Colorado where he served as a U.S. Deputy Mineral Surveyor, 1888 - 1891. Mary Marks was an amateur photographer who documented her husband's engineering projects, the most significant Colorado one being the Oro Grande Canal in Summit County, Colorado. Mary Marks often accompanied her husband on his engineering treks, photographing professional and private life. Wagons or burros hauled their equipment up to their mountain camps; and tents were often used as make-shift darkrooms. Together, Mary M. and John H. Marks made a unique work-team, one yet to be repeated in the catalogue of Colorado mining history.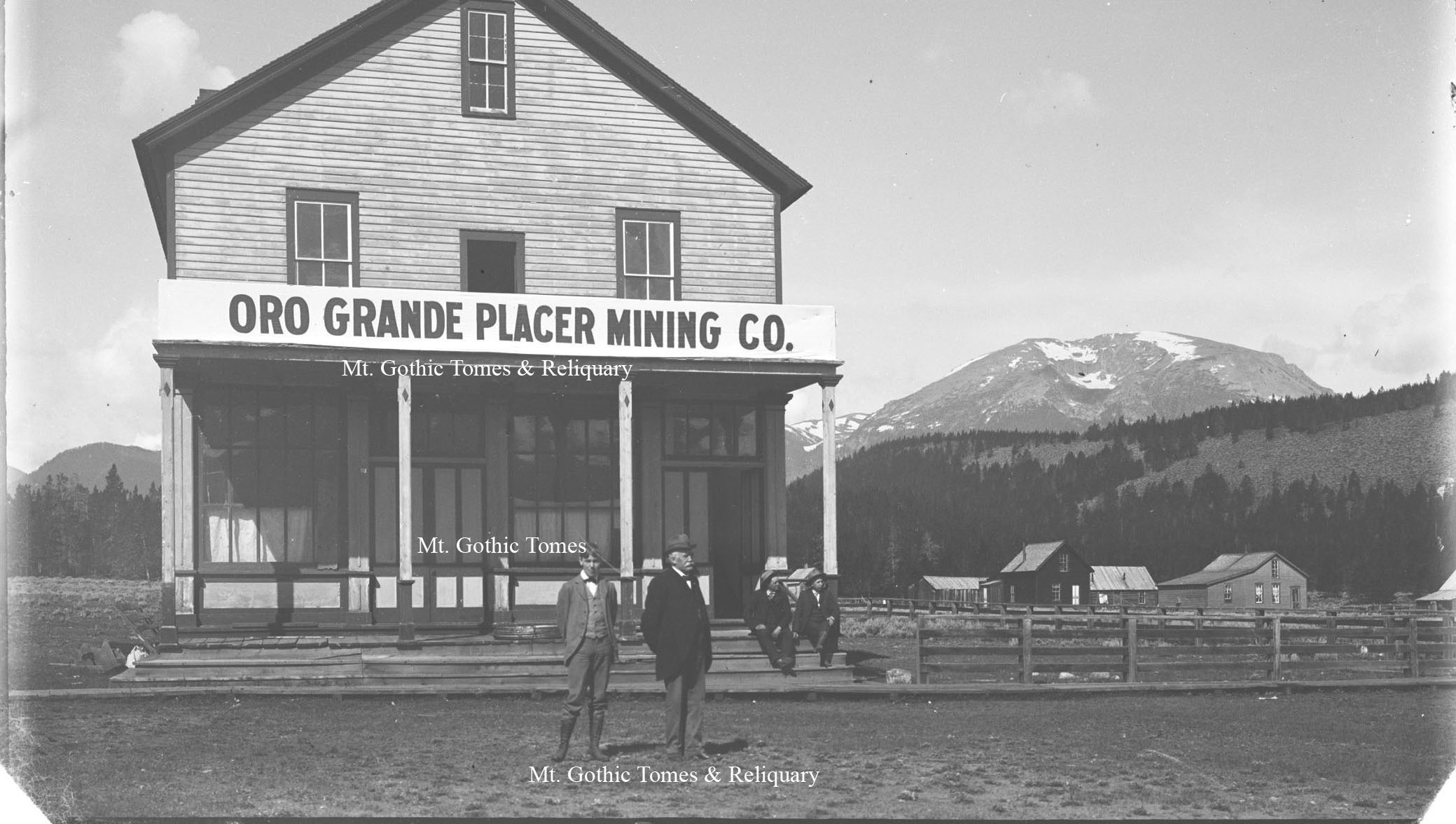 How did this come about? Partly because of Mary Marks' interest in photography and partly because John Marks was associated with George H. Evans, a British citizen whose success with hydraulic gravel elevators allowed Evans to invest in the Gold Pan and Oro Grande gold placer operations near Dillon and Breckenridge, Colorado. Although both mining operations ultimately culminated in financial failures, there were innovative aspects related to these projects, including the engineering of the canal-work that fed the hydraulics. In fact, the canal-work was so successful it was later acquired by the Summit County Power Company to power its hydro-electric plant – a system that fed electricity to homes in Breckenridge and Dillon and mines in the area.
The main subject of this group of glass-plate negatives is the Snake River Ditch (later called, "Oro Grande Canal No. 1") and its application to large-scale placer mining along the Blue River drainage. And although a number of the images taken by Mary Marks were used in the company prospectuses of both the Oro Grande and Gold Pan, her photographs differ in style from most professional photographers of the time. William Henry Jackson and Timothy O'Sullivan often added artistic elements to their photographic images; however, depending on which entity employed them, these elements were often secondary. Mary Marks, on the other hand, preferred making artistic elements primary.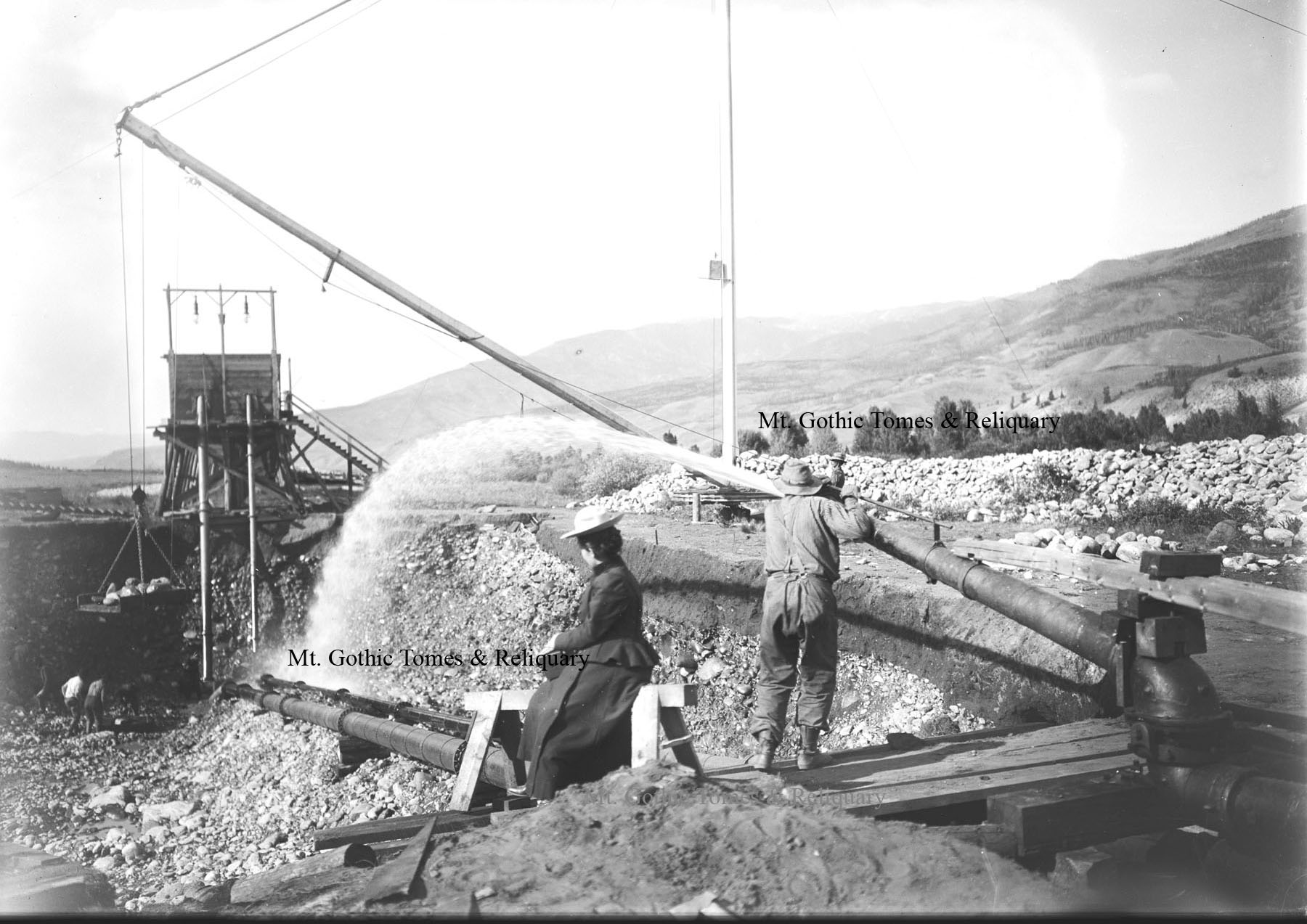 She also added a personal, as well as a feminine, character to her work. She did this in various ways, one of which was intertwining people, especially women, wherever possible, with industry. Their presence in scenic or industrial image lent personality and human dimension to photographs that might otherwise appear cold and sterile. Another of Mary's methods was to make the image more aesthetic than work-oriented, blending mines and machinery in with the surrounding trees, rivers, and mountains. At times, her photographs were serious and business-like, as exemplified by the image of two mining men standing before a Keystone churn-drill near the Oro Grande pit, as well as the Bucyrus dredge working the Swan River just below Galena Gulch (both images included in this prospectus). Mary Marks equally turned her camera on the human element, as seen in the photo of the woman sitting on a wooden saw-horse watching near-by hydraulic operations taking place in the Oro Grande pit. Then there are Mary's various artistic images of the Blue and Swan rivers, Illinois and French gulches, Dillon, Breckenridge, the Snake River, Keystone, Heywood, Buffalo Mountain, and other areas.
However, these photographs might never have been taken if John Marks had been absent from the Oro Grande and Gold Pan projects. It was his work, in this case, that inspired his wife, Mary. John had been hired to engineer ditches, head gates, reservoirs, and other water works that would ultimate change the landscape of Summit County. His work held greater consequences than just facilitating large-scale placer operations. His engineering took water from the Snake River 10.7 miles away to a three-quarter-mile pipe running down a steep slope located on the Dillon Placer. At the end of this pipe the water pressure had a head of approximately four hundred feet per square inch. It was employed to work the Company's major machinery, which included hydraulic elevators, washing nozzles, gold separating flumes, and an electric power plant. In 1902, John Marks re-engineered the water delivery system by moving the headwater operations to the Arctic Placer, and thus shortening the ditch-works to 7.3 miles. Unfortunately, in 1904, the Oro Grande mining operations were deemed unprofitable by the principals of the Company, and thus all work was halted. The unprofitability was largely due to the depth of the bedrock (over 60 feet), the size of the boulders strewn throughout the property's geological strata, lack of significant water flow in winters, and the recovery rate being only 30-cents of gold per cubic yard of washed gravel. In 1908, the entire water system was purchased by the Summit County Power Company.
Despite the business failure of the Oro Grande and the similar failure of its sister company, the Gold Pan, John Marks' engineering was considered an exceptional accomplishment. He was soon contracted for other engineering projects. He and his Breckenridge business partner, E. L. Smith, surveyed and engineered a water project for the Hahn's Peak, Colorado and southern Wyoming area in 1907. After that, Marks was in Goldfield reviewing mining prospects in southern Nevada. Also that same year, Marks served as president of The Red Mountain Gold and Silver Mining Company near Keystone, Summit County, Colorado. 1908: Marks had an office in the Empire Building in downtown Denver with assistant Albert H. Jones. One of their first projects was a profitability report on the San Juan Placers, Gable District, San Juan County, Utah, for C. H. Spencer. This was completed in April 1909.
The Canal and Lands of the Hagerman Development Company was John Marks' next project. Marks now had a significant reputation as a mining and civil engineer, with a specialty in the field of hydraulics. This encouraged Herbert James Hagerman, son of James J. Hagerman, builder of the Colorado Midland Railway, to hire Marks. The Hagerman project took John Marks to Malaga, New Mexico. If Marks' wife continued to take photographs for his reports, there are none in this present group; however, there are glass-plate negatives of the maps he helped draft, dated 1910 to 1913.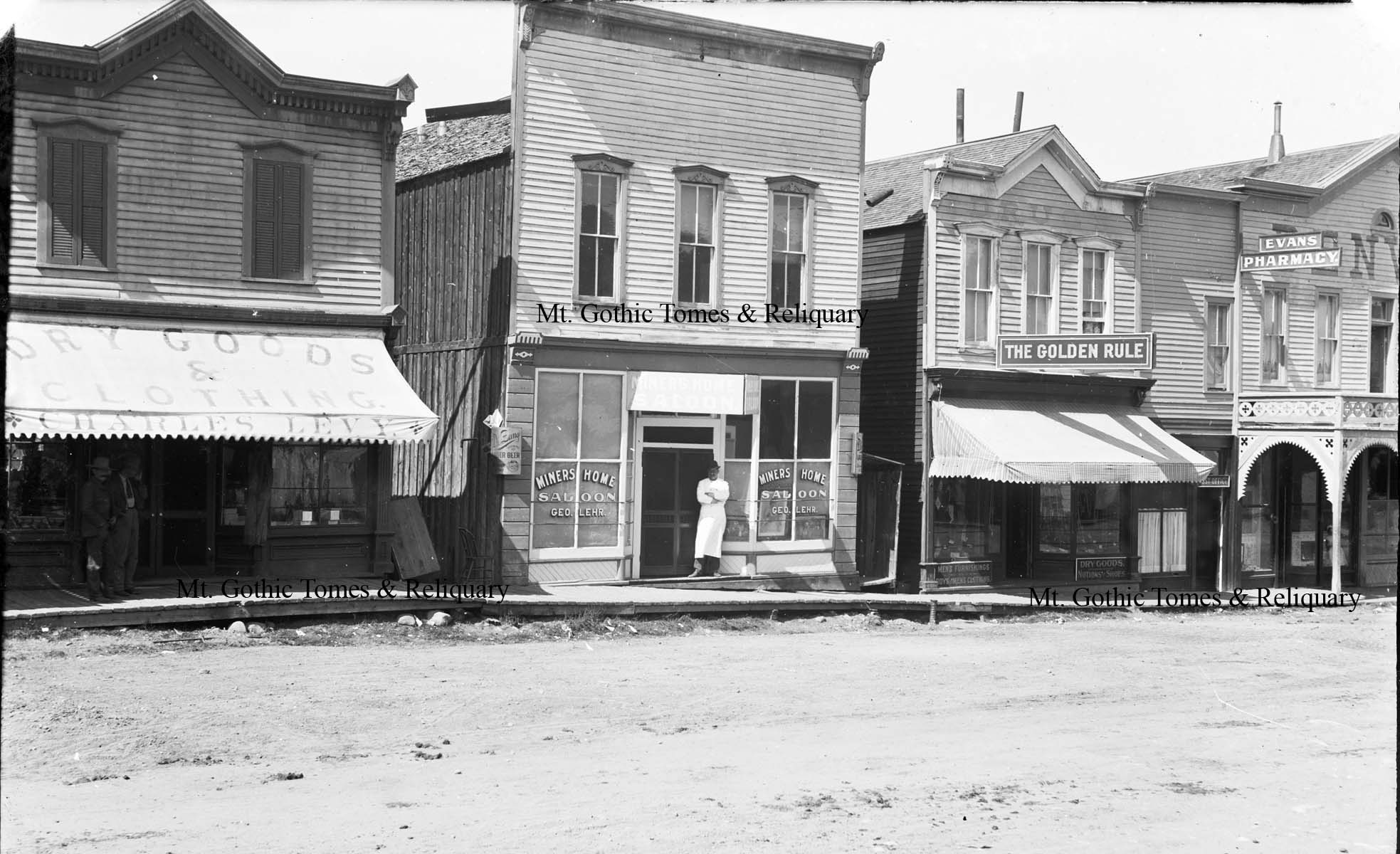 In 1911, Marks was involved in the engineering of the Gallegos Reservoir and Canals of Union and Quay counties, New Mexico. During 1912, Marks had engineering contracts for the Bueyeros Reservoir, Union County, New Mexico; the Fortune Placer Mines, Tarryall District, Park County, Colorado; and, for the main canal of the Carlsbad Plantation and Orchards Company of Eddy County, New Mexico. In 1913, he did engineering work on proposed reservoirs and canals for the Pioneer Irrigation Company of Colorado, Kansas, and Nebraska. There is no evidence in this present group of glass-plate negatives that Mary Marks incorporated her photography into her husband's reports.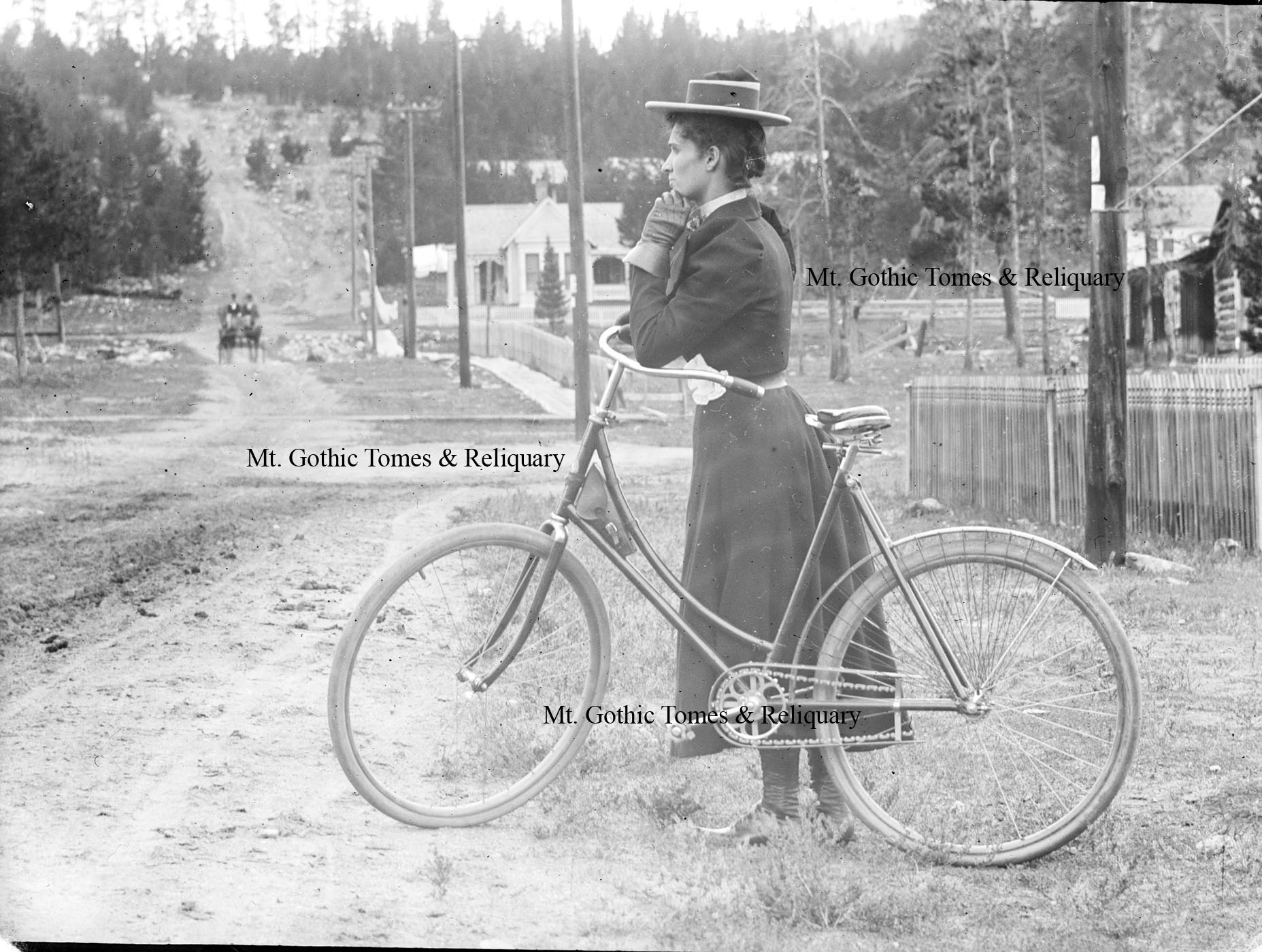 In fact, Mary did not label her photographic negatives in the emulsion of her glass-plate images as did many paid photographers of the time; rather, she wrote on the paper sleeves and cardboard boxes she used to protect the images. Sometimes Mary would label a glass-plate, "Mrs. _______ and I at the Foster's Home, Breckenridge" or Lennie (occasionally, Lena) with her "wheel"; the name, "Lennie" or "Lena" being a nickname or short for a middle name, such as Madeleine or Magdalena. Francis Rizzari, of Golden, and former owner of this group of glass-plate negatives, confirmed that Mary Marks took these Summit County, Colorado photographs. In fact, Francis Rizzari acquired the entire collection of glass-plate negatives directly from John H. Marks in Denver in the 1950s.
From 1909 through 1941, John Marks retained Room 504 of the Equitable Building, located at 1026 17th Street as his engineering office. In 1923, Marks' Denver home was Apartment E3, 323 14th Street. In 1930, they lived in Apartment 25 at 609 Colfax. And in 1934, they lived in Apartment 5, 1304 Cherokee, and were still located at that address in 1941.
John Marks' engineering business continued on for over 50 years. Mary Marks name does not appear in Colorado State or Denver business directories as a professional photographer, so she must have never pursued her talent as a career. This is unfortunate because her enjoyment and professionalism can be seen in a good many of her photographs that are still extant today, from the scene of the Oro Grande Placer Mining Company office building in Dillon to the Breckenridge street scene with the Miners Home Saloon to the endearing photo of John Marks reading the newspaper in a room of their Breckenridge home. It seems reasonable to assume that Mary continued photographing John's engineering work until, perhaps, they had children. However, it is not known whether or not they had a family. It is unlikely she could have become as accomplished as she was without some years of practice; however, the location of Mary Marks' other photographs is unknown, if there were any. So, at least for now, the three hundred plus glass-plate negatives in this group are the only photographs of Mary Marks to have survived the torrents of time. Fortunately, those that have represent an extraordinary time and place.
Please inquire about the details and possible purchase of this extraordinary female photographer's documentary of her husband's mining and civil engineering work for the Oro Grande and Gold Pit placer mining companies of Summit County, Colorado.
SOLD