Yes, we Accept: PAYPAL,
Venmo & SQUARE
We are always interested in purchasing, whether you have a single item or an entire collection for sale.
© 2021 Mt. Gothic Tomes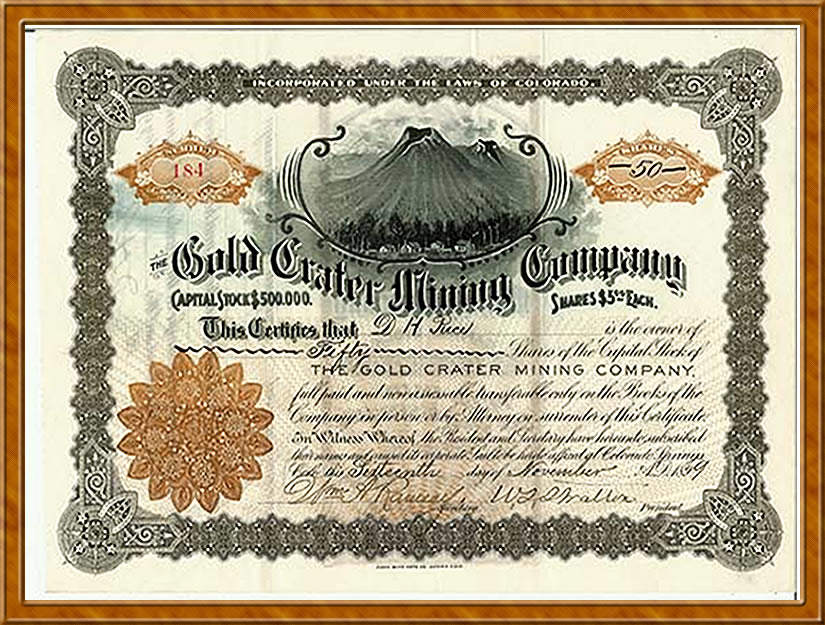 THE GOLD MINES OF GILPIN COUNTY, COLORADO, 1876
Historical, Descriptive and Statistical. By Samuel Cushman and J. P. Waterman. Central City: Register Steam Printing House, 1876.
Original printed green boards with cloth binding; 136 pages, complete with regional illustrations. Condition: very good plus.
A classic, early writing promoting the young Colorado Territory gold mining industry, covering mines, mills, milling processes, resources, railroads, history, etc.
THE CONSOLIDATED GREGORY COMPANY, 1869
THE CONSOLIDATED GREGORY COMPANY, stock certificate #1611, issued May 8, 1869, uncancelled, near fine condition. This certificate was issued on the original mining claims staked out in the gulch where John H. Gregory first discovered gold. Details of Gregory's discovery and these claims can be found in Ovando Hollister's THE MINES OF COLORADO, 1867.
Price: $2,850.00
SILVER MINING REGIONS OF COLORADO, 1865
By J. P. Whitney
SILVER MINING REGIONS OF COLORADO, with Some Account of the Different Processes Now Being Introduced for Working the Gold Ores of that Territory.
New York: D. Van Nostrand, 192 Broadway, 1865
Original printed tan wrappers; 106 pages.
Description of silver mining regions in Clear Creek and gold mining regions of Gilpin County, Colorado Territory, along with reduction processes, mining laws, and testimonials. A very early promotional publication of the silver and gold mines of the young Colorado Territory.
THE MINES OF COLORADO, 1867
By Ovando J. Hollister (Late editor and proprietor, Colorado Mining Journal). Springfield, Mass.: Samuel Bowles & Company, 1867). First edition of this scarce Colorado mining publication; in original brown cloth; gold print on spine; 450 pages; with all advertisements. Plus, the very hard to find map: Map of Colorado Territory, to accompany Hollister's MINES OF COLORADO, 1866. Book is in near fine condition, with some light wear to head and toe of spine; spine is strong and tight; pages are clean, bright. Map is in near fine to fine condition; folded; some conservation reinforcement on back.
| | |
| --- | --- |
| | |
Map has been removed from front of back, with no loss of paper, and is stored separately to protect it from damage. Excellent detail on mining in the Colorado Territory, which specifics on mines and mining companies in Gilpin, Clear Creek, Boulder, Park, Lake, and Summit counties. Also, history of the first gold rush to the Territory, mining and milling processes, development and conditions of the mines.
THE DEFIANCE GOLD MINING COMPANY, 1880
THE DEFIANCE GOLD MINING COMPANY
Principal Office: Central City, Colorado
Mining stock certificate issued October 1880, uncancelled, near fine condition.
Price: $200.00