Yes, we Accept: PAYPAL,
Venmo & SQUARE
We are always interested in purchasing, whether you have a single item or an entire collection for sale.
© 2021 Mt. Gothic Tomes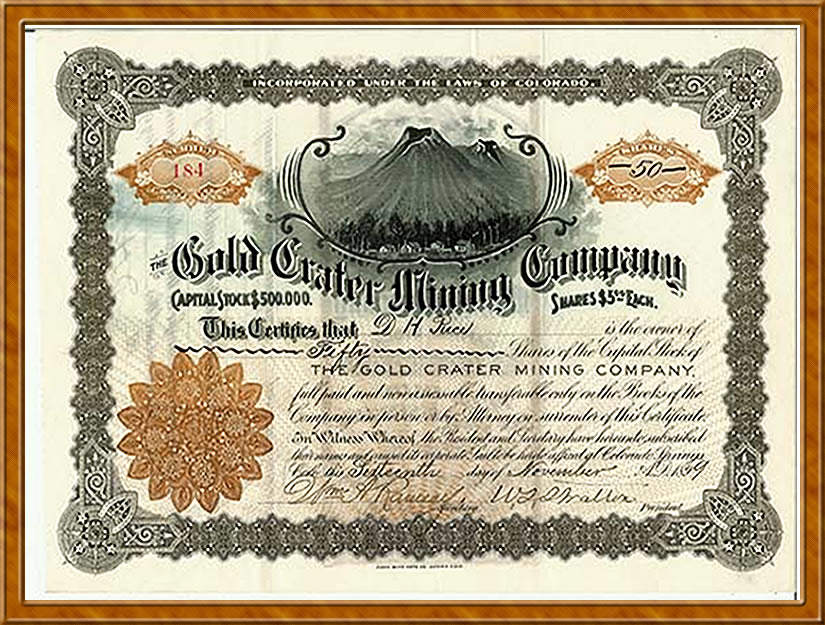 SPECIAL NEWSPAPER EDITIONS & MAGAZINES
WESTERN WORLD: Devoted To An Exposition of the Rich Resources of the Wide West, February 1905
Volume II, Number 2, February 1905, Denver, Colorado. M. B. Aston, president; R. G. Leonard, Secretary-Treasurer; P. A. Leonard, Manager. Published monthly by The Western World Publishing Company. Illustrated. 32 pages. Local and regional advertising. Examples of articles: Legend of the Columbine; Glenwood Springs, Colorado; Conversion of Geronimo; Idaho's Big Irrigation Enterprises; Rich Strike at Sugar Loaf, An Attractive Goldfield Offer; Arkansas Valley in Kansas; A Fine Modern Stock Ranch; Abstract News and Comment from the Western Goldfields; To California in 1846; Oil at Paola, Kansas; etc. Dimensions: 9-12/ inches by 12 inches. Condition: near fine.
Price:
EATON, COLORADO: A Ten-Year-Old City, Issued as a Supplement to The Eaton Herald, 1902. Hogue, H. E., editor.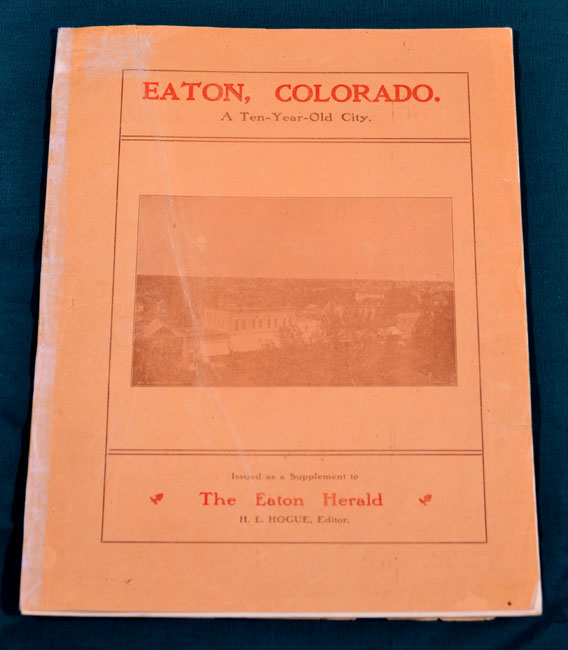 Special edition publication promoting the Town of Eaton as an agricultural center of Weld County, Colorado. Eaton was founded in 1892 and named for Benjamin Harrison Eaton, a pioneer in arid prairie irrigation. Benjamin Eaton served as Colorado of Colorado from 1885 through 1887. Eaton is located approximately seven miles north of Greeley near the line of the Union Pacific Railway. The promotional publication offered here is in bound in its original illustrated tan wraps, edited by H. E. Hogue, and 52 pages in length. Dimensions: 9-3/4 inches by 12-1/4 inches. Lavishly illustrated with photographic images of prominent residents, locales, buildings, farms, businesses and street views. Lengthy description of the history of Eaton, churches, Eaton's Big Flour Mill, livery barns, public schools, public library, business firms, fraternal societies, Ex-Governor B. H. Eaton, alfalfa crops, leading citizens, F.H. Gilcrest Lumber Company, irrigation, sheep feeding, water and water works, fire department, Eaton Sugar Factory, Larimer County canal, Colorado Telephone Company, and surrounding agricultural prospects. Also adorned with local advertisements. Condition: very good plus; exterior paper binding reinforced with neutral pH tape; interior pages near fine.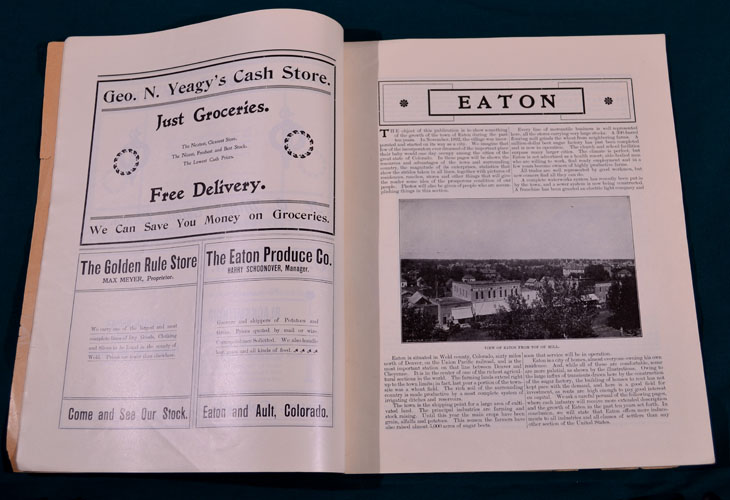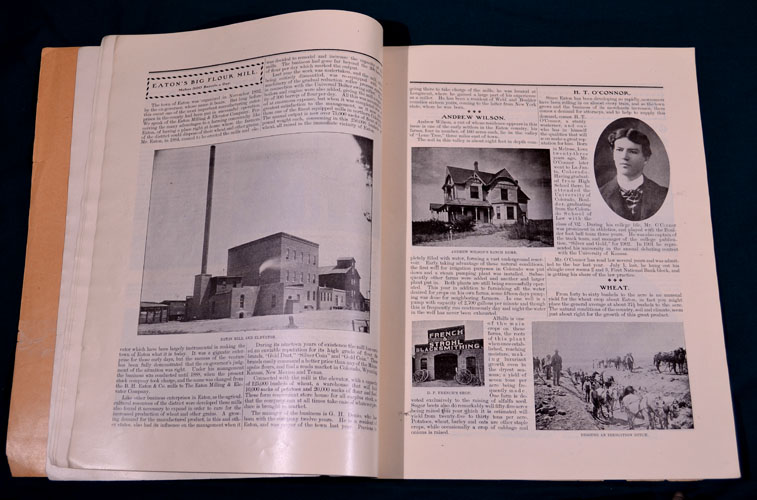 Von Hagen, K. LINCOLN COUNTY COLORADO: The Homeseeker's and Investor's Paradise.
1916
Published in Hugo, Colorado, 1916. Printed by Carson Harper, Denver, Colorado. Engravings by Cocks-Clark Engraving Company, Denver, Colorado. Dimensions: 12 inches by 9-1/2 inches; 62 pages, plus 3-panel fold-out panorama (33 inches by 8-3/4 inches) of the Town of Hugo, Colorado at back of publication.
Original printed gray wrappers; string-tied binding. Numerous captioned photographs per page, along with descriptive. Brief of Lincoln County, Colorado, along with facts on Hugo, Limon, Genoa, Boyero, and other towns. Details on farming, crops, livestock, and other business possibilities. Excellent photography, possibility that of L. C. McClure.
FACTS ILLUSTRATED: Colorado Springs Homes Edition, Volume VI, No. 21, Colorado Springs, Colo., August 18, 1900.
Published weekly by FACTS PUBLISHING COMPANY, Colorado Springs, Colorado. Charles S. Sprague, editor. William H. Frick and H. S. Rogers, associates. Office: 110 North Tejon Street. Original illustrated brown wrappers; 82 enamel-coated pages. Local and regional advertising. Dimensions: 9-1/2 inches by 12-1/2 inches. Condition: very good plus to near fine.
Price:
SOUVENIR OF THE SAN LUIS VALLEY, including a History of Monte Vista and the Surrounding Country, covering Alamosa, Antonito, Manassa, Creede, La Jara, Del Norte, Conejos, and Center, 1906.
H. R. Fish, publisher.
Issued by The Monte Vista Journal, Monte Vista, Colorado. J. E. Crooks, photographer of Monte Vista. Half-tones by C. E. Rees and J. E. York. Original illustrated green covers; tie-binding. Dimensions: 12-1/8 inches by 9 inches; 86 pages. Profusely illustrated. Local and regional advertising. Descriptive. The Gaebel-Clark Engraving Co., Pueblo, Colo.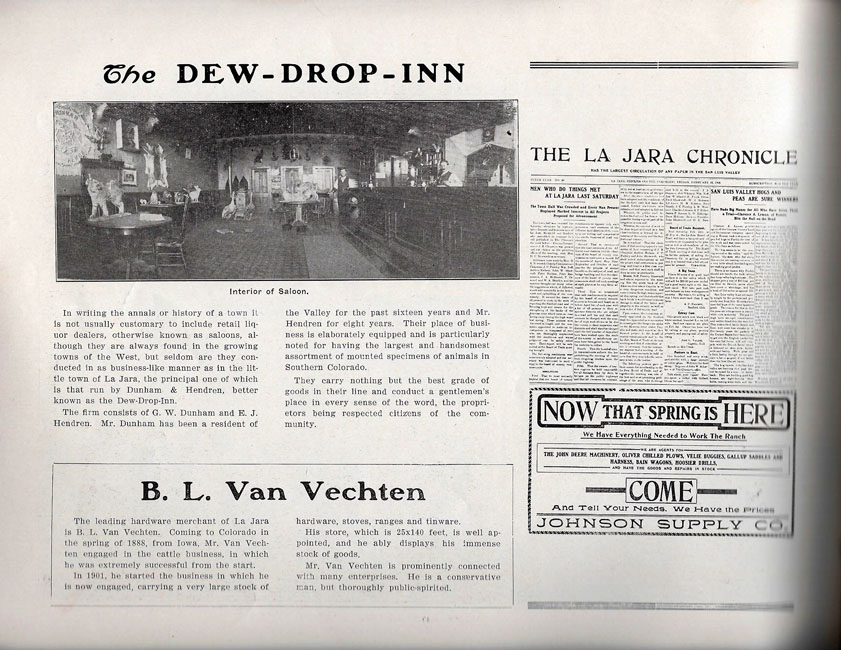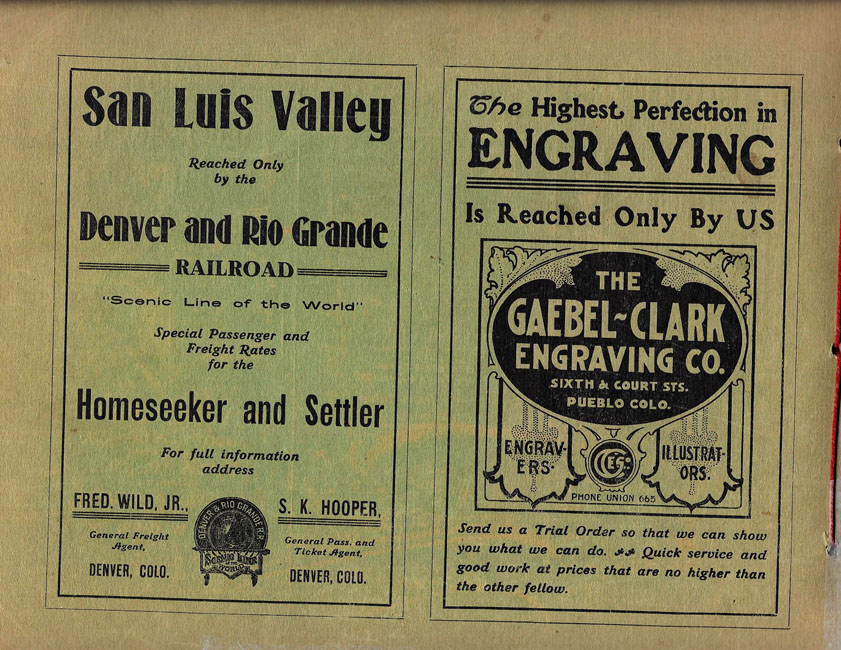 Photographs on every page. Local businesses and personalities covered. Two-page Map of the San Luis Valley. History of Monte Vista. Sheep Raising and Feeding by James A. Kelly, mayor of Monte Vista. Climate by C. W. Russell, M.D. Real Estate In and Around Monte Vista by J. H. Deeds. Outdoor Sports by George B. Boutwell. Colorado Soldiers and Sailors Home. The Asiatic Tunnel Mining and Milling Company. San Luis Brewery. Pioneer Livery and Feed Stable. The Weiss-Chapman Drug Co. Monte Vista Hospital. Monte Vista Creamery. The Monte Vista Electric & Gas Light Co. Bank of Monte Vista. Monte Vista Milling and Elevator Co. Monte Vista Journal. "Center," by T. E. Ickes. W. E. Sumpter Drug Co. La Jara's Early History. The Colorado Turquoise Mining Co. Alamosa. Del Norte, Colorado. The San Juan Prospector. Del Norte Milling and Elevator Company. Creede Concert Band. And more.
Inquire for further details and pricing.