Yes, we Accept: PAYPAL,
Venmo & SQUARE
We are always interested in purchasing, whether you have a single item or an entire collection for sale.
© 2021 Mt. Gothic Tomes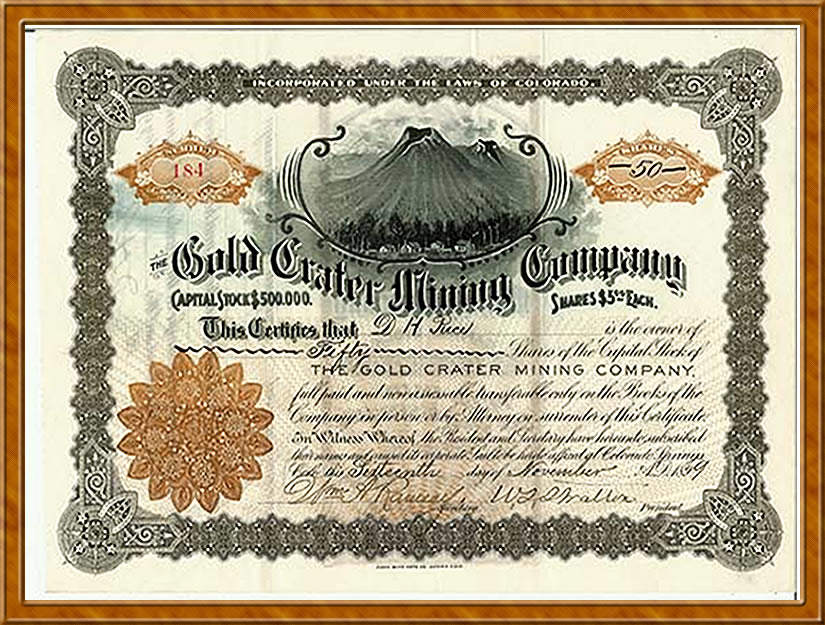 SPECIAL NEWSPAPER EDITIONS & MAGAZINES
Page 2
NEW YEAR'S NUMBER 1905 COLORADO SPRINGS GAZETTE and TELEGRAPH
Special edition printed by the Telegraph Job Printing, Colorado Springs, Colorado, 1905.
Original gray printed wrappers with tipped color drawing of the Colorado state flower, the columbine. Dimensions: 11 inches by 16 inches; 120 pages. Elaborately and profusely illustrated. Near fine condition. Highly detailed. Only one listed in OCLC. Not in Wynar.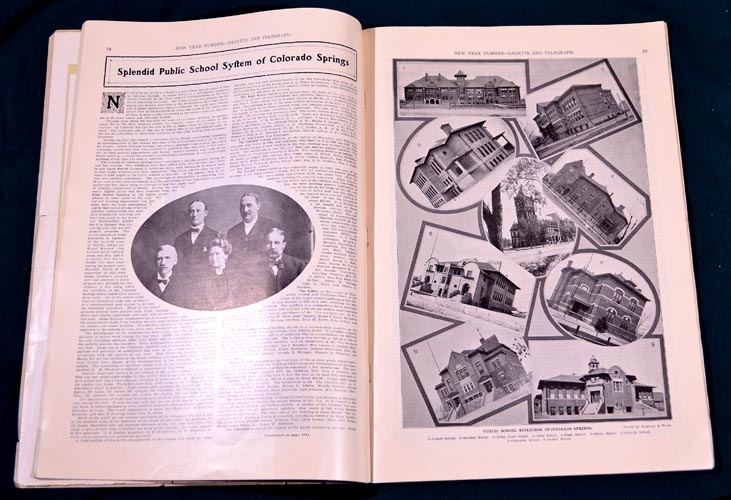 This scarce publication is composed of an excellent array of informative articles on the businesses, business people, buildings, amenities, educational and health opportunities of Colorado Springs and the Pikes Peak Region. Articles include: New Year Messages from Colorado Springs Pulpits; Five Million Dollars for the Myron Stratton Home; Words of Warm Praise for the Pike's Peak Region; Trails and Bridle Paths Lead to Spots of Beauty; Monument Park – Bower of Beauty in Heart of City; Colorado School for Education of the Deaf and Blind; World Famous for Its Wealth, Health and Beauty; Winter Days Shot to the Core with Sunshine; Outdoor Life and Almost All Forms of Sport Enjoyed; Forty-Six Churches; Literary Outfit – Andy Adams; Honored by Visitors of Wealth, Rank and Learning; Splendid Public School System; Tracing Steady Progress through Development of Utilities; Events during Year; Van Briggle Pottery; Colorado Springs Interurban Railway; Banks; etc.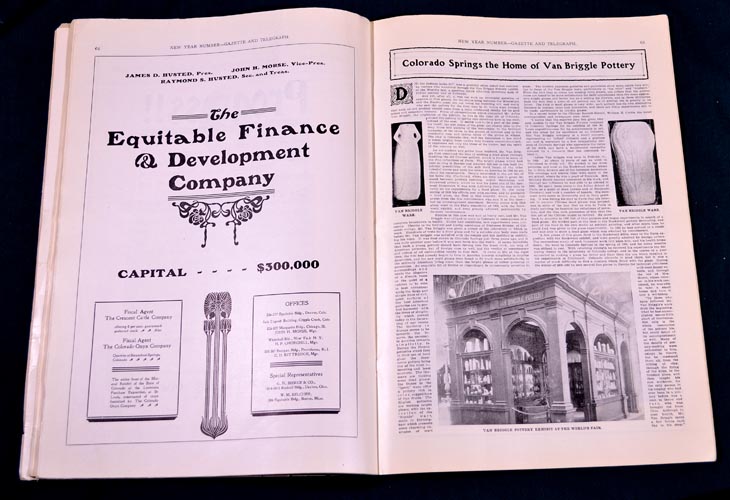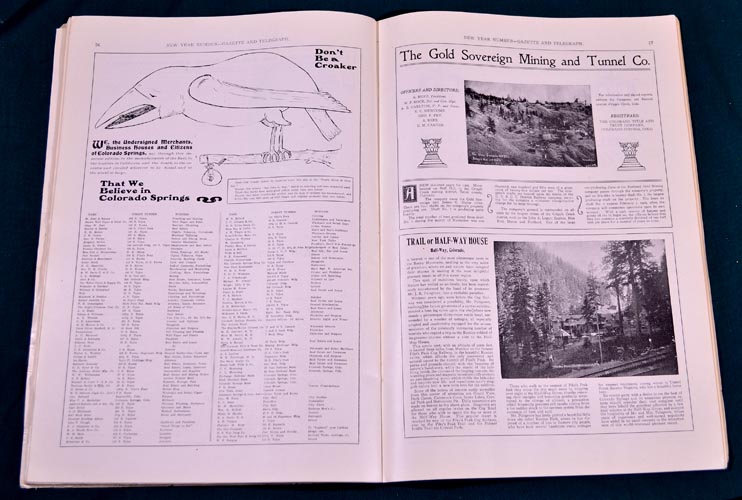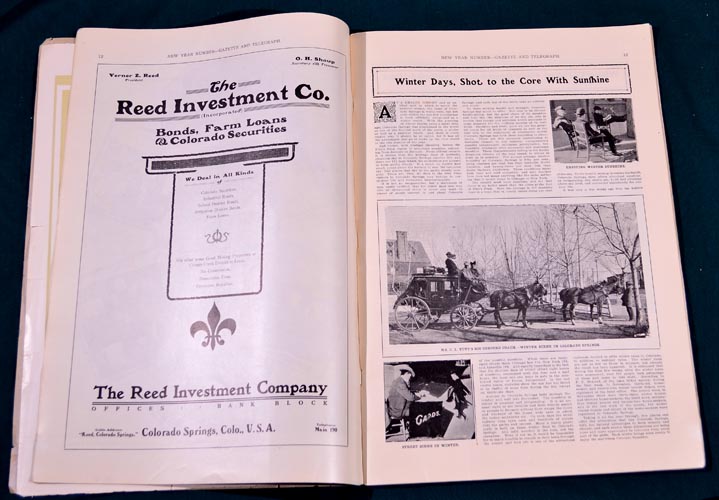 THE EVENING STAR, NEW YEAR'S EDITION, 1904. C. E. Wood, editor and publisher, published by the Evening Star Print.
Original illustrated wrappers: gold and blue print on stiff green paper. Dimensions: 12-1/4 inches in height by 9-1/2 inches in width; 80 pages, plus 9 inserted photographic pages. Near fine condition.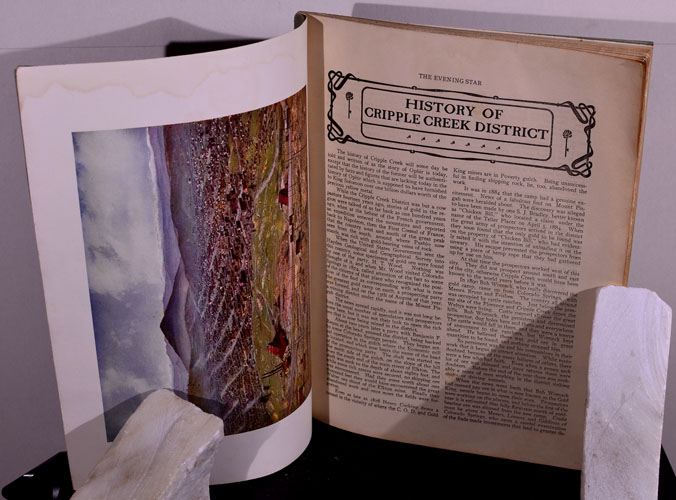 An intriguing pro-Mine Owner's Association and Citizens' Alliance publication -- in answer to the Cripple Creek Times special edition of 1904 (listed below), which was generally pro-Western Federation of Miners. Numerous articles in this publication include: History of Cripple Creek District; Cripple Creek Strike of 1903, Its Genesis and Meaning; Cripple Creek Drainage Tunnel; Mine Owners' Grounds for Opposition to Western Federation of Miners; Citizens' Alliance Movement; Gold Production for Year 1903; The Strike from the Union Standpoint; Gillett, the Natural Residence Town of the District; the Public Schools, Growth of a Decade; Stratton's Independence, the Great Mine; Future of the Cripple Creek District; Gold Coin and United Mines; Future of the Stock Market; Vindicator Horror: Two Good Mining Men Killed; The Story of Camp Goldfield; and many other articles. Filled with regional mining advertisements. Photographs by M. A. Wisda.
Only two listings in OCLC. Not in Wynar.
OFFICIAL SOUVENIR OF THE GUNNISON TUNNEL OPENING
Montrose (Colorado), September 23, 1909. The Pueblo Star-Journal, Publishers, Pueblo, Colorado.
Original illustrated wrappers; 62 pages. Numerous photographic illustrations on every page along with some hand-drawn depictions. Dimensions: 11 inches across by 16 inches in height.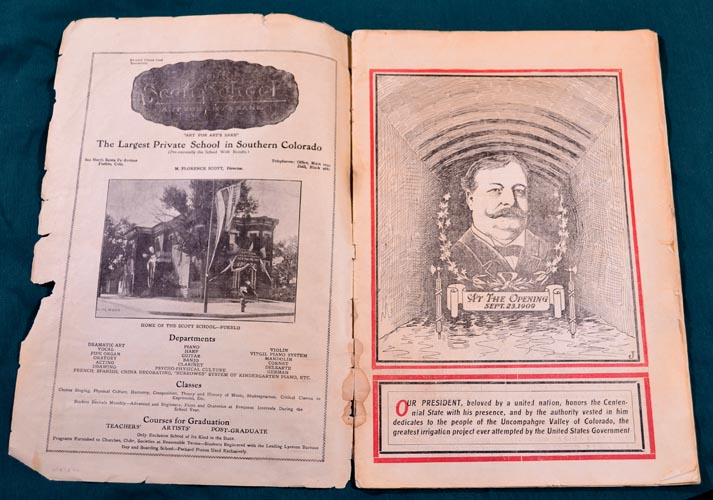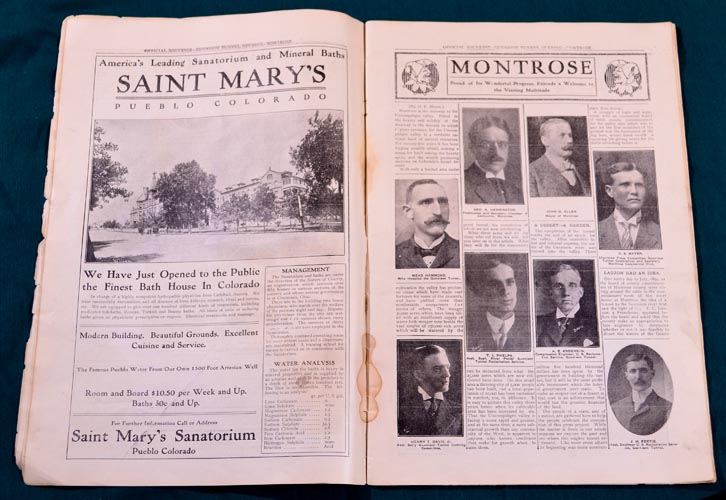 Promotional publication for Colorado's western slope with articles and advertisements for businesses and business people in Montrose, Olathe, Delta and the Uncompaghre Valley. Some of the officials attending this opening included United States President William Howard Taft, Governor John F. Shafroth, United States senators Simon Guggenheim and Charles J. Hughes, Jr. Publication includes the official program for the opening; history of the Gunnison Tunnel; attributes and business opportunities in Montrose and Delta counties. Photographic images of business buildings, agricultural scenes, business people and leading citizens. Numerous local and regional advertisements. Condition: good plus to very good; some damp-staining, frayed page edges and conservation repairs; however, no information lost. Excellent detail. Only one copy listed in OCLC or Wynar.