Yes, we Accept: PAYPAL,
Venmo & SQUARE
We are always interested in purchasing, whether you have a single item or an entire collection for sale.
© 2021 Mt. Gothic Tomes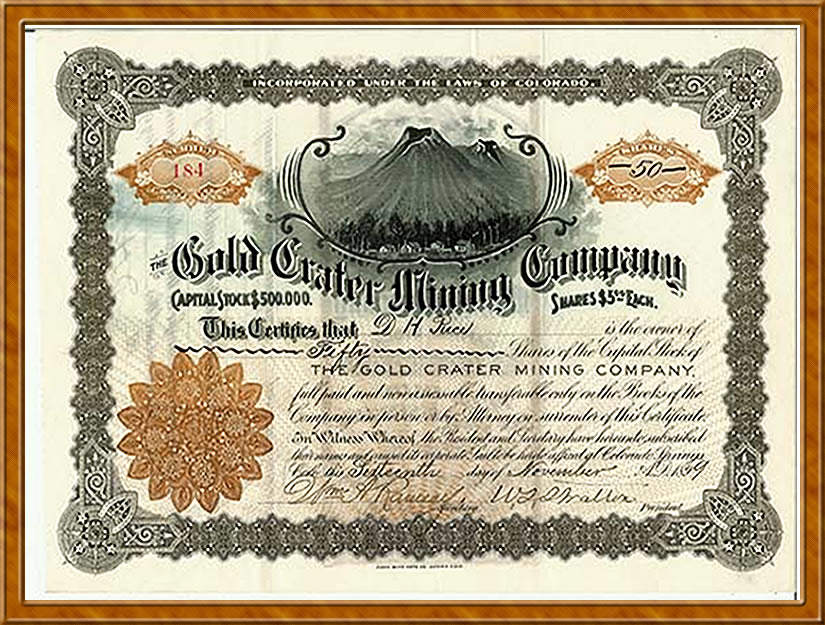 Cattle, Horses, Livestock
CATTLE-RAISING ON THE PLAINS OF NORTH AMERICA by Walter Baron Von Richtofen
CATTLE-RAISING ON THE PLAINS OF NORTH AMERICA by Walter Baron Von Richthofen. New York: D. Appleton and Company, 1885, first edition. Book is in it original green-cloth covers; 102 pages; 6 pages of advertisements in rear. Cloth covers are generally clean except for some discoloration on the upper inch of spine. Book is an ex-library with some light stamps visible on copyright page and last page of text. Considered a classic, especially for Colorado cattle-ranching.
Price: $1,500.00
THE SEE-BAR-SEE LAND AND CATTLE COMPANY, Colorado, 1894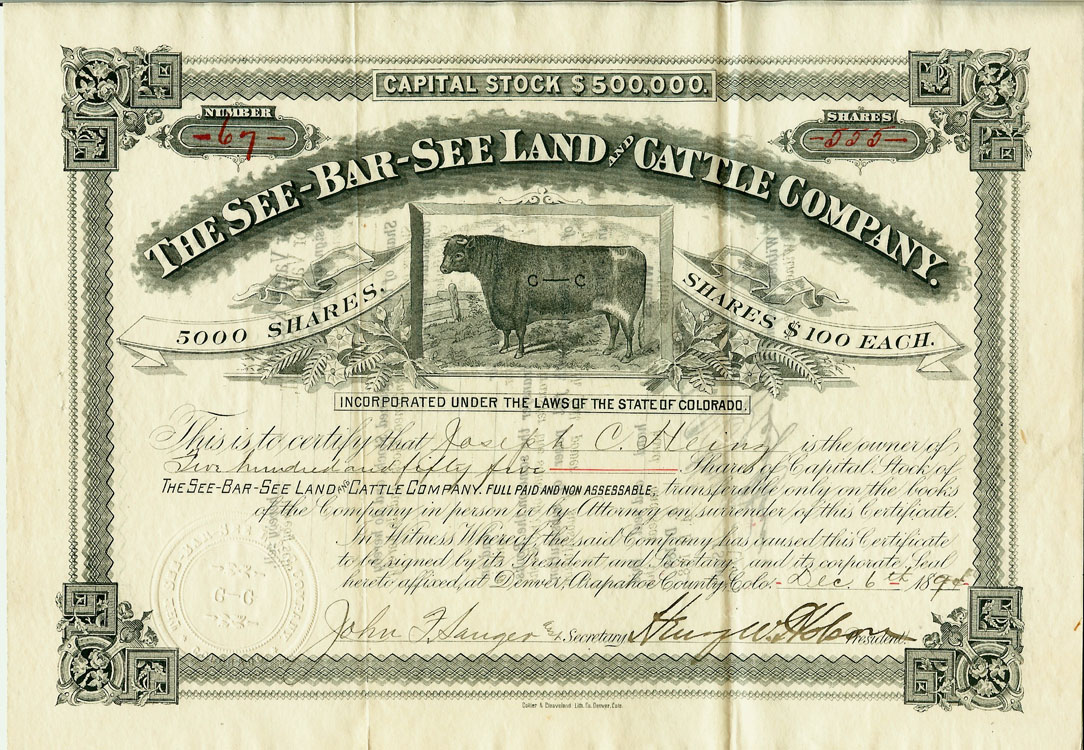 Stock certificate #67, issued December 6, 1894, uncancelled, signed by Henry W. Holson as president and John F. Hanger as assistant secretary. Collier & Cleaveland Litho Co., Denver, Colorado. Corporate seal affixed at Denver, Arapahoe County, Colorado. Ranch was located in Laird, Yuma County, Colorado. Associated paperwork: 5 notes issued by the Colorado National Bank to Ella Beebee, assumed associated with the See-Bar-See Land, plus a letter signed by C. B. Kountze, also a schedule of assets of The See-Bar-See Land & Cattle Company, from head of cattle to cave cellars. Also, a list of shareholders in this company, including Ella Beebee and Amos Steck. All documents in near fine condition or better.
Price for group: $1,250.00
COLORADO BRAND BOOK, 1914
THE COLORADO BRAND BOOK, 1914. Colorado Stock Brands and Live Stock Statutes, 1914. This book contains a complete transcript of the Live Stock Brands and Marks on record in the office of The Colorado State Board of Stock Inspection Commissioners at Denver, August 15, 1914. Authorized by the State Board of Stock Inspection Commissioners of Colorado. Published and For Sale by The Denver Record-Stockman, Official Live Stock Newspaper, Denver, Colorado. Edwin McCrillis, Secretary. Original red leather covers with gold print on front; 697 pages, complete. Condition: covers show some light wear; spine has 1/4 inch repair in leather on head of spine. Original leather flap extending from back cover to be used as a book-marker. Tiny chip in leather on upper right-hand corner of back cover. Internal pages near fine; no writing or previous owner's signature

SOLD; but don't let that stop you from inquiring -- we're always looking to purchase early Colorado Brand books
AN ECHO FROM THE PAST: A First-Hand Narration of Events in the Early History of the Arkansas Valley of Colorado.
By Dr. Warren Edwin Hickman. Printed by The Western Newspaper Union, 1914, first edition. Book in its original tan printed wrappers; square-bound; 179 pages. Condition: wrappers are lightly sunned, a wee bit of aging, otherwise, very good; pages are clean and bright; spine is tight, strong. Hickman relates accounts of ranching in the Spanish Peaks area of Colorado, with locales such as La Junta, La Veta, and Las Animas as some of many places where memorable characters were met. Hickman also recalls many adventures with local Native Americans, many of whom became his friends. An endearing, personal look at the history of the lower Arkansas Valley.
UNION CATTLE COMPANY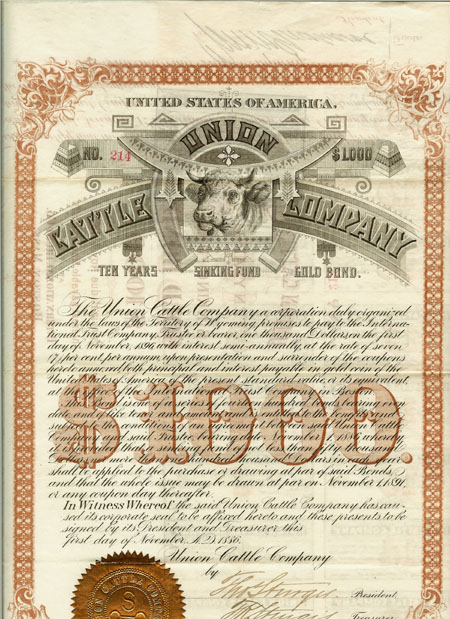 Bond #214, issued November 1, 1886; uncnacelled, several folds, most coupons still attached; very good plus condition. Company organized under the laws of the Territory of Wyoming. Price: $400.00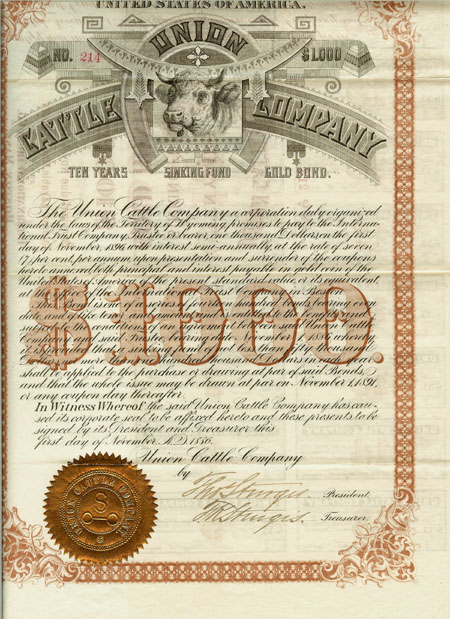 THE GRAND VALLEY RANCH AND CATTLE COMPANY, 1889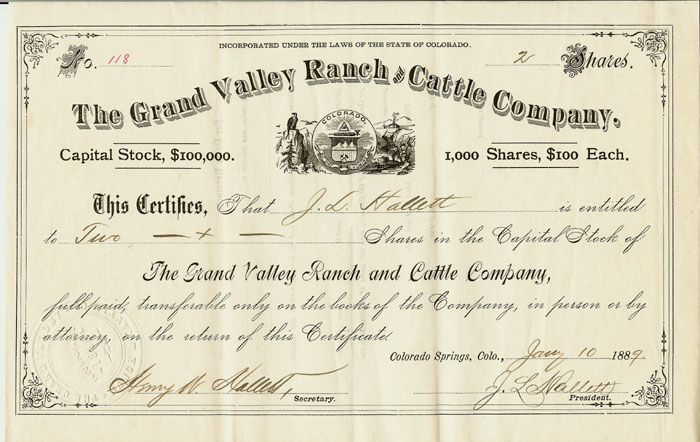 Stock Certificate # 118, issued January 10, 1889, uncancelled; two light folds, near fine condition. Most interests were in control of the Hallett family. Hallett Peak, near Bear and Dream lakes in Colorado, was named after the founders of this Company. Price: $350.00
RANCH NOTES IN KANSAS, COLORADO, THE INDIAN TERRITORY AND NORTHERN TEXAS, by Reginald Aldridge, with illustrations. London: Longmans, Green, and Co., 1884. Original blue cloth binding with gold embossing on front cover and spine; 227 pages. Printed by Spottiswoode and Co., New-Street Square and Parliament Street. Plus, 12 pages of advertisements in rear of back. Condition of binding: strong; however, covers show wear; bumped corners. Pages are clean and bright. Overall condition: good plus.