Yes, we Accept: PAYPAL,
Venmo & SQUARE
We are always interested in purchasing, whether you have a single item or an entire collection for sale.
© 2022 Mt. Gothic Tomes
Rare books, stock certificates, and historical artifacts related to Gunnison County, Colorado.
Page 1
SILVER QUEEN MINING COMPANY, 1929
Original mining stock certificate issued 1929, uncancelled. Mining property in Gunnison County, Colorado (re: Mines Handbook, 1931). Near fine condition.
GUNNISON, COLORADO'S BONANZA COUNTY, 1883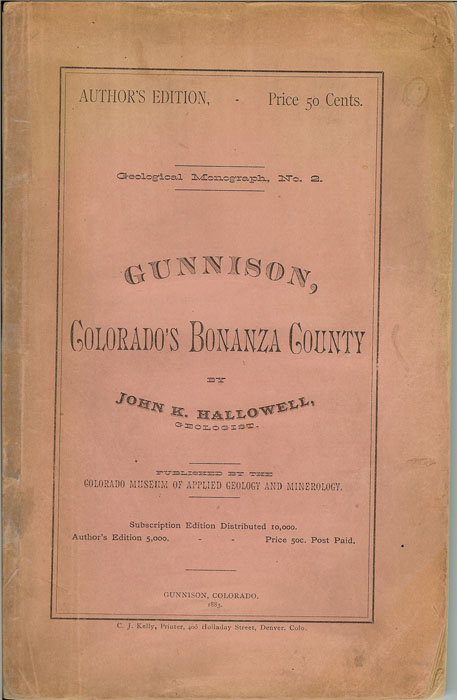 GUNNISON, COLORADO'S BONANZA COUNTY, by John K. Hallowell, published in 1883. Original black-printed pink wrappers, 168 pages. Early and excellent publication on the mining industry of Gunnison County. Hallowell was mining engineer and geologist commissioned to tour the young mining camps of Gunnison County, including the coal mines surrounding Crested Butte, Schofield and Crystal, Gothic, Pittsburg and Poverty Gulch, Ruby and Irwin, and many others long since vanished. Denver: Colorado Museum of Applied Geology and Mineralogy. Geological Monograph No. 2, Author's Edition. Very good condition: pages somewhat toned and light chipping to covers.
Ruby Mining District, Gunnison County, Colorado
BULLION KING SILVER MINING COMPANY, 1881
This stock certificate was issued in 1881, and is uncancelled (not returned to the company or resold on a mining stock exchange). Stated on certificates, "Mines in Gunnison Co., Colorado." Condition: near fine; usual two folds. This certificate represents the Company that owned the Bullion King Mine, which was located in the Ruby Mining District, situated around Coal Creek (re: COLORADO by Frank Fossett, 1880, pages 573 - 574). The Bullion King contained a large seam of ruby silver ore of exceptional value.
THE PITTSBURGH CONCENTRATING AND MINING COMPANY, 1890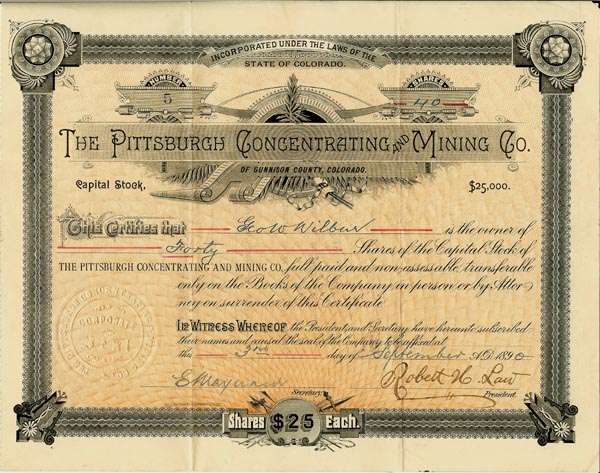 THE PITTSBURGH CONCENTRATING AND MINING COMPANY OF GUNNISON COUNTY, COLORADO. Stock certificate issued 1890, uncancelled. Robert Law as president and E. Maynard as secretary. Pittsburgh, Gunnison County, Colorado. Near fine condition.
Gold Brick District, Gunnison County, Colorado
A.E. Reynolds signed stock certificate. Gold Links Mine
THE COLORADO SMELTING AND MINING COMPANY
Stock Certificate issued 1901, uncancelled, near fine condition. Signed by A.E. Reynolds as president. This stock certificate represents the Company that owned the Gold Links Mine. The Gold Links was one of the biggest producers in the Gold Brick District, and helped to make A.E. Reynolds a millionaire. This certificate was engraved and printed by the American Bank Note Company, New York. Crawford, R.D. and Worcester, P.G. GEOLOGY AND ORE DEPOSITS OF THE GOLD BRICK DISTRICT, COLORADO. Colorado Geological Survey Bulletin 10. Eames Bros., State Printers, Denver, Colorado, 1916. Original gray printed wrappers; 116 pages; complete with 9 figures and 4 plates. The Gold Brick District was located near Ohio City, Gunnison County, Colorado.
Price for Reynolds signed stock certificate and Gold Brick District publication
THE BUNKER HILL GOLD AND SILVER MINING COMPANY, 1892
Irwin, Gunnison County, Colorado. This stock certificate was issued in 1892 and uncancelled, meaning it was never returned to the company and surfaced in the papers of a private estate. It is a small-sized certificate; however, it has the location of the mining property, "Irwin, Colo." printed on the front of the certificate, and it also exhibits a unique vignette of Bunker Hill, the Irwin town site, and the mines surrounding the town. This original stock certificate is in near fine condition.
This original Bunker Hill Gold Mining Company stock certificate is accompanied by a very scarce Leadville, Colorado check signed by RICHARD IRWIN, the Canadian after whom the Town of Irwin, in Gunnison County, Colorado, was named. Richard Irwin was an express rider who decided it might be more interesting, as well as profitable, to prospect throughout the Rocky Mountains. He arrived in Colorado in the early 1860s and thoroughly traveled the western half of the state. One of the first mining areas Irwin prospected was the Hardscrabble District in Custer County, Colorado. At the time, the Bassick Mine and others around the towns of Rosita, Querida, and Silver Cliff were producing admirable quantities of silver and gold. A few years later, Richard Irwin joined the rush to the Leadville silver mining district, and then decided to try his fortune in the Gunnison Country after rich mineral discoveries were made there. Irwin was in Ruby Gulch in 1879 when the territory was still owned by the Ute Indians and several prospectors had been killed in what became known as Deadman's Gulch, near Cement Creek. Irwin found himself invested in the Ruby Chief and Forest Queen mines.
This original Leadville, Colorado check was issued on The Miners' Exchange Bank of Leadville, Colorado, July 25, 1878, and signed by Richard Irwin on the back.
THE COLORADO COAL AND IRON DEVELOPMENT COMPANY, 1897
Stock certificate issued 1897, uncancelled. Company was predecessor to the Colorado Fuel & Iron Company. American Bank Note Company printing. Coal properties in and around Crested Butte, Colorado. Near fine condition.
MARSHALL PASS : Denver & Rio Grande , Gateway to the Gunnison Country.
Walter R. Borneman, Walter R. Featuring the Dow Helmers Collection. Colorado Springs, Colorado: Century One Press, 1980. Original brown cloth covers with black print on spine; 160 pages; very fine in fine dust jacket. Signed by author.
THE UNCOMPAHGRE VALLEY AND THE GUNNISON TUNNEL, 1905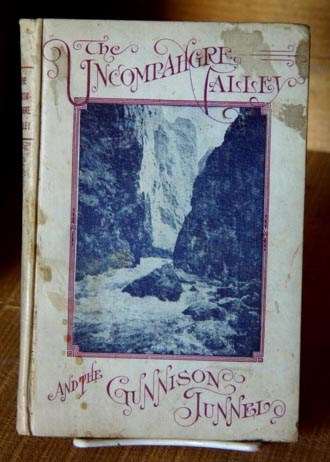 Barton W. Marsh. A Description of Scenery, Natural Resources, Products, Industries, Exploration, Adventure, etc. Published by Marsh and Torrence, Montrose, Colo., 1905. Original pictorial cloth covers; 151 pages; numerous half-tone illustrations and advertisements. Condition: lightly soiled covers; pages in near fine condition; overall, very good.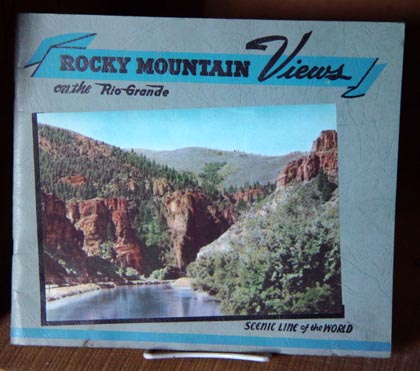 ROCKY MOUNTAIN VIEWS ON THE RIO GRANDE: "Scenic Line of the World," consisting of colored views from recent photographs. Made exclusively for The Interstate Company, Chicago, Illinois; "for sale only en route on The Denver and Rio Grande Western Railroad." The Smith-Brooks Company, Denver, Colorado, 1946. Condition: near fine; 44 pages; two-page map in back of publication.
Price; $37.50