Yes, we Accept: PAYPAL,
Venmo & SQUARE
We are always interested in purchasing, whether you have a single item or an entire collection for sale.
© 2022 Mt. Gothic Tomes
Issued March 5, 1895, uncancelled. Mining property just above the Town of Aspen, on Ajax Mountain (now, great skiing), Pitkin County, Colorado. One of the most important silver producers in the State of Colorado. Signed by Percy Hagerman, son of one of the founders of the Colorado Midland Railroad, James J. Hagerman. American Bank Note Company, New York, printing. Near fine condition; usual folds.
Issued September 28, 1910, uncancelled. Mining property in Cripple Creek Gold Fields, Colorado. Signed by J.R. McKinnie as president. Certificate is over-sized, not cropped (scanner bed isn't large enough), near fine condition, usual folds. A Cripple Creek Gold Mining District classic!
THE GOLD PLACER MINING COMPANY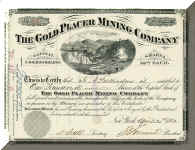 Issued April 20, 1881, uncancelled. According to the Horatio C. Burchard's REPORT OF THE DIRECTOR OF THE MINT UPON THE STATISTICS OF THE PRODUCTION OF THE PRECIOUS METALS OF THE UNITED STATES, Washington: Government Printing Office, 1883, on Page 587. the mining property of this Company was located in Summitville, Rio Grande County, San Juan Mountains, Colorado. Globe Stationery and Printing Co., New York
THE SAN JUAN CONSOLIDATED MINING COMPANY
Issued October 28, 1875, cancelled. Corporate seal affixed in Del Norte, Colorado (Territory). Mining property in the San Juan Mountains Region of the Colorado Territory. Signed by Thomas M. Bowen as secretary/treasuer. J.McKittrick & Co., St. Louis, printer. Condition: near fine; light folds
THE NEW YORK AND COLORADO MINING SYNDICATE AND COMPANY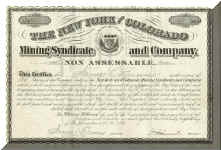 Issued September 28, 1880, uncancelled. Mining property located on gregory mountain near Black Hawk, Gilpin County, Colorado; on Teller mountain, near Montezuma, Summit county, Colorado; and on Columbus mountain, near Garfield, Chaffee county, Colorado (CORREGAN AND LINGANE, COMPILERS OF THE 1883 COLORADO MINING DIRECTORY). Certificate #9; near fine condition; usual folds. Bower Bros., Stationers, New York.