Yes, we Accept: PAYPAL,
Venmo & SQUARE
We are always interested in purchasing, whether you have a single item or an entire collection for sale.
© 2022 Mt. Gothic Tomes
ANNUAL REPORT OF THE STOCKHOLDERS OF THE DENVER AND RIO GRANDE RAILROAD COMPANY for The Fiscal Year Ended June 30, 1906
Original brown printed wrappers; 46 pages, plus foldout map of Denver & Rio Grande Railroad. Denver, Colorado: The Smith-Brooks Printing Company, 1906. George J. Gould, Chairman. Joel F. Vaile, General Counsel. Shadrach K. Hooper, General Passenger and Ticket Agent. Detailed reports of E.T. Jeffery, President; expenses, improvements, equipment, freight, passenger usage; etc. Very good plus condition; some light chipping around edges.
SOLD
BLACK CANON, GUNNISON RIVER
Denver & Rio Grande Railroad, circa 1895. Original cabinet card photograph. Near fine condition.
$150.00
SIGHTS, PLACES AND RESORTS IN THE ROCKIES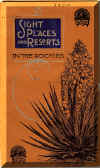 A Brief Preachment of Charming Resorts and Wonderful Sights in the Rocky Mountains with a Galaxy of Useful Hints of How to Reach Them. Issued by the Passenger Department of the Denver & Rio Grande and the Rio Grande Western. 6th edition. S.K. Hooper, General Passenger Agent, Denver, Colorado. Carson - Harper Printing, Denver, Colorado. Original illustrated wrappers; 72 pages; 1-page Map of the Rio Grande System. Very good plus to near fine condition
$200.00