Yes, we Accept: PAYPAL,
Venmo & SQUARE
We are always interested in purchasing, whether you have a single item or an entire collection for sale.
© 2024 Mt. Gothic Tomes
Leadville, Colorado silver mining, its astounding mineral production, and commerce were celebrated and promoted in many ways. It is still possible to find and study these intriguing artifacts, such as souvenir spoons and china, medallions, trade tokens, embossed whiskey flasks, imprinted ribbons, advertising trays and signs, and much more. Below are just a few of the examples of historical promotional items we have to offer.
LIONS' GOLD MINING COMPANY, prospectus, 1896
Property of the Lions' Gold Mining Company consisted of 5 patented claims covering an area of 37 acres, held under bond and lease, and situated in the rich Leadville gold belt region, near the Little Johnny, Garbutt, Modoc, and H. M. Holden deposits. The Company's property was known as the Mountain Lion Group located at the junction of Breece Hill and Bull Mountain. Report on property by George F. Campion. Directors: B. A. Setz, O. S. Buell, George F. Campion, A. W. Daynes, James A. Boggs, John Mayo Palmer, and G. E. Field. Offices were in Des Moines, Iowa and Leadville, Colorado. Prospectus is in its original tan printed covers; 11 pages; no illustrations. Foldout map of Leadville Gold Belt in back of publication; dimensions: 7 inches by 10 inches. Near fine condition.
HUMBOLDT MINING AND SMELTING COMPANY of Leadville, Colorado Prospectus and By-Laws 1881
HUMBOLDT MINING AND SMELTING COMPANY OF LEADVILLE, COLORADO. Prospectus and By-Laws. Leadville, Colorado: Longshore & Ward, Printers, 1881. Original printed gray wrappers; 13 pages. Condition: very good plus. Foldout map of "Properties of the Humboldt Mining and Smelting Company of Colorado. Property located on the southwest slope of Carbonate Hill, which lies directly east of Leadville, a portion of the city having been built on its lower slopes.

Price: $375.00
PROFESSOR E. C. LINDEMANN, Geologist and Manager of the Little Louise Mine, Leadville, Lake County, Colorado
Ernest C. Lindemann, a Pennsylvania native, arrived in Colorado in 1870, and went to work as a mineralogist, geologist, and mining engineer in Black Hawk, Central City, Georgetown, Breckenridge and other early Colorado Territorial mining districts.

Lindemann was educated at the School of Mines in Strasbourg, Germany, graduated in 1849; and then, in 1856 went off to explore Alaska. He traveled that territory for over a year and a half, going as far as a 1,000 miles north of the lower Yukon. During this time, his practical experience made him highly suited for the silver and gold fields of Colorado, where he intended to move.
In the mid-1890s, Lindemann had the opportunity to manage the Little Louise Mine on the north side of Evans Gulch, between the Ball Mountain and Weston faults, on Prospect Mountain, in the Leadville Mining District. He embraced this position with his usual optimism and passion. Under Lindemann's supervision, the Little Louise showed increased productivity; however, the property was never to be a Little Pittsburgh.
Lindemann lived in Denver for a number of years, and had an office at 1559 Emerson in 1896; and then, at 3146 Gilpin in 1905. He moved to the City of Boulder in 1906 and took up residence at 2473 20th with his wife, Louise. There, he worked as a mining engineer, having in his background successful mining ventures in South America, Australia, and South Africa. While in Boulder, he practiced his care of animals by becoming an agent of the State Humane Society, often working for free.
E. C. Lindemann had these cut-glass, ruby-flashed goblets specially made to promote his Little Louise Mine enterprise in Leadville, Lake County, Colorado. They are unique, artistically made, and in fine condition. They are unique items representing the illustrious mining history of Leadville and Colorado.
Price: $2,000.00
HART-ZAITZ MERCANTILE COMPANY
Advertising stores in Leadville, Stringtown, and Red Cliff, Colorado
| | |
| --- | --- |
| Dimensions: 10 inches by 8 inches; chain around glass edges; near fine condition. Circa 1905. Price: $1,275.00 | Dimensions: 8 inches by 10 inches; chain around glass edges; near fine condition. Circa 1905. Price: $1,275.00 |
Advertising on glass for The Hart-Zaitz Mercantile Company, circa 1905 (ref: Leadville Business Directory, Ballenger-Richards). Frank Zaitz was president of this company; H.W. Hart was treasurer and manager. Leadville store was located at 517 W. Chestnut.
Original Leadville medallion: Golden Jubilee, 1914, B.P.O.E.
Medallion, made by Robbins Co. Attleboro, for American JL'y Co. Elk in relief before mountain scene. "Leadville, Highest Lodge in the World," written on enamel. Condition: very good plus to near fine.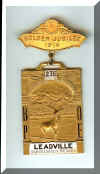 Price: $75.00