Yes, we Accept: PAYPAL,
Venmo & SQUARE
We are always interested in purchasing, whether you have a single item or an entire collection for sale.
© 2021 Mt. Gothic Tomes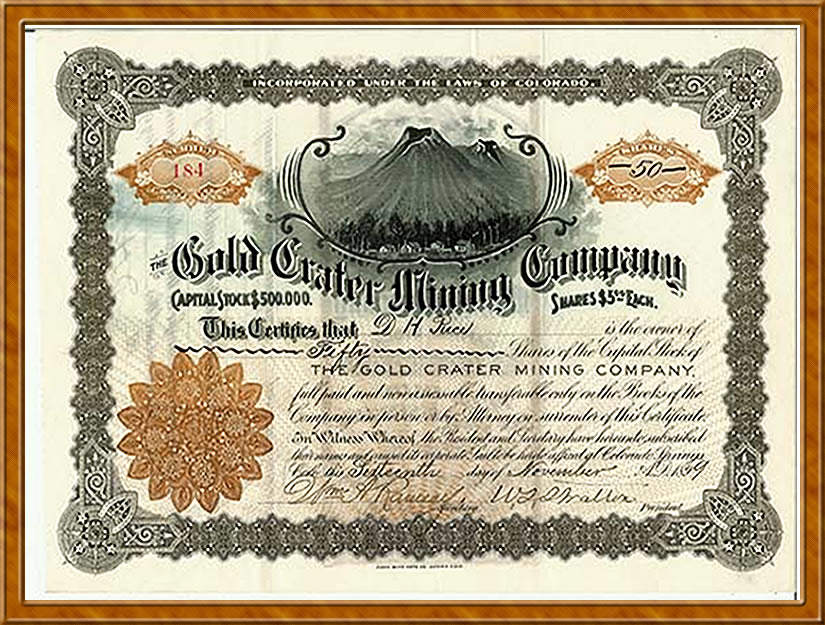 MINING PROSPECTUS
BARLOW SILVER MINING COMPANY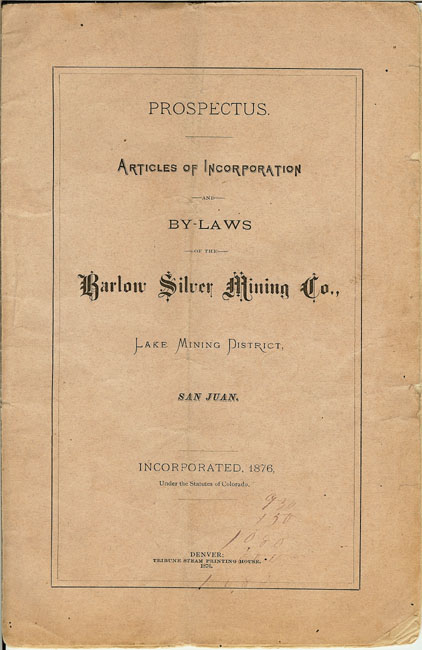 LAKE MINING DISTRICT, near Lake City, Hinsdale County, Colorado, San Juan. Incorporated 1876. Denver: Tribune Steam Printing House, 1876. Original printed pink wrappers; 16 pages. Good plus condition.
THE CENTENNIAL GOLD MINING COMPANY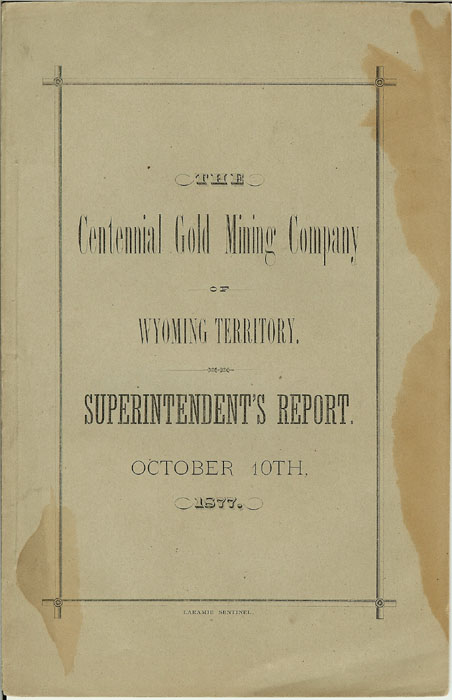 OF WYOMING TERRITORY
SUPERINTENDENT'S REPORT
OCTOBER 10TH 1877. Original printed gray wrappers; 13 pages; light stains to cover edges. Laramie Sentinel, Printers. Stephen W. Downey, President, Laramie City, Wyoming Territory, 1877. N. M. Ambrose, Superintendent. Overall condition: very good plus. Mining property in North Park Region, near head waters of Grand, the North Platte, and Laramie rivers.
REYNOLDS - ALASKA DEVELOPMENT COMPANY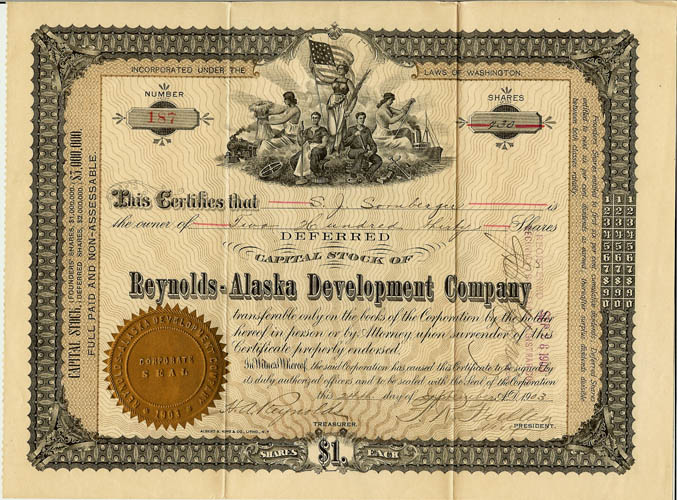 Issued September 24, 1903, uncancelled. 102 claims. The Boulder Bay group of 31 claims, 620 acres, on the Kenai Peninsula. Copper and gold. The Copper Mountain Group, 9 claims in Landlock Bay, near Boulder Bay. Iron Mountain Group, 62 claims, including the Duchess and Blue Fox properties, Horseshoe Bay, 60 miles west of Boulder Bay, Latouche Island. Copper ore. Company was original promoted by Henry D. Reynolds, who was ousted in 1907; and, in 1908 was arrested on a secret indictment, returned by a federal grand jury in Massachusetts for using the mails to defraud. Reynolds had a long string of collateral enterprises having absolutely no connection with the legitimate mining and smelting operations. The Company's real estate holdings in and around Valdez was sold under receivership in 1908. In 1909, the Company was in bankruptcy, but proceedings terminated in 1910 after a settlement was made with creditors. This certificate represents the legitimate mining operations of the Company cleansed of Mr. Reynolds' philandering. Governor John Green Brady (1848-1918) of Alaska was forced to resign due to his involvement with Henry Reynolds. Condition: near fine; some wrinkles. This certificate is signed by H.A. Reynolds as treasurer of the Company.
THE CLAY COUNTY MINING & MILLING COMPANY

Issued January 7, 1892, uncancelled. Location of Mines: Gilpin County, Colorado. Clay County Mine. Incorporated by Colorado. Small-sized, near fine condition, no folds
Price: $65.00
THE CONSOLIDATED GREGORY COMPANY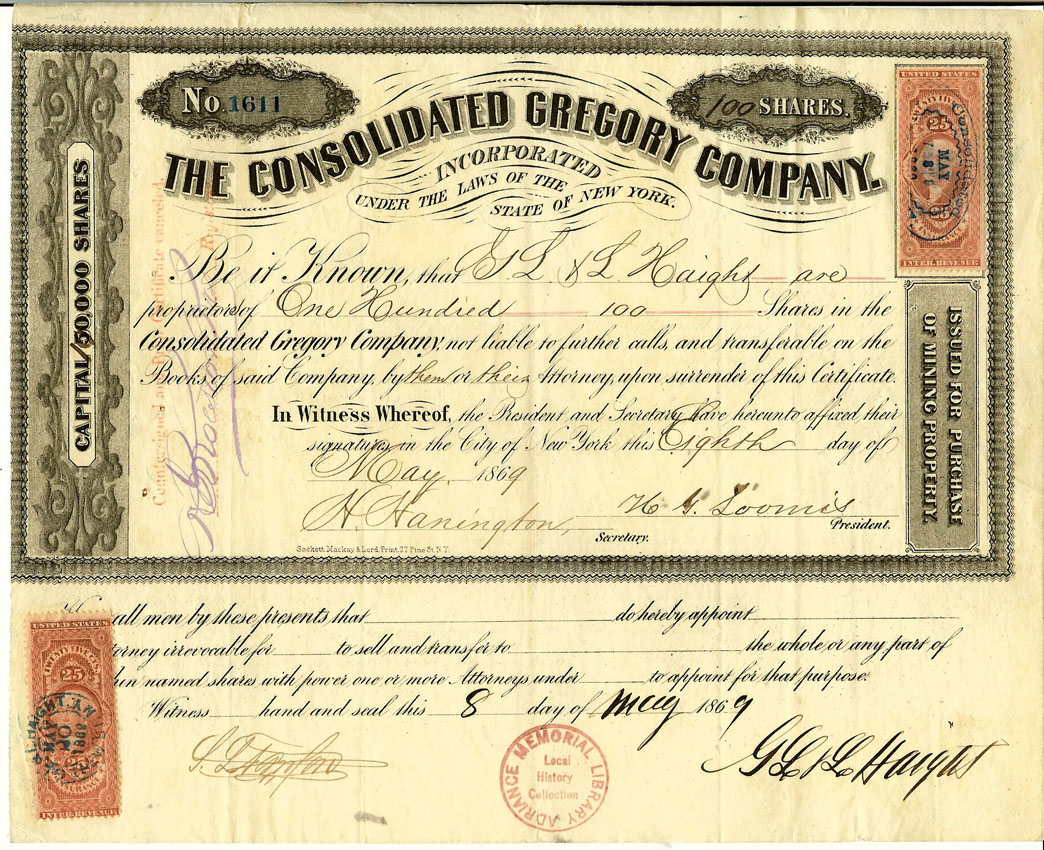 Issued January 29, 1869; uncancelled. Company owned 500 lineal feet on the original Discovery Claim, the Gregory Lode, in the Kansas Territory in 1859. The resulting gold rush helped initiate the formation of the Colorado Territory. Claim near Central City, Gilpin County, Colorado Territory. Details of this Company and its operations can be found in Ovando Hollister's MINES OF COLORADO, 1867. Near fine condition; folds. SOLD
THE PORTLAND GOLD MINING COMPANY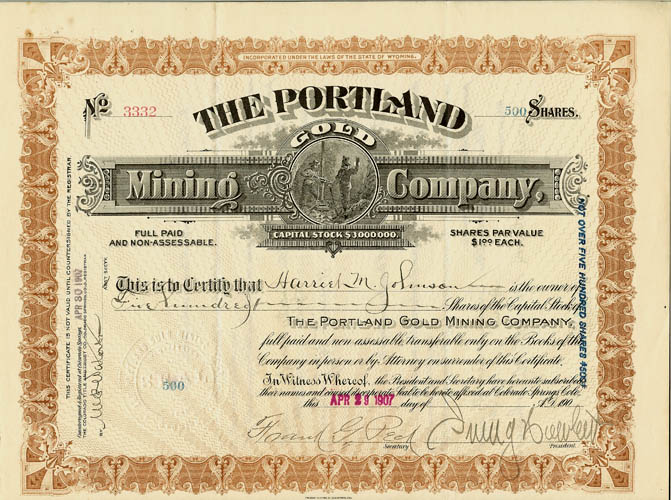 Issued April 29, 1907, uncancelled. Incorporated in Wyoming. The most productive gold mines in the Cripple Creek Gold Mining District, Colorado. Over-sized certificate; very good plus condition
THE CRESSON GOLD MINING AND MILLING COMPANY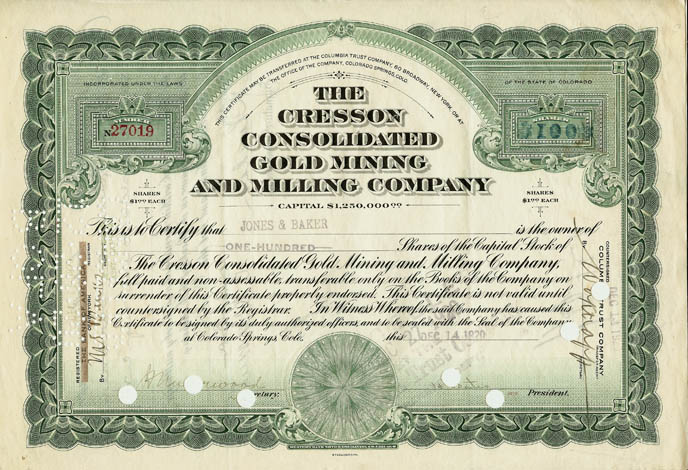 ISsued December 14, 1920; cancelled. Western Bank Note Engraving, Chicago. Incorporated in Colorado. Company owned one of the later major gold producers in the Cripple Creek Gold Mining District, Colorado. Property produced generally low-grade ore throughout the 1890s, but was made a significant producer by Richard Roelefs in the 1910s. Condition: very good plus; folds
Price: $30.00
Please view our other Mining web pages: