Yes, we Accept: PAYPAL,
Venmo & SQUARE
We are always interested in purchasing, whether you have a single item or an entire collection for sale.
© 2021 Mt. Gothic Tomes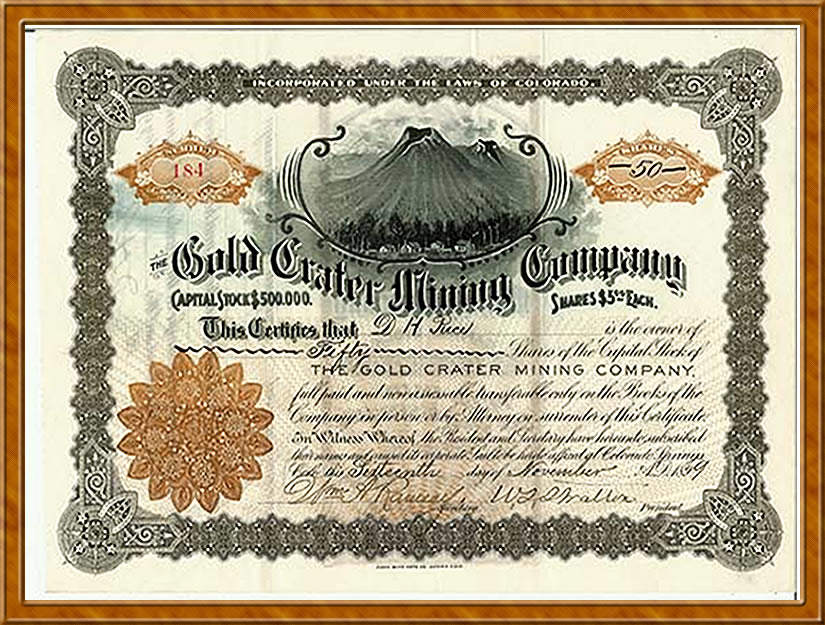 FIFTH ANNUAL REPORT OF THE BAKER SILVER MINING COMPANY, 1872
Clear Creek County, Colorado Territory
Original mining report in original printed cream-colored wrappers; 12 pages, no illustrations. T. P. Bucher, president. A. B. Pearson, vice-president. John Wiest, secretary and treasurer. Company's main office: Philadelphia, Pennsylvania. Very good condition: some discoloration on front cover as well as two tiny spots of paper loss; interior pages are bright and clean and in near fine condition. Company owned mining property and reduction works near Bakerville, Clear Creek County, Colorado Territory.
Price: $225.00
THE LETTIE H. GOLD MINING COMPANY, 1902
Jo. C. Griffith, president. Original printed pink wrappers, 1902. Properties of the Lettie H. were located in Teller County, Colorado adjoining the town of Woodland Park, a few hundred yards from the Colorado Midland Railway station in Woodland, directly on the Hayden Dike system which extended in a northerly direction along the Rampart Range of the Rocky Mountains, gold-bearing. Dimensions: 5 inches in width by 7 inches in height; 10 pages. 5 photographic illustrations. A good of promotion, especially in relation to Cripple Creek. Sparse on actual facts about developments on the Company's property. Very good condition.
PROSPECTUS OF THE REDEMPTION MINES SYNDICATE, 1903
Mining property located in the Magnolia Mining District, Boulder County, Colorado. Property includes the following mining claims: Zephyr mill site; Black Canon lode; Arcadia lode; Mt. Lion; Clydesdale; Mountain Monarch; Tungsten; Aeneid; Esmeralda; Forest King; Hurricane; Buena Vista; and Esmeralda No. 1. Presented by the Kimball Investment Company, Denver, Colorado. 4-page fold-over publication plus investment letter and subscription blank. Very good condition with conservation repaired closed-end tears.
Price: $45.00
THE PRE-ORGANIZATION PROSPECTUS OF THE DIVIDEND GOLD MINES COMPANY, 1912
General Offices: 517 Mining Exchange Building, Denver, Colorado.
Property and Plant: Black Hawk, Gilpin County, Colorado.
Location: Enterprise District, Gilpin County, Colorado, 37 miles from the City of Denver; mine located one-half mile from railway station and the milling and smelting works of Black Hawk.
Condition: very good; some light creasing; several contemporary pen marks. Four-panel folding brochure.
Price: $37.50
THE SUN TUNNEL MINING AND TRANSPORTATION COMPANY, 1912
Mines and Mill near Tolland, in northern Gilpin County, Colorado, between Tolland and Rollinsville. Tunnel entrance on the Moffat Railroad.
Property consisted of the following lode claims: Camp Bird, Home Run, Homestake, Red Blossom, Blowhard, Covington, Comet, Commonwealth, Switchback, Porphyry, Arrow, Iron Mask, Illinois, Buckeye, Golden Sun No. 1 through Golden Sun No. 35 claims, Golden Sun Tunnel and Tunnel Site No. 2, comprising approximately 200 acres.
Condition: very good with folds. Four-page folding brochure.
Price: $45.00
THE SUNSET GOLD MINING & MILLING COMPANY, 1926
Properties owned by this Company include: Silver Horn Group and New Century Group. The silver Horn Group was in the Cascade Mining District, 5-1/2 miles from Idaho Springs, Clear Creek County, Colorado. New Century Group was located in the Spanish Mining District, 1/4 mile from Idaho Springs.
Folding 4-page publication, plus promotional letter. Also included is a Prospectus of The Sunset Gold Mining and Milling Company laid out as a folding mining deed, legal-sized, 10-pages in length.
Both of the above items in very good condition. also included: 5 envelopes with Company address.
Price: $40.00
THE WELLINGTON MINES COMPANY, 1903
Albert Parker, president. Property – "The famous Wellington Mine of Summit County, Colorado." Original gold-printed black wrappers; 32 enamel-coated pages. Dimensions: 6-1/4 inches in width by 9-1/2 inches in height. Ten illustrations, including 2-page panoramic view. Contents include: Building a Fortune the Common Sense Way; Activity in Mining; The Wellington Is a Producing Mine – Not a Prospect; Facts about the Wellington Mine; A Producing Mine; Estimated Net Profit $8,400 Per Day; the Time to Buy Stock is when the Stock is Low; Smelter Returns for Ores from the Wellington Mine; Fabulous Wealth in Mining; What $100 has Done and Will Do; Stratton wanted the Wellington; What Prominent Breckenridge People Say; It's Lead and Zinc that Pays. Condition: good plus; interior is in very good plus condition; covers are in good condition.
Please view our other Mining web pages: