Yes, we Accept: PAYPAL,
Venmo & SQUARE
We are always interested in purchasing, whether you have a single item or an entire collection for sale.
© 2021 Mt. Gothic Tomes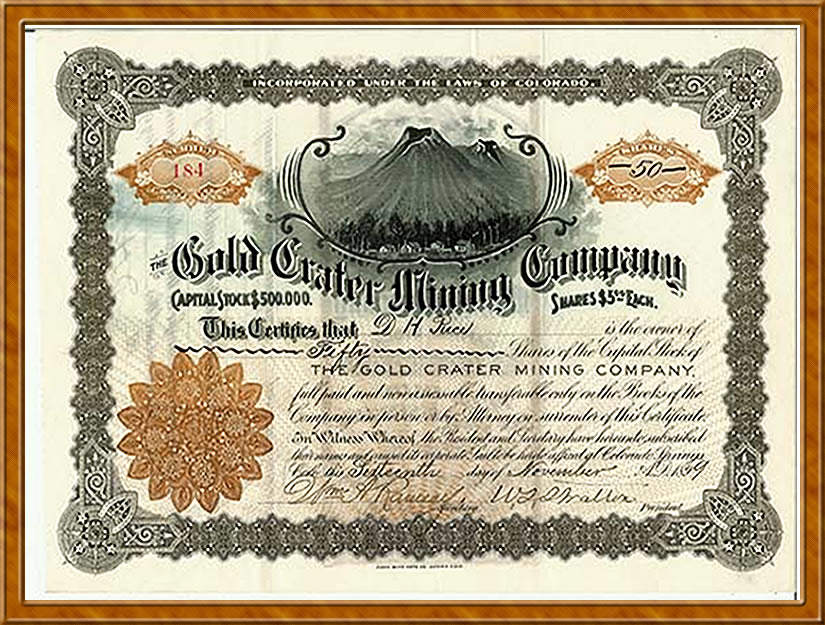 THE BERTHA GOLD MINING & MILLING COMPANY
Gilpin and Boulder counties, Colorado, 1901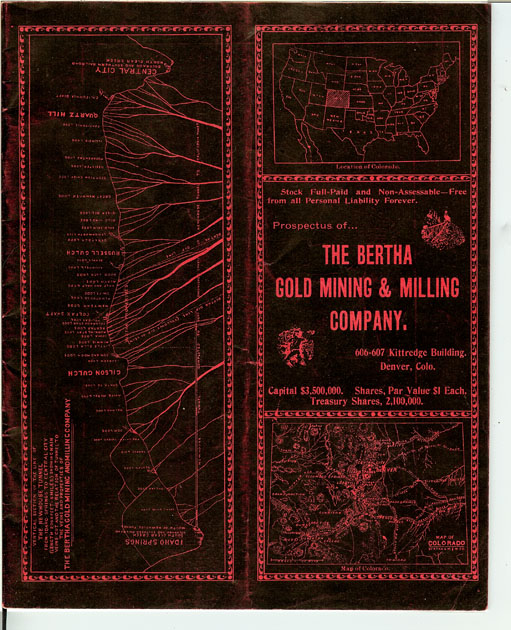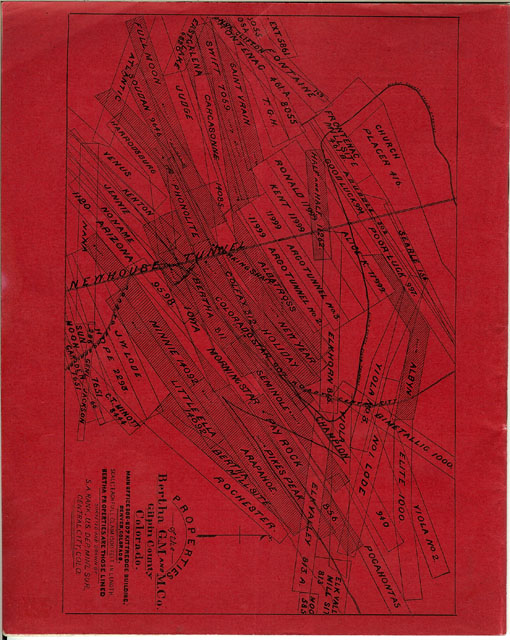 J. T. McClanahan, president. Mines located in Gilpin County, Colorado. 1901. Original illustrated wrappers; black and red print. Dimensions: 8 inches in width by 9-3/4 inches in height; 52 pages. Near fine condition. Over 80 illustrations, most of which are photographic. 12 properties and a mill site all situated in Gilpin County, Colorado, all agglomerated in one group over the line of the Newhouse Tunnel, piercing property 2400-feet deep on veins. Company also owned Douglas claim near the Caribou Mine, in Caribou mining district, Boulder County, Colorado. Great detail on various mining properties owned by the Company. Several maps of mining property: sectional of veins on property; bird's-eye-view of District cut by Newhouse Tunnel; properties of the Bertha Gold Mining and Milling Company. Numerous William Henry Jackson photographs. Details on mining development and machinery on various properties owned by Company. Serious detail concerning Company's properties, their development and production. Extract from Report of Colorado State Commissioner of Mines on Gilpin County. Report upon the Properties of The Bertha Gold Mining & Milling Company by L.N. White. Article: "Gregory's Hill of Gold." Extracts from a Report on the Bertha Group of Mines by John M. Ross. Report on Newhouse Tunnel and many pertinent articles. Also included in this lot: THE BERTHA GOLD MINING AND MILLING COMPANY, stock certificate #1592, issued November 16, 1900, uncancelled, near fine condition. Professionally composed to constructively inform and sell the productive aspects of this Company's various mining properties.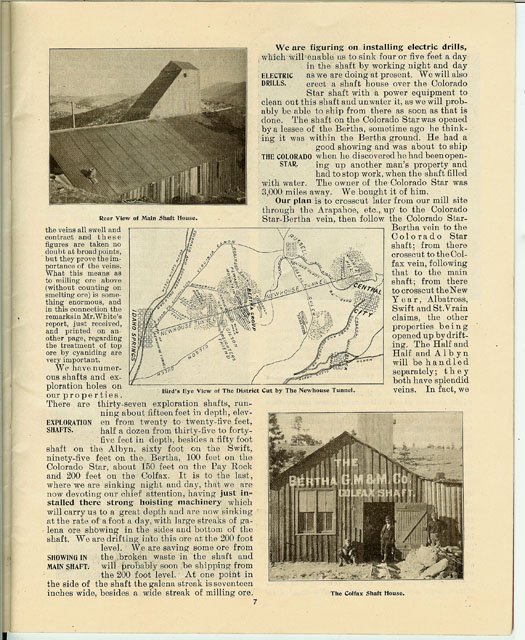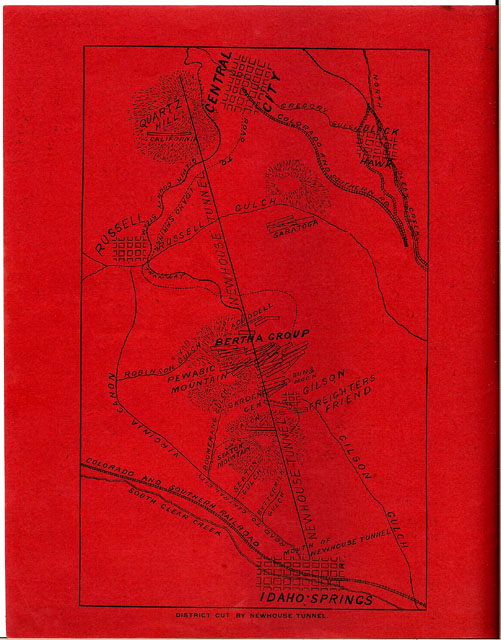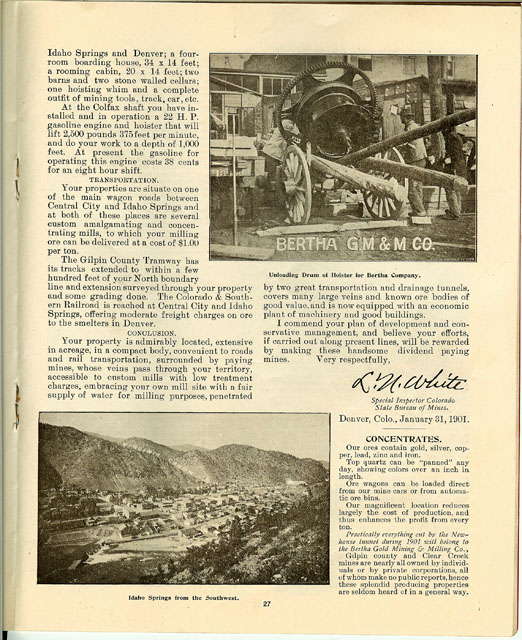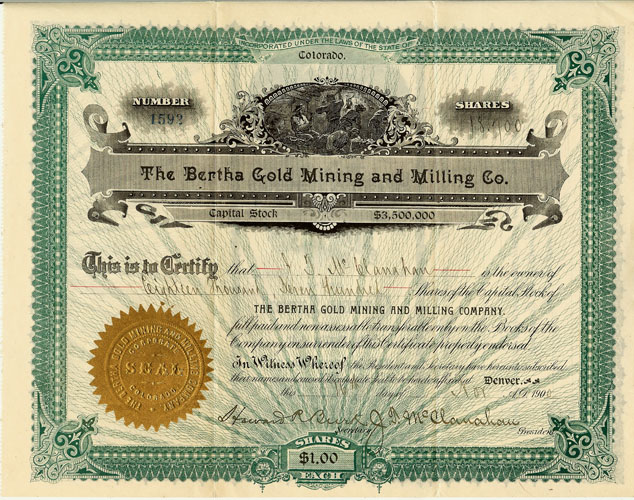 Price for mining prospectus and stock certificate: $750.00
THE ALICE GOLD MILLS CORPORATION
Clear Creek County, Colorado
Arthur H. Roller, president and general manager. 1908. Original printed brown wrappers with red-tie binding. Dimensions: 9-1/4 inches by 12 inches; 16 enamel-coated pages, plus fold-out map of the Company's mining claims and surrounding mining district. Near fine condition. The Smith-Brooks Company, Engravers and Printers, Denver. 8 photographs, plus one 2-page panoramic photograph and 2 sectional views. Highly detailed text. Mining property was situated in the Alice or Lincoln Mining District, Clear Creek County, Colorado, 10 miles northwest of Idaho Springs on the Colorado & Southern Railway, 37 miles west of Denver.
Price for both prospectuses and related stock certificate: $550.00
THE PITTSBURGH AND CRIPPLE CREEK GOLD MINING AND MILLING COMPANY
Cripple Creek Gold Mining District, Colorado
Harry D. McCutcheon, president. Original gold printed dark green wrappers. Dimensions: 5-1/4 inches in width by 6-3/4 inches in height; 32 pages. Duncan & Company Press, Pittsburg, 1899. 15 full-page photographs. Near fine condition. Mining company owned property known as the Highland Group mining claims, on west slope of Cow Mountain, located in the Cripple Creek mining district, Teller County, Colorado. Property located within 500 yards of the Midland Terminal Railroad. Near wagon road to Gillett. Only a tunnel on property when prospectus was composed, so there is a great deal of speculation involved in this promotion. Mining report by S. L. Van Ameringen. Overall prospectus composition by E. L. Robinson, M. E., Colorado Springs.
Please view our other Mining web pages: