Yes, we Accept: PAYPAL,
Venmo & SQUARE
We are always interested in purchasing, whether you have a single item or an entire collection for sale.
© 2021 Mt. Gothic Tomes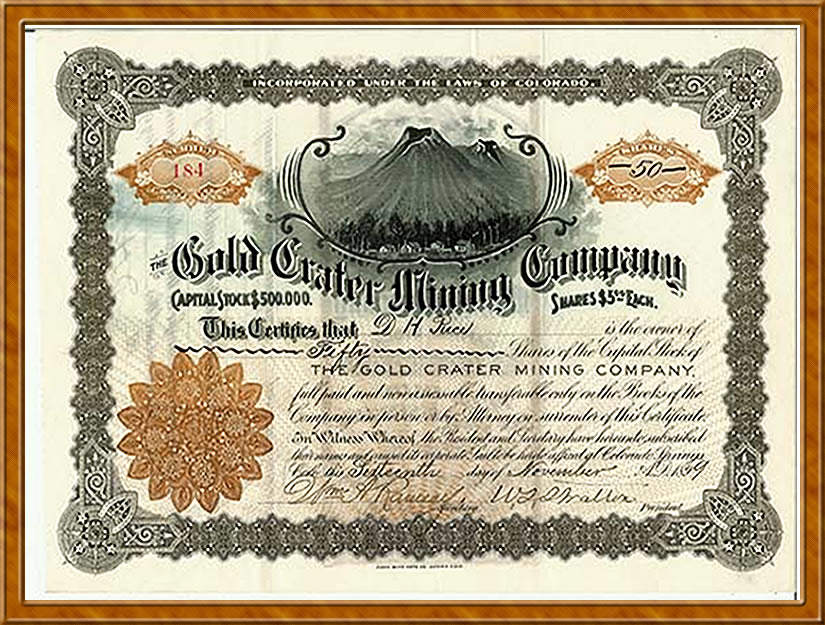 PANORAMIC PHOTOGRAPH:
FIRST CRIPPLE CREEK WAR, June 1894
Gatling Gun Division of Colorado Springs Company K
Volunteer Company from Leadville, Colorado, under Command of Captain George Brown
Picture taken near Gillette, Cripple Creek District, Colorado. Bull Hill in the background.
Among those in Company K were the following from Colorado Springs: William F. Fisher; D. C. G. McNeill; J. Arthur Connell; R. A. F. Penrose, Jr.; Spencer Penrose; Russell Wray; Russell F. Gardiner; H. K. Devereux; Mr. McNeill, brother of D. C. G. McNeill; Mr. White; Mr. Doubleday; and others.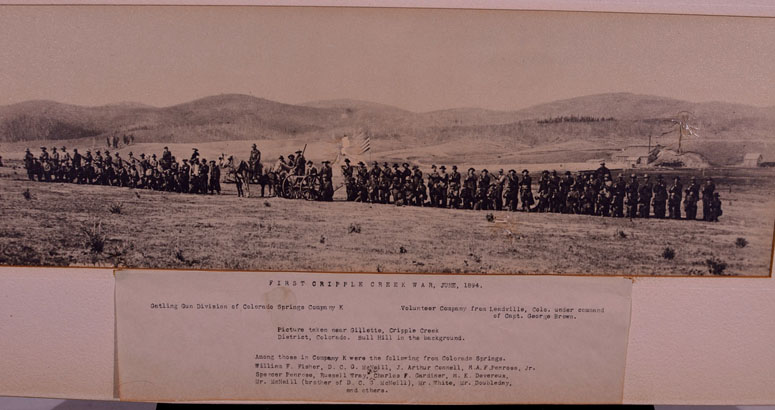 Dimensions of photograph: approximately 17-1/4 inches across by 6 inches in height. On original manila-colored mat board, set behind original cream-colored mat. Photograph appears to be a 1910s reprint of an earlier, possibly albumen, photograph. Condition: generally very good with good tones; however, there appears to be 3 spots where the image has been marred: a) in the center of the photo; above the Lincoln Boy Mine on the right-hand side of the photo; and, c) in the lower left-hand area near the place where the photo is attached to the mat. The damage spots are less than dime-size and do not disfigure the image detail. Gatling gun exhibited in center of photograph. Typed sheet of facts about photograph originally attached to mat board.
Price: $2,000.00
NEEDLE MOUNTAINS, DENVER & RIO GRANDE RY., NEAR SILVERTON, COLORADO. W. J. Carpenter, Telluride, Colorado, Photograph No. 594. Circa 1889.
From the Art Studio of W. J. Carpenter, Telluride, Colorado
Dimensions of photographic image: 13 inches across by 10 inches in height; half-mammoth-sized. Mounted on original cream-colored mat board with Carpenter's emblem on back. Mat dimensions: 17 inches across by 14 inches in height.
Denver & Rio Grande Railway Engine Number 61 on railroad tracks near Silverton, near the Needle Mountains, Colorado.
Condition: evident light sun-fading, yet image is still highly detailed; damage to left-hand side of mat with a noticeable inch-and-a-half of crinkling into left margin of photograph; band of darkening on back of original mat from wood slat that originally held photograph in frame.
Price: $950.00
PHOENIX MARKET, CITY OF VICTOR, CRIPPLE CREEK GOLD MINING DISTRICT, circa 1900
Andrew James Harlan of the interior of the Phoenix Market, 103 North 3rd Street, Victor, Colorado. Image dimensions: 16 inches by 7 inches. Condition: photograph somewhat light, but highly detailed, and unusual subject matter. Harlan was in Victor from 1896 - 1902, and then set up his studio in Colorado Springs from 1902 - 1916.
Near fine condition.
Price: $2,500.00
Please see our other photographic offerings on the following web pages: