Yes, we Accept: PAYPAL,
Venmo & SQUARE
We are always interested in purchasing, whether you have a single item or an entire collection for sale.
© 2021 Mt. Gothic Tomes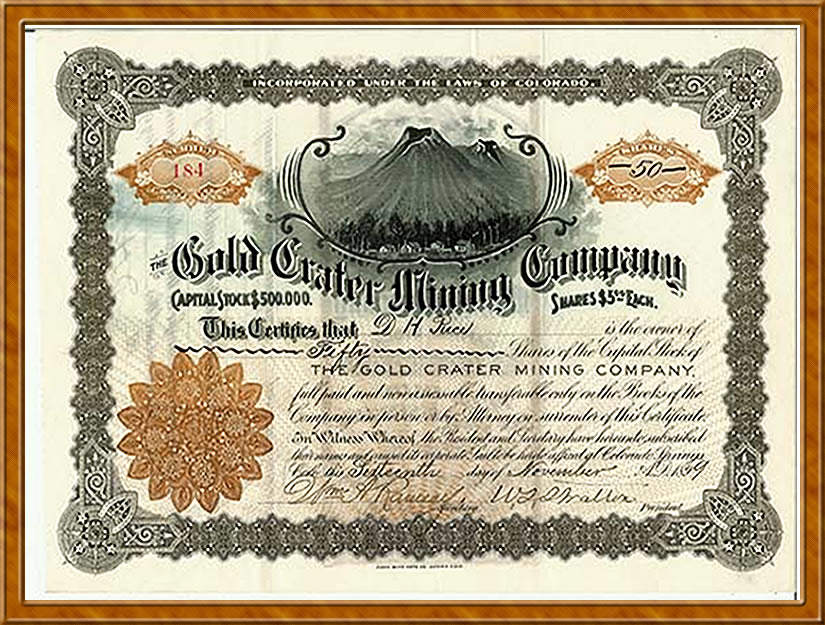 DENVER, SOUTH PARK & PACIFIC RAILWAY ROUNDHOUSE at COMO, PARK COUNTY, COLORADO, 1910
Silver gelatin photograph mounted on original gray card, 1910. Image dimensions: 9-1/2 inches by 7-3/4 inches. Card-mount dimensions: 14 inches by 12 inches. Excellent defining tones. Exceptional detail. No photographer named. Near fine condition.
Written on back, in pencil: Como Round House, August 27, 1910; also, some of the names of the men in the photograph.
SOLD
THE ROYAL GORGE (Colorado) Number 1415, original mammoth-sized albumen print
Wm. Jackson & Co., Denver
Train of The Denver & Rio Grande Railway at "Hanging Bridge."
Circa 1880
Original albumen print, not mounted on mat board, near fine condition. Photograph dimensions: 16-1/2 inches across by 20-1/2 inches. Overall, photographic tones are strong and clearly defined. A touch of noticeable fading. Although this print is in overall very good plus to near fine condition, it must be noted that there are areas of very light rippling and several edges showing some slight roughness.
PITTSBURG MINE, Colorado, circa 1905
Silver gelatin photograph mounted on original black card. Image dimensions: 8-1/2 inches by 6-1/2 inches. Card dimensions: approximately 10 inches by 8 inches; card has been cut down from original size, but does not negatively impact photograph. Good tones; excellent detail.
PIKES PEAK FROM NEAR MANITOU PARK, COLORADO MIDLAND RAILWAY, William Henry Jackson mammoth-sized albumen photograph, #1200
Circa 1890
On original Colorado Midland Railway matboard with Colorado Midland emblem, "Pike's Peak Route, circa 1890.
PHOTOGRAPH DIMENSIONS: 21-1/2 inches across by 17 inches in height. Original mat dimensions: 23 inches across by 19-3/4 inches in height. Condition: good plus; fading evenly across original albumen photograph; several very light damp-spots; upper right-hand corner cracked and reinforced on back of mat; hairline split at top center of photograph, approximately 3 inches in length (difficult to see, yet still there); chipped along edges of mat; light water-stains at bottom of mat; overall tonality is very good.
ORIGINAL PANORAMIC VIEW
BY A. J. HARLAN
Andrew James Harlan was a photographer with a studio in Victor, Colorado, 1896-1898. Harlan moved his studio to Colorado Springs in 1899-1900, and remained in business there for several years. Harlan was hired by the Portland Gold Mining Company to photograph for their gold mining properties for annual reports and other promotional activities.
This is an original hand-tinted photograph, dating from circa 1900. Its image dimensions are: 34 inches wide by 8-1/2 inches in height. Condition: near fine; no evident fading or flaws. Exceptionally detailed. Photograph was re-framed in recent years.
ONE THE LINE OF THE FLORENCE & CRIPPLE CREEK RAILWAY
Photographer and studio: A. J. Harlan, 400 E. Bennett Avenue, Cripple Creek, Colorado
Circa 1900
Photographic dimensions: 16-1/2 inches and 13-1/2 inches. Image quality: near fine. Hand-tinted photograph original mounted on mat-board with imprint of A. J. Harlan's studio in Cripple Creek, Colorado. Original mat board cut down to photograph's dimensions. Lower left-hand corner exhibits image out-of-focus as in original glass plat. Otherwise, highly detailed image of train trestle long since dismantled. Date of photograph: circa 1900.
MANITOU PARK AND TRACKS OF THE COLORADO MIDLAND RAILWAY, circa 1900
Silver gelatin print; unknown photographer
Photographic dimensions: 17 inches by 14 inches. Condition: good plus; light sun-fading down center of image; light soiling in upper right-hand corner; light overall fading. Tracks of the Colorado Midland Railway in Manitou Park, near Woodland Park, with Pikes Peak in the background. Similar to images taken by William Henry Jackson; however, this photograph is not identified.
Price:
Please see our other photographic offerings on the following web pages: