Yes, we Accept: PAYPAL,
Venmo & SQUARE
We are always interested in purchasing, whether you have a single item or an entire collection for sale.
© 2021 Mt. Gothic Tomes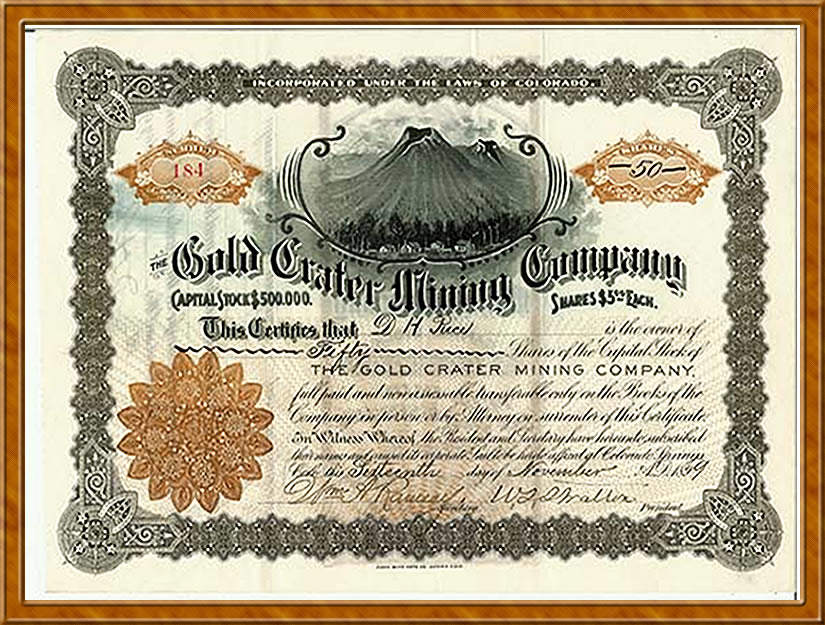 ANIMAS CANON AND NEEDLE MOUNTAINS, COLORADO on the SILVERTON BRANCH of THE DENVER & RIO GRANDE RAILWAY
Hand-tinted albumen mammoth-sized print, with original linen backing, circa mid-1880s
William Henry Jackson & Co., Denver, Col.
Photograph dimensions: 20 inches across by 16 inches in height. Original linen backing, as Jackson's company often applied to larger albumen or printing-out-paper photographs in the late 1880s and early 1890s. Condition: overall, very good, with fine tones and clear and precise details, as noted on and around the D&RG train and the people standing in and at the edge of the Las Animas River (these figures were removed for later printings of this glass-plate image); some light chipping along edges of photographic images, and one tiny knick at upper center of image; little or no fading.
Price:
BANKER MINING AND TUNNEL COMPANY, Winfield, Chaffee County, Colorado, circa 1900
Original panoramic albumen photograph by F. A. Nims. Image dimensions: 18-1/2 inches by 4-1/2 inches. Condition: good plus; some crinkling and one obvious repair in the upper left-hand area. Taken with three photographic glass plates; however, Nims was not as exact as William Henry Jackson in this process. Photograph is more noted as a rare image of a small, yet intriguing mining camp in the Collegiate Mountain Range of central Colorado.
Price: $375.00
VIEW OF BRECKENRIDGE FROM NIGGER HILL, SUMMIT COUNTY, COLORADO, circa 1895
Original photograph taken by O. Westerman, Breckenridge, Colorado, circa 1895. On original cabinet card. Condition: very good; slightly wavy mount by photographer.
Price: $160.00
VINDICATOR AND LILLIE MINES, near Goldfield, Cripple Creek Gold Mining District, Teller County, Colorado, circa 1900
Image dimensions: 5-1/2 inches, height by 3-1/2 inches, width. Original card dimensions: 7-1/4 inches by 5-1/4 inches. Condition: good tones and definition; very good plus.
Price: $125.00
SILVER PLUME AND MINES, COLO. Colorado Central Railroad, circa 1890 (Clear Creek County, Colorado)
Original cabinet card photograph. A. Rapin, Silver Plume, Colorado, Dealer in Curiosities. Photograph is in very good plus condition with Rapin's emblem stamped on back of original photographic card.
Price: $150.00
CRIPPLE CREEK FIRE, 1896
Original Edgar Yelton photographs
CRIPPLE CREEK, COLORADO: Two Edgar Yelton photograph cabinet cards, April 1896
Specially calligraphy, pen-and-ink drawing, and mount by the artist, George Foott. Near fine condition. Cabinet cards are complete and have not been cropped; carefully placed with museum-mounting.
Please inquire
Please see our other photographic offerings on the following web pages: