Yes, we Accept: PAYPAL
& SQUARE
We are always interested in purchasing, whether you have a single item or an entire collection for sale.
© 2020 Mt. Gothic Tomes and Reliquary, LLC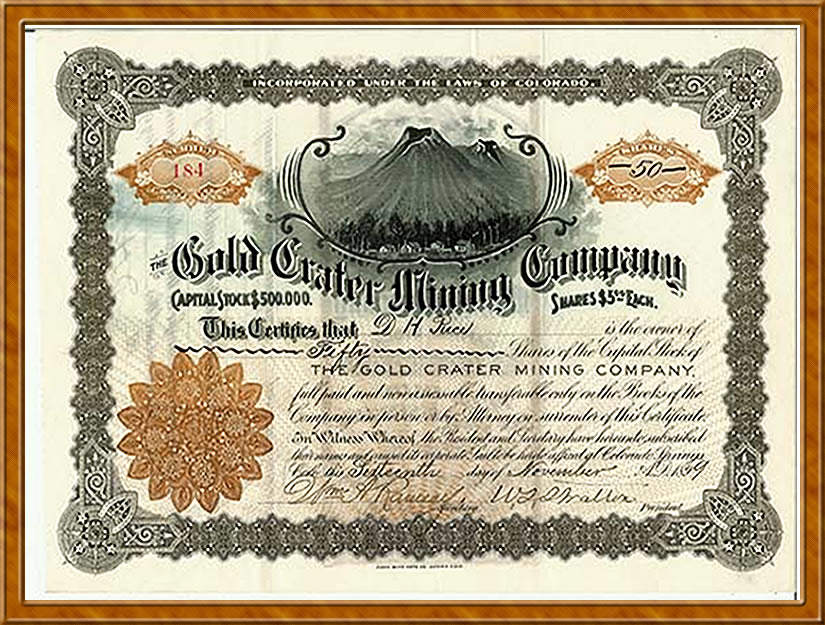 COLORADO CATALOG
Page 6
September 2015
51

PROSPECTUS OF THE KINDA MINING & MILLING COMPANY, 1904
Of Clear Creek County, Colorado. George F. Crawford, President of Company. Company owned two mining lodes on Bellevue Mountain, near Idaho Springs in the Pioneer Mining District. Company expected to produce gold, silver, copper and lead from ore. Prospectus dimensions: 10-1/2 inches by 8-1/2 inches; 16 pages. Illustrated with photographs. One page plan and profile of Kinda workings. One page plat of the Kinda Lode, showing underground workings. Near fine condition.
52

THE SHORT LINE BLUE BOOK, 1907

A Guide to Colorado. Volume VIII, Number 4. Published in Denver, Colorado, December 1907. Issued monthly under the immediate supervision of the Traffic Department of The Colorado Springs and Cripple Creek District Railway. Published by The Blue Book Company, Denver, Colorado, Union Depot by F. T. Hartman. Original illustrated wrappers; 64 pages; illustrated with photographs. Regional advertisements. Includes Official Directory of the Colorado Springs and Cripple Creek District Railway, "The Short Line," General Offices: Colorado Springs, Colorado. General information: Altitude of Mountains; Altitude of Towns; Colorado, a delightful Autumn Resort; Colorado Springs as a Winter Resort; Colorado springs, Manitou and The Pike's Peak Region; Denver; How to See Colorado; Official Directory, Midland Terminal Railway; Official Directory, Florence & Cripple Creek Railroad; and more. Very good plus condition; interior pages clean and bright.
53

MAP OF THE CITY OF COLORADO SPRINGS, BROADMOOR & MANITOU, COLORADO 1918
Compiled and published by The El Paso Blue Print Company. William Garstin, Civil and Mining Engineer, Colorado Springs, Colorado. For Sale by Out West Printing and Stationery Company, Colorado Springs, Colorado. Circa 1918. Map dimensions: 23 inches by 19 inches. With original printed stiff folder. Condition: near fine. Highly detailed lot, block, street, road and railway map.
54

ART WORK OF THE STATE OF COLORADO, 1900

Complete set in 12 parts, published by Art Photogravure Company, Oshkosh, Wisconsin, 1900. Each part consists of a portfolio of photogravure images. Dimensions: 10-3/4 inches by 13-7/8 inches. First part has several pages of accompanying text; the remaining parts generally just have captions for each photogravure. Average amount of pages per part: 10. Photogravure images from all over the State of Colorado, eastern plains to western slope. Tissue guards between each page. Last page of each part is text relating the history of Colorado. General condition of each published part: very good plus to near fine. The first part has several tiny chips to the front cover; otherwise, interior pages are very bright, clean and fresh. Other parts in near fine condition. 8 OCLC listings. Wynar 8364.
55

ANNUAL STATEMENT: 1909 and Summary of Proceedings of The Municipal Council for January, 1910, City of Colorado Springs, Colorado