Yes, we Accept: PAYPAL,
Venmo & SQUARE
We are always interested in purchasing, whether you have a single item or an entire collection for sale.
© 2022 Mt. Gothic Tomes
______________________________________________
HISTORY AND DESCRIPTION OF THE CRIPPLE CREEK MINING DISTRICT, MINING AND BUSINESS DIRECTORY. CITY OF CRIPPLE CREEK AND ADJACENT TOWNS, 1894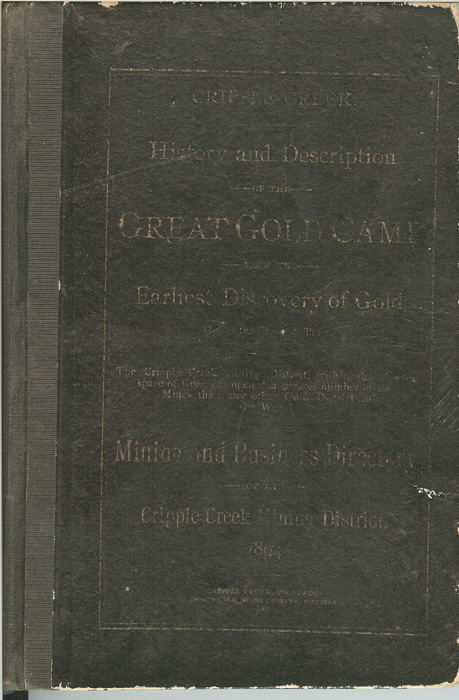 Cripple Creek, Colo., May 1, 1894. Hazeltine & Company, Publishers. Original black boards with gold print and black cloth spine; 161 pages, complete with advertisements. Condition: very good plus; print on covers worn; spine strong; small portion of second advertisement page missing. History of District; biographies of mining men; details and development of important gold producers; development of towns and cities; transportation and milling operations.
_________________________________________________
THE CRIPPLE CREEK DISTRICT DIRECTORY
1912 - 1913
FOR ALL THE CITIES AND TOWNS OF THE DISTRICT CONTAINING COMPLETE LISTS OF THE INHABITANTS, INSTITUTIONS, INCORPORATED COMPANIES, MINING COMPANIES, MANUFACTURING ESTABLISHMENTS, BUSINESS FIRMS, ETC. IN THE CITIES OF CRIPPLE CREEK, VICTOR, ANACONDA, ALTMAN, ELKTON, GOLDFIELD, CAMERON AND INDEPENDENCE
THE GAZETTEER PUBLISHING CO., 1912, JAS. R. IVES, MANAGER.
In original printed boards and red leather, gold-printed binding;
459 pages, complete
Condition: boards are worn, yet strong; spine shows some wear, but is generally complete and strong. Interior pages in very good condition, with little or no wear or damage. Overall, book is in very good condition.
________________________________________________
THE PORTLAND: COLORADO'S RICHEST GOLD MINE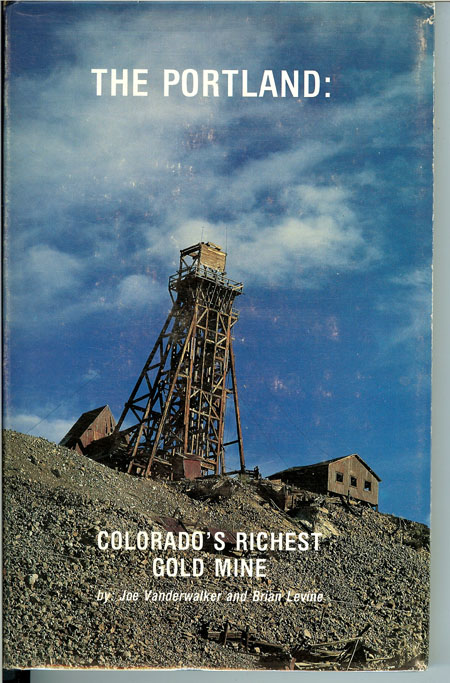 THE PORTLAND: COLORADO'S RICHEST GOLD MINE, by Joe Vanderwalker and Brian Levine. Syzygy Gold Mining Company, Victor, Colorado, 1989. One of 150 hardback, dust-jacketed copies. Photography by Joe Vanderwalker. Text by Brian Levine. Book signed by Brian Levine. Book is in its original black cloth binding with gold-embossing on cover; 64 pages. Included with this copy is an original Portland Gold Mining Company check, issued 1924, and signed by Thomas F. Burns and Irving Howbert. Also, original PORTLAND GOLD MINING COMPANY stock certificate tipped in, issued 1895, cancelled, signed by James F. Burns, as president; and, James Doyle, secretary. Condition: fine; strong, tight spine; bright, fresh, clean pages.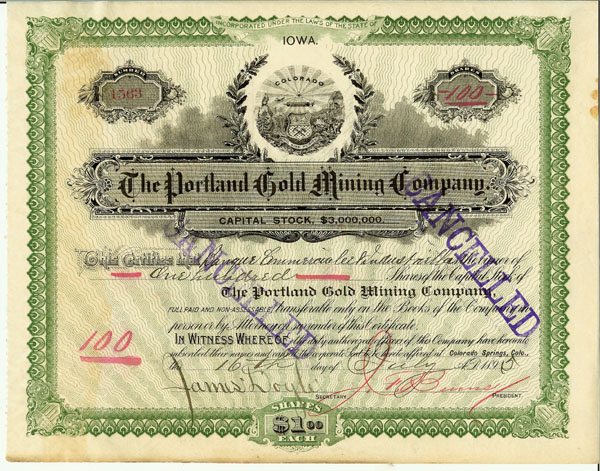 ___________
THE PORTLAND GOLD MINING COMPANY
Issued 1895, cancelled, light folds, very light bit of staining on left border. Condition: very good. Signed by the discoverers of this highly significant Cripple Creek mining property: James F. Burns, as president; and, James Doyle, as secretary. The most important issue on this 3-million ounce gold producer. James Burns continued to live in wealth after the discovery of this property, and died in 1917. James Doyle lost his fortune, attempted to regain wealth and status through a variety of mining ventures, but died in 1954 in modest circumstances. W.S. Stratton and Verner Z. Reed, also owners of the Portland, died wealthy men. (Certificate similar to that pictured above.)
Ask us about historical Cripple Creek checks. We have many to offer: important signatures; revenue imprints; various mining companies, etc.
Please take note of the many other historical Cripple Creek artifacts listed on the following web pages: