CRIPPLE CREEK AND COLORADO SPRINGS, ILLUSTRATED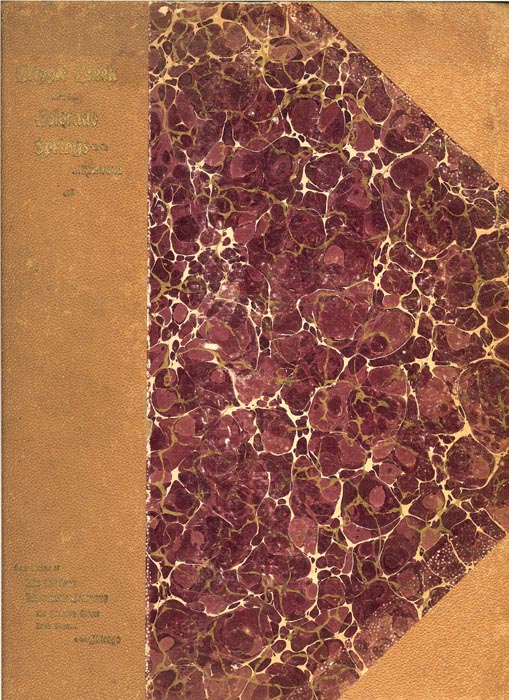 A Review and Panorama of an Unique Gold Field, with Geological Features and Achievements of Five Eventful years, including Outlines of Numerous Companies
By Henry Lee Jacques Warren and Robert Stride
Printed by Carson Harper Company, Printers, Engravers, Publishers, Denver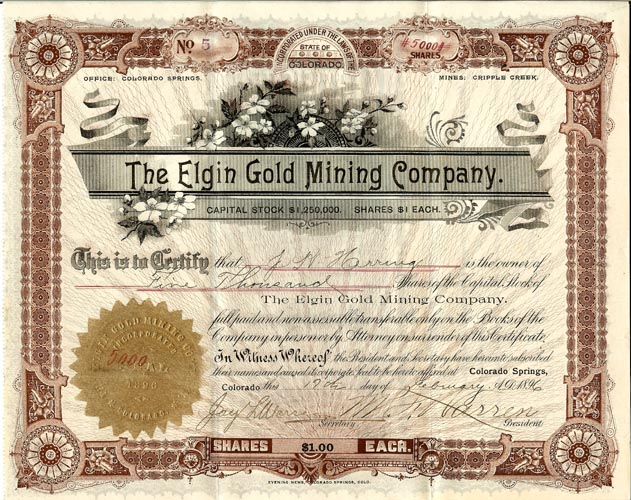 (Cripple Creek stock certificate signed by H.L.J. Warren, as president). Published by Warren & Stride: Colorado Springs, Colorado, 1896, First Edition
Original marbled boards with leather spine and corners; gold print on front cover; 104 pages; profusely illustrated, excellent descriptive detail; plus stock broker's guide to Cripple Creek mining companies.
"Compliments of The Mechem Investment Company, 138 Jackson Street, Bank Floor, Chicago."

(First National Bank of Cripple Creek check signed by Geo. B. Mechem of The Mechem Investment Company)
The Mechem Investment Company, Chicago: Cripple Creek Gold Mining Stocks and Properties, Bought and Sold on Commission. Reliable Information and Advice Given and on Application ... Geo. B. Mechem, President; Earl B. Coe, Vice President, H.A. Coffin, Secretary and Treasurer - Denver office.
This book was an extensive, well-produced promotional of the Cripple Creek Gold Mining District. Contents:
The Cripple Creek Gold fields - large fold-out map; Map Showing Wagon Road and Railroad Ties; Prologue; Historic Review; Geological Features: General Geology by Whitman Cross, Ph.D.; Economic Geology by Prof. R.A.F. Penrose, Jr.; and, Economic Geology of the Cripple Creek District - foldout map; Colorado Scientific Society: Bull Hill and the Western District by Francis T. Freeland, B.S.; Cripple Creek Mining District by charles J. Moore; Chlorination of Cripple Creek Tellurides by J.D. Hawkins; and Cyanide by Philip Argall; Views of Conservative (Cripple Creek District) by Richard Pearce, Ph,D.; The Prospector - Prospects and Mines - by Harry A. Lee; Achievements of the Mines; Outlines of Companies; Pueblo - The Bullion City; Colorado Springs Resorts; Bound with Steel Bands (railroads into the District)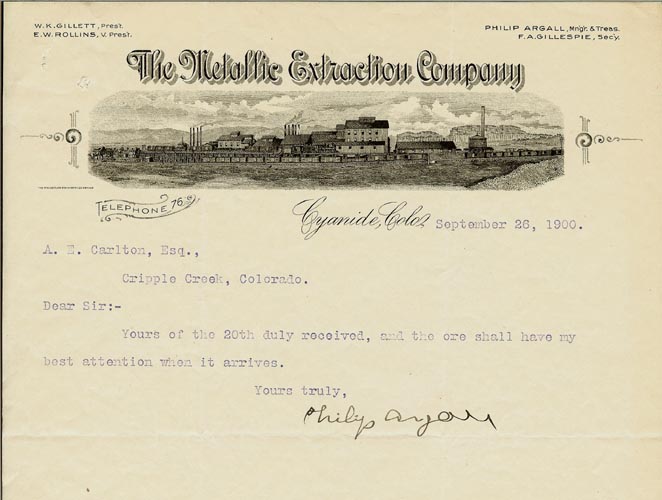 This special original edition includes 3 maps (2 folding), plus an original gold mining stock certificate on The Elgin Gold Mining Company of Cripple Creek signed by H.L.J. Warren as president; a check issued from The First National Bank of Cripple Creek, 1893, signed by Geo. B. Mechem; The Metallic Extraction Company, Cyanide, Colorado, letterhead, dated 1900, signed by Philip Argall; Mining Lease on the Washington lode, near Victor, Colorado, signed by Charles J. Moore, dated October 1, 1895; check on the Denver National Bank, Denver, Colorado, dated June 24, 1900, signed by W.S. Stratton to Earl B. Coe, with Coe signing on the back -- all extra ephemera related to this book in near fine condition or better. A superb Cripple Creek publication with original signed documents making this volume near impossible to find anywhere else. Questions: contact us, Mt. Gothic Tomes and Reliquary.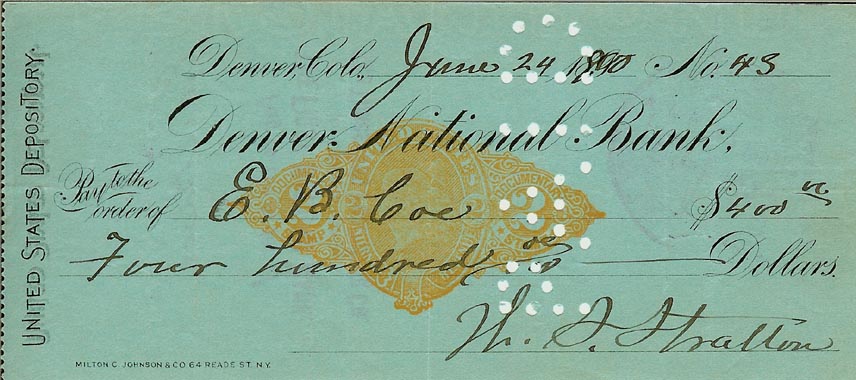 THE FORTUNES OF A DECADE, ILLUSTRATED, 1900
Original 1900 edition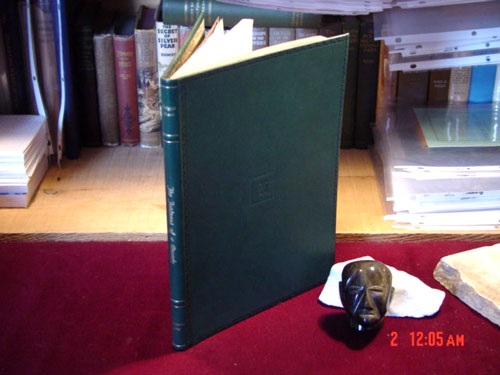 A Graphic Recital of the Struggles of the Early Days of Cripple Creek, the Greatest Gold Camp on Earth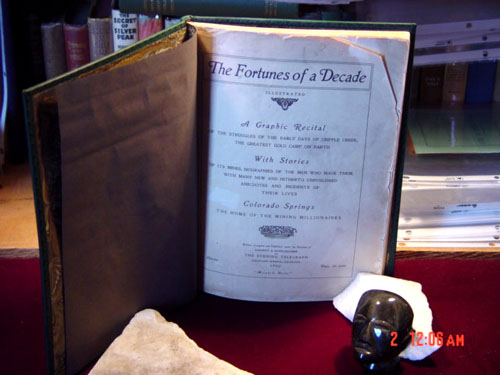 With Stories of its Mines, Biographies of the Men who made them, with many new and hitherto unpublished anecdotes and incidents of their lives.
Colorado Springs: The Home of the Mining Millionaires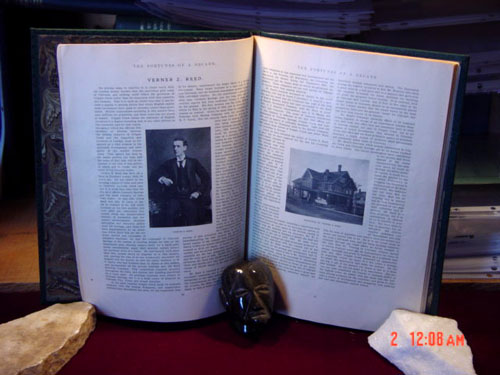 Written, Compiled and Published, under the Direction of Sargent & Rohrabacher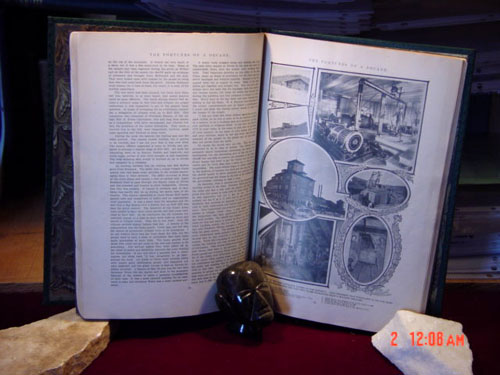 for The Evening Telegraph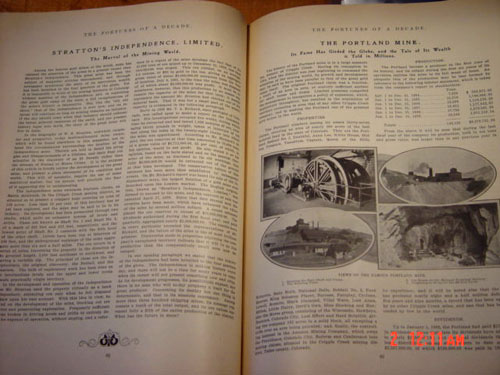 Colorado Springs, Colorado, October 1900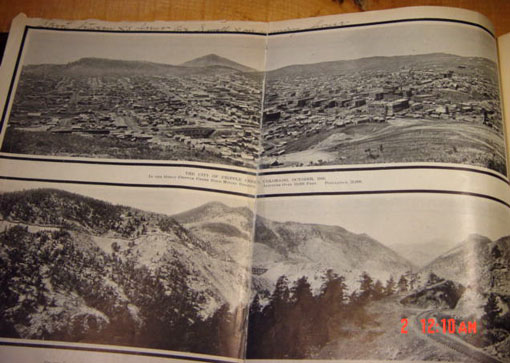 This original book has been rebound in a modern, tooled-leather binding; marbled endpapers; gold-printed title on spine; 132 pages. The half-tone photo quality is excellent. Title page is chipped; some of the pages have edge frays; however, overall, the original contents of this book is very good.
________________________________________________
Original colored wrappers of this publication.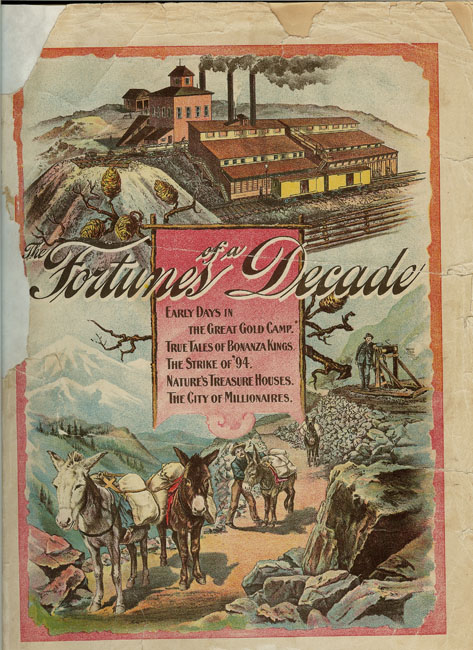 One of the classic Cripple Creek, Colorado research books!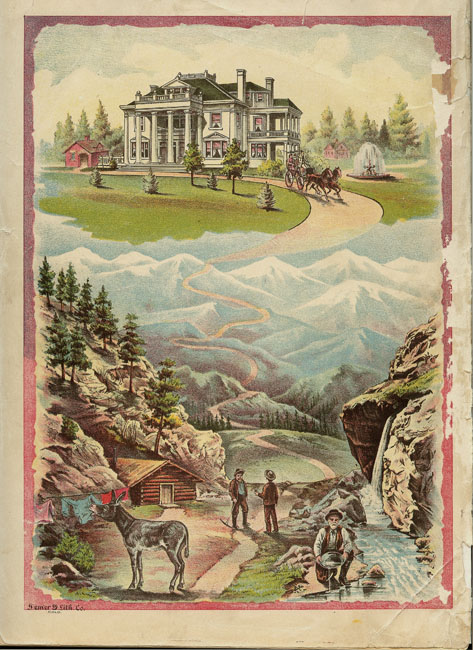 ___________________________________________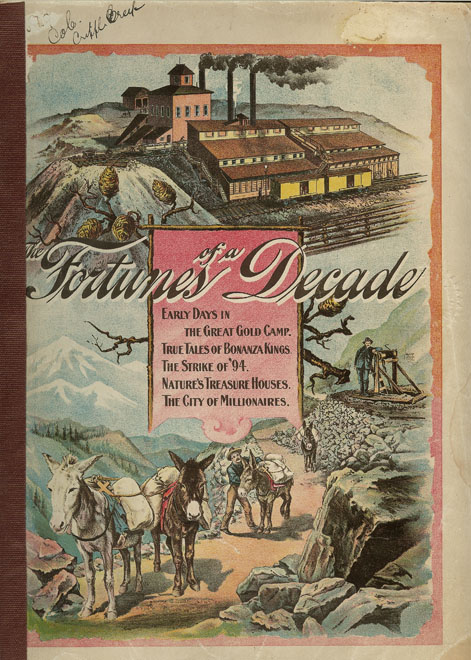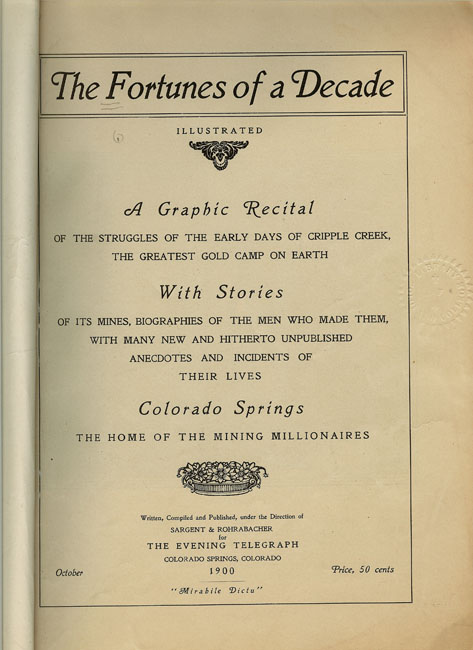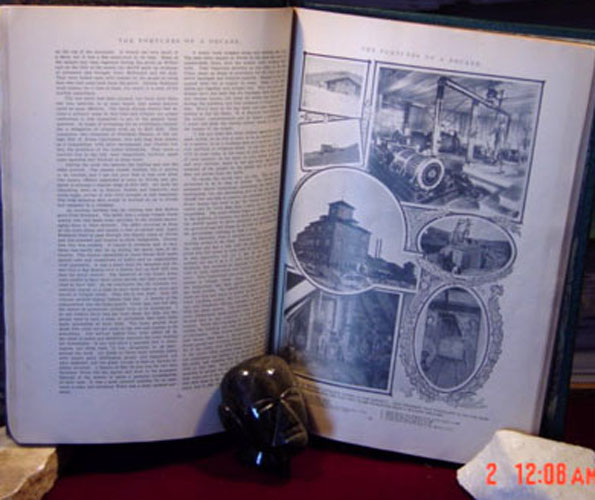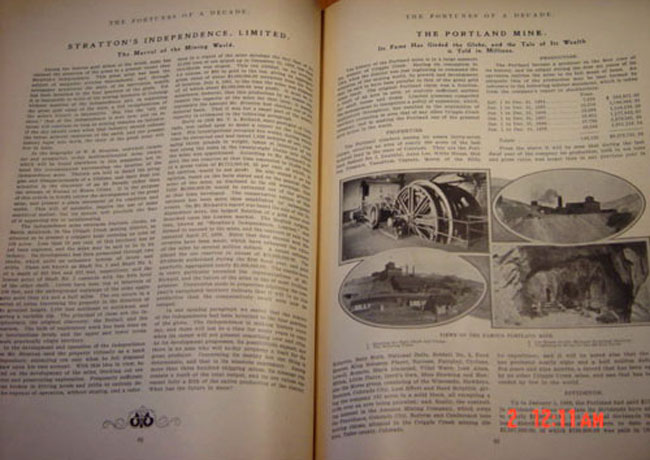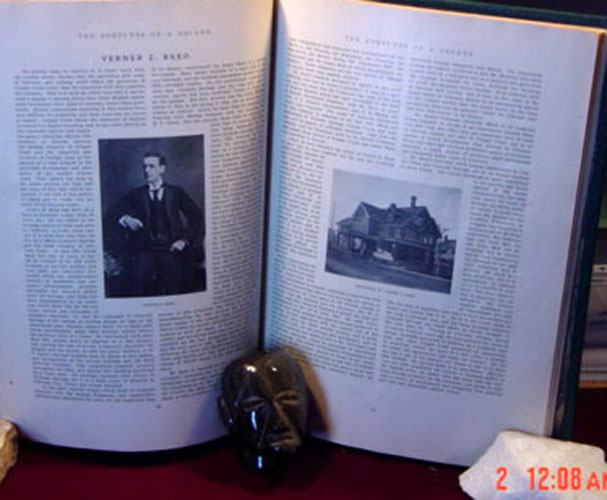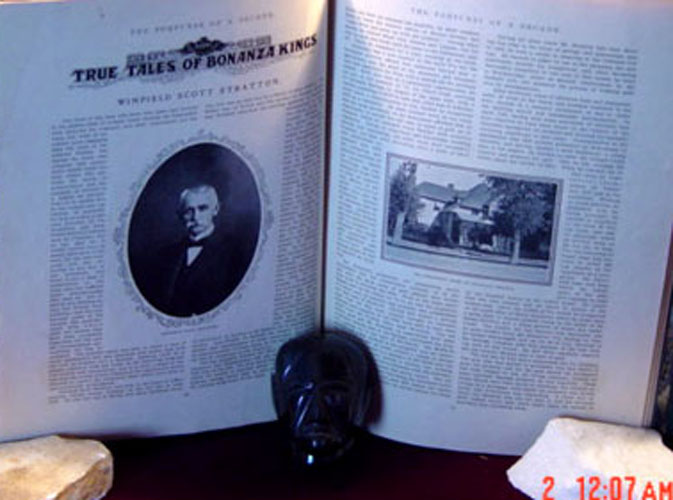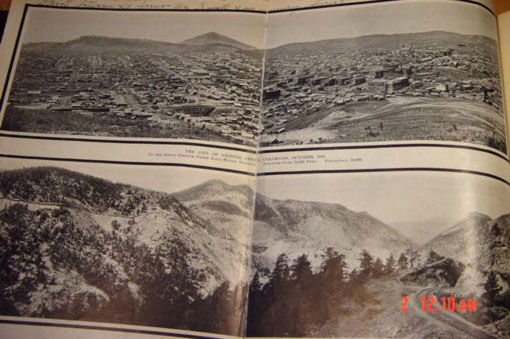 ________________________________________________
PRIVATE TELEGRAPHIC CIPHER CODE book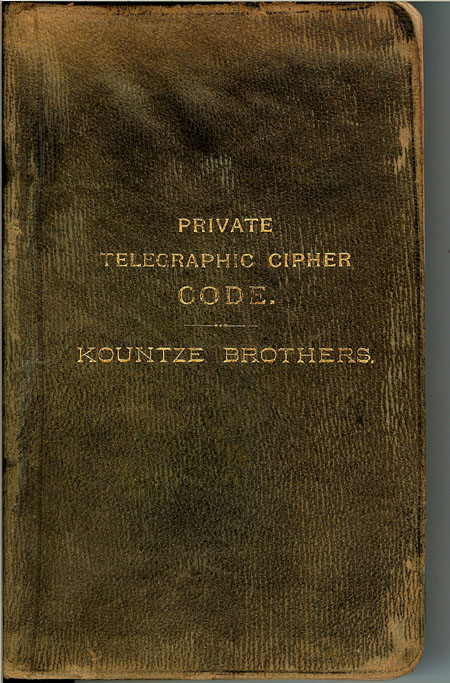 No. 187. For the Exclusive use of The Bank of Victor, Victor, Colorado; In Telegraphic Correspondence with Kountze Brothers, Bankers, Broadway and Cedar Street, New York
"This Cipher Code is loaned to Correspondents, and must be held strictly confidential, being for their exclusive direct telegraphic use with Kountze Brothers."
In effect July 16, 1906. Original leather binding and covers with gold print; 654 pages; very good plus condition
Please take note of the many other historical Cripple Creek artifacts listed on the following web pages: