Yes, we Accept: PAYPAL,
Venmo & SQUARE
We are always interested in purchasing, whether you have a single item or an entire collection for sale.
© 2022 Mt. Gothic Tomes
CRIPPLE CREEK, COLORADO, PAGE 3
THE PINKERTON LABOR SPY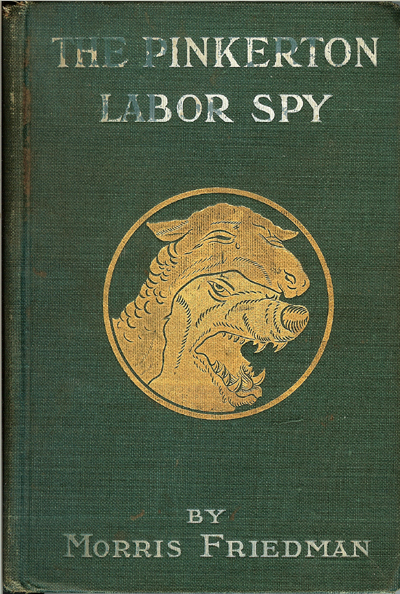 by Morris Friedman. Published by Wilshire Book Company, 200 William Street, New York
1907, First edition
Original illustrated green cloth covers; 229 pages; several illustrations; plus advertisements. Pages are near fine; covers are in very good condition; spine is sunned with some chipping on head and foot. Many chapters about the Cripple Creek labor strike of 1903 - 1904, with an insight into the industrial war seen from a special perspective. Also, facts and events of the strike in Telluride, Colorado.
___________________________________________________
THE CRIPPLE CREEK STRIKE
by Mrs. Emma F. Langdon. Published in Victor, Colorado, 1904, First edition
Original green cloth binding with gold print; 248 pages, illustrated. Near fine condition. Detailed perspective of the Cripple Creek strike from the labor union (Western Federation of Miners) side. There were 2 later editions of this book printed in Denver in 1905.
_____________________________________
COLORADO AS I SAW IT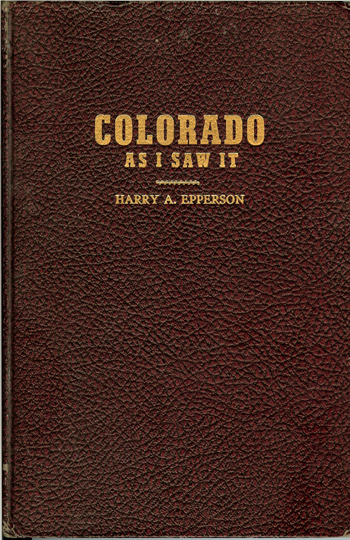 by Harry A. Epperson. Privately published
Inland Printing Co., Kaysville, Utah, 1944, First Edition
Original maroon pebbled binding; gold print on front cover; 137 pages, plus illustrations. Near fine condition. Memoirs of Epperson's days in the Cripple Creek Gold Mining District and on Colorado ranches
A GUIDE TO THE CRIPPLE CREEK-VICTOR MINING DISTRICT, by Brian Levine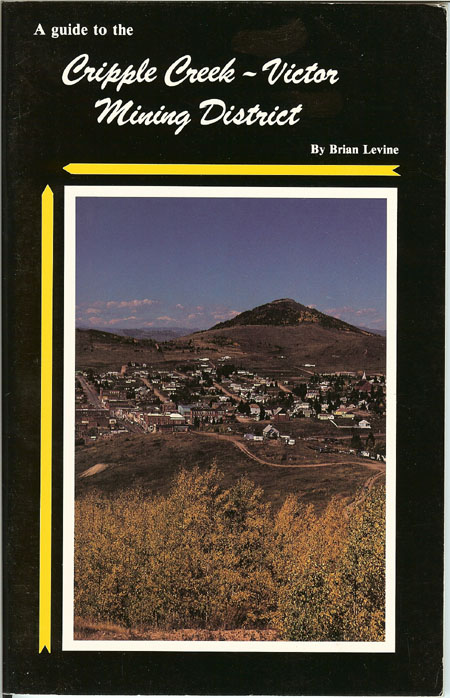 A GUIDE TO THE CRIPPLE CREEK-VICTOR MINING DISTRICT, by Brian Levine, 1987, Century One Press, Colorado Springs, Colorado; first edition, second issue. Publication is in its original illustrated stiff covers; 64 pages; SIGNED BY AUTHOR. Condition: fine. Historical tour of the Cripple Creek District, driving and walking. This publication came out pre-gambling initiative and pre-open-pit mining in the Cresson-Portland area; so, things have been altered in the District. Price: $25.00
Signed by J. Maurice Finn
THE FIRST NATIONAL BANK
Issued May 3, 1904, on Finn's account in Cripple Creek, Colorado. Signed by Finn on front and back. J. Maurice Finn was one of Cripple Creek's more creative attorneys. Check is in very good plus condition.
THE WASHINGTON LEASE check, 1902
First National Bank of Cripple Creek, Colorado, 1902. Signed by John Sharpe (marshal of Cripple Creek). Washington Claim was part of Stratton's Independence Mine. Near fine condition.
Price: $29.95
THE CENTENNIAL GOLD EXTRACTION COMPANY, 1900
Brodie Mill, between Anaconda and Barry, in Squaw Gulch, near Cripple Creek, Colorado. First National Bank of Cripple Creek, Colorado, revenue-imprinted stamp, Near fine condition.
Price: $29.95
WE HAVE CHECKS WITH SIGNATURES OF MANY NOTED AND IMPORTANT CRIPPLE CREEK PERSONALITIES. INQUIRE ABOUT THE PEOPLE YOU ARE LOOKING FOR. GOOD CHANCE WE WILL HAVE THEIR AUTHENTIC SIGNATURES ON HISTORICAL CHECKS.
Please take note of the many other historical Cripple Creek artifacts listed on the following web pages: