Yes, we Accept: PAYPAL,
Venmo & SQUARE
We are always interested in purchasing, whether you have a single item or an entire collection for sale.
© 2024 Mt. Gothic Tomes
HISTORY OF CRIPPLE CREEK: Mining and Business Directory, 1894
Printed in Cripple Creek, Colo. by The Journal Company, Printers, 1894. Published by Hazeltine & Co., Cripple Creek, May 1st 1894. Original printed hardbound covers; black cloth spine. 162 pages; complete with front and back advertisements.
Brief history of the Cripple Creek Gold Mining District from the first gold discovery to early 1894. Facts concerning the significant mining men, mining operations, promoters, businesses and towns of the district. 1893 statistics for the District. Business directory town-by-town; and, directory of significant mines and mining companies in back portion of book.
Condition: fair plus to good; all pages present, generally clean and strong; a bit of light soiling here and there; spine reinforced from interior hinges.
Inquire about price.
PALACE PHARMACY, Cripple Creek, Colorado, Circa 1915. Nyal's Family Remedies
Original painted tin sign. Dimensions: 27 inches in length; 9-1/2 inches in height. Condition: very good, with several small nail holes made to hang sign. Location of Palace Pharmacy: southwest corner of 2nd and Bennett Avenue. Proprietors: W.W. Beitenman and Norman L. Enfield.
SOLD
Novel about Cripple Creek, published in Cripple Creek!
TONGUES IN TREES
By Mrs. Laban Edward Smith

Published by H.R. Mitchner: Cripple Creek, Colorado, 1902
In original green boards, leather corners, and gold-printed leather spine; 251 pages. Leather spine chipped at head and spine, also faded; boards are in near fine condition; pages are in near fine condition. Included is a check signed by Mrs. Edward Laban Smith and laid into book.
MIDAS OF THE ROCKIES: The Story of Stratton and Cripple Creek
By Frank Waters.

New York: Covici Friede, Publishers, 1937, first edition. Original blue cloth binding with gold embossed signature on front cover and gold lettering on spine; 344 pages; dust jacket.

"This is an intimate and dramatic portrait of a unique American figure - Winfield Scott Stratton, the discoverer of one of the world's most famous gold mines; the carpenter who became the most eccentric of philanthropists; the lone prospector in whose brain there fiercely burned the idea of a gold at a time when Colorado was a silver state; the gray, ghostly wolf who slunk for seventeen years through booming mining camps before he was foolish enough to poke around Crazy Bob Womack's gopher hole in Cripple Creek ...."

Condition: near fine in very good dust jacket (spine sunned; head and toe lightly chipped) .
W. S. Stratton in Leadville!!
Thirteen years before he became Cripple Creek and Colorado's most eccentric and intriguing gold baron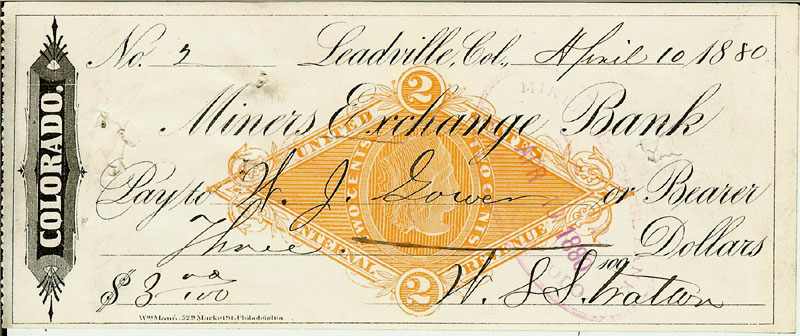 MINERS EXCHANGE BANK, LEADVILLE, COLORADO
Issued April 10, 1880, on the account of W.S. Stratton, in Leadville, Colorado. If you know your Cripple Creek history, W.S. Stratton stands out like no other personality in the gold district. He was just a skilled carpenter/contractor in Colorado Springs in 1891. Three years later, he was Cripple Creek's first millionaire. It was not just luck; Stratton had prospected through the Colorado's Rockies for nearly twenty years before discovering the Independence Mine in the newly formed Cripple Creek (Womack) Gold Mining District. It is accepted that Stratton had a brief, and generally unremarkable, presence in other Colorado mining districts throughout the 1870s and 1880s; however, actual physical evidence of him being in one of these districts is very, very scarce, especially for the collector. Here, on the check presented above, is the signature of W.S. Stratton -- later to be Colorado's most eccentric and benevolent gold baron -- showing he was in Leadville, Colorado in April 1880. Was Stratton prospecting at this time? Was he working for H.A.W. Tabor, as Marshall Sprague claims in his book, MONEY MOUNTAIN? Well, that is a mystery. However, this astounding historical document is available to the collector. Condition: near fine; several pinholes. Signature is clean and concise. Revenue imprinted.
THE STRATTON CRIPPLE CREEK MINING AND DEVELOPMENT CO. letterhead
Dated January 8, 1907, this letterhead displays a superb steel-engraved portrait of Colorado's most eccentric and benevolent gold baron. Stratton did not and would not have had his face on his Company's stationery; however, evidently, those who resumed operations of The Stratton Cripple Creek Mining and Development Company after he passed on believed this to be a commemoration to him. Half-sheet size; near fine condition; two light folds.
INDEPENDENCE MINE check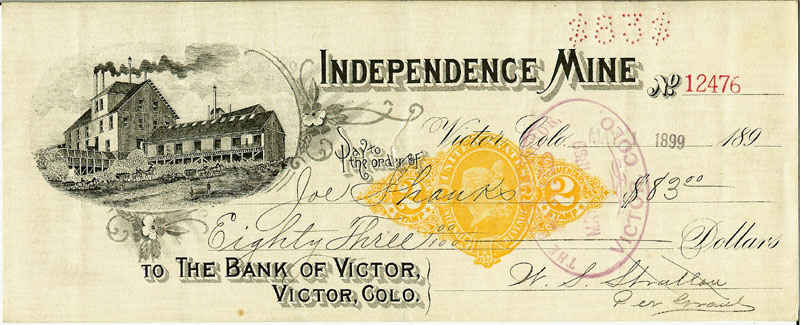 Dated May 1899, issued on The Bank of Victor, Victor, Colo., Cripple Creek Mining District. This check is NOT signed by W.S. Stratton; rather, by a secretary named Grant. Steel-engraving on this check is outstanding. Revenue imprinted. Condition of check: several light folds, otherwise, near fine.
THE UNION GOLD MINING COMPANY
Check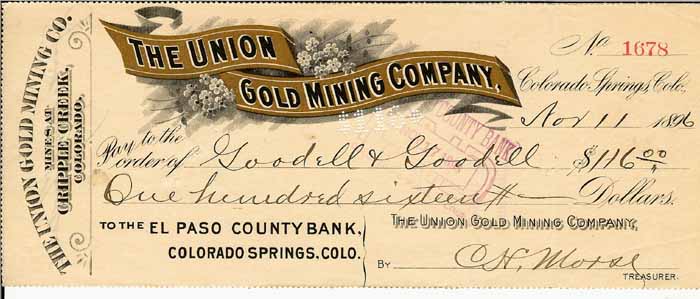 Mines at Cripple Creek, Colorado, Issued November 1896, El Paso County Bank, Colorado Springs, Colorado, Near fine condition
THE DAMON GOLD MINING COMPANY. THE WOODS INVESTMENT COMPANY
1905
Signed by F. M. Woods. Victor, Colorado, Cripple Creek Gold Mining District, Colorado. Condition: one fold; near fine
THE OFFICIAL MANUAL OF THE CRIPPLE CREEK DISTRICT, COLORADO, U.S.A., 1900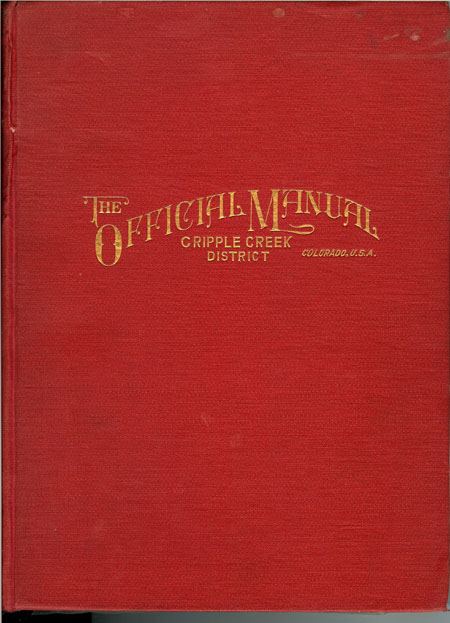 Published by Fred Hills, E.M., Colorado Springs, Colorado, 1900, first edition. Book is in its original red cloth binding with gold embossing on cover and spine; 495 pages. Enamel-coated pages; maps and halftone illustrations. This book was originally intended to be the ultimate in stock broker's handbooks, providing details of several hundred operating and producing mines and mining companies in the Cripple Creek Gold Mining District. T.A. Rickard, State Geologist of Colorado, wrote an article, "The Cripple Creek District: Its Past and Future," for the book; as well as George Rex Buckman, "Cripple Creek from the Standpoint of Statistics." Articles are accompanied by illustrations. Nearly all of the mining companies have details such as organization, capitalization, property, development, officers, and so on, along with a plat of mining claims. The book was originally published with a fold-out map of the Cripple Creek District, by Fred Hills, and copyrighted 1900. This copy is missing the original map; however, another original map -- published for William A. Otis & Company -- accompanies this volume. The Otis map, published in May 1896, is five-color, larger than the original Hills' map -- 23 inches wide by 34 inches in length -- and more detailed (showing mining claims, towns, railroads, topography, etc.). Condition of book: very good, with some binding reinforcement; light soiling; some sunning to spine; bumped corners and a bit of cloth fraying. Condition of map: good plus to very good; damp-staining in upper left-hand area of map; weakness in spots; fraying along edges. Book stated to be Volume 1; however, Hills did not publish another volume. Hills did, though, publish a small stock broker's handbook in 1902.
Assay certificate signed by Professor Lamb
THE STRATTON CRIPPLE CREEK MINING AND DEVELOPMENT CO., Assay Office
Assay report issued on the Deerhorn Mine, August 6, 1902, signed by H.W. Lamb. Professor Lamb taught W.S. Stratton's the practice of blow-pipe analysis of ore samples in the field before Stratton discovered the Independence Mine. Condition of assay report: fine; no folds.
CITIES OF GOLD: History of the Victor Cripple Creek Mining District
By Brian Levine
The book that started it all!
By Brian Levine, published by Stonehenge Books, 1981, Denver, Colorado. Author's first book. Publication in its original gold-colored stiff-wrapper binding; square-bound; 100 pages. Condition: fine; unread. Signed by the author. Priceless.
Please take note of the many other historical Cripple Creek artifacts listed on the following web pages: