Yes, we Accept: PAYPAL,
Venmo & SQUARE
We are always interested in purchasing, whether you have a single item or an entire collection for sale.
© 2021 Mt. Gothic Tomes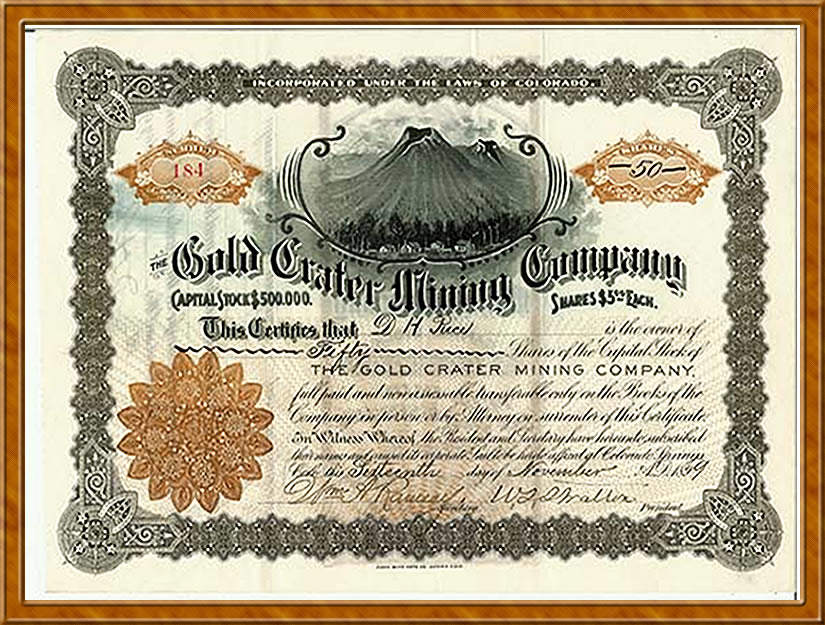 MISSOURI, KANSAS AND TEXAS RAILWAY, 1877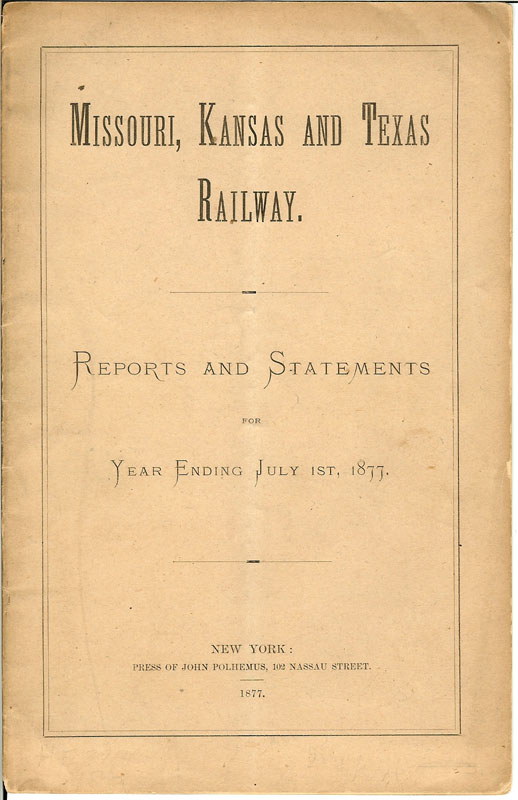 Report and Statements for Year Ending July 1st, 1877. New York: Press of John Polhemus, 1877. Original wrappers, 19 pages. Report to Stockholders by Edward King, President. Report of the General Manager by William Bond. Financials by Union Trust Company of New York. Very good plus condition; folded down center.
REPORT TO THE DIRECTORS OF THE LIVERPOOL AND MANCHESTER RAILWAY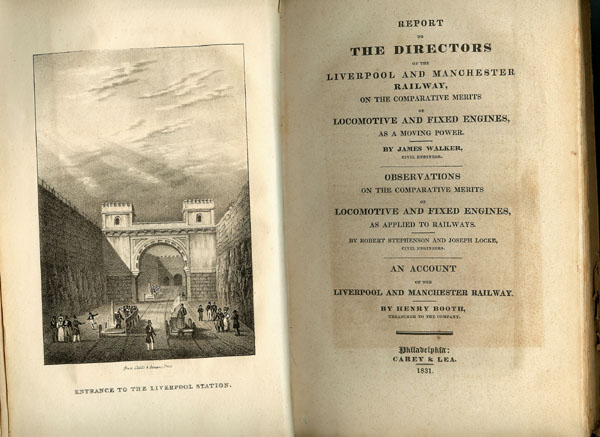 ON THE COMPARATIVE MERITS OF LOCOMOTIVE AND FIXED ENGINES, AS A MOVING POWER, By James Walker, Civil Engineer, with OBSERVATIONS ON THE COMPARATIVE MERITS OF LOCOMOTIVE AND FIXED ENGINES, AS APPLIED TO RAILWAYS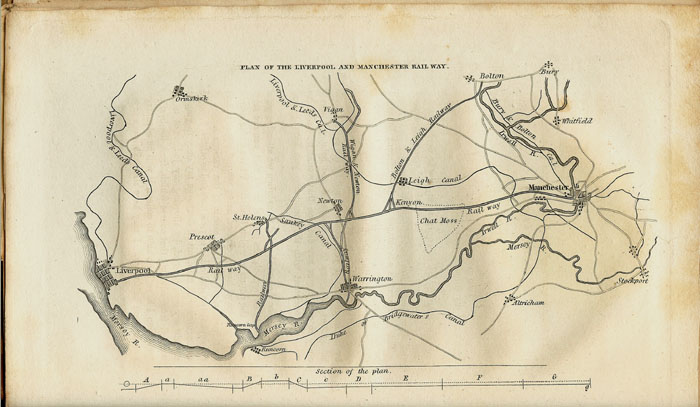 By Robert Stephenson and Joseph Locke, Civil Engineers. Plus, AN ACCOUNT OF THE LIVERPOOL AND MANCHESTER RAILWAY, By Henry Booth, Treasurer to the Company. Philadelphia: Carey & Lea, 1831, 1st American edition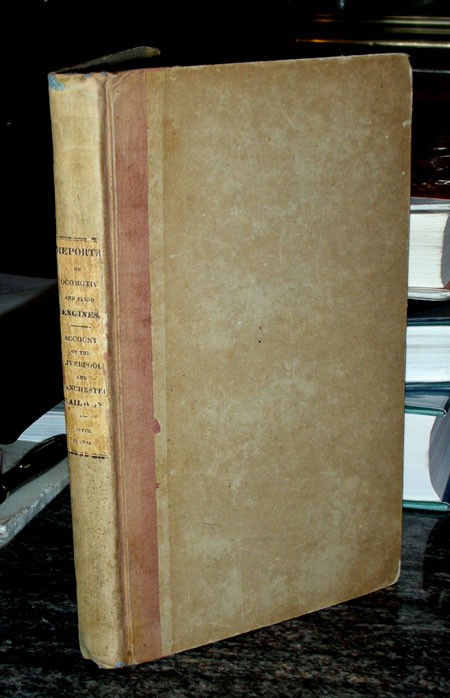 Original tan boards with tan cloth binding, and original tipped title on spine. 206 pages, with map, single and 2 foldout plates. Good plus condition, with foxing; however, binding strong; pages flexible and clean
Price: $450.00
AN ADDRESS BY F. F. DEGRAND ON THE ADVANTAGES OF LOW FARES AND LOW RATES OF FREIGHT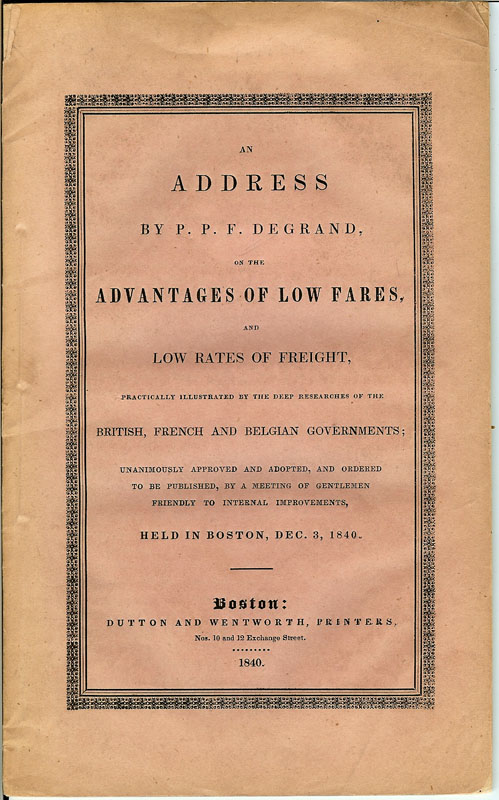 Practically Illustrated by the deep researches of the British, French and Belgian Governments; Unanimously Approved and Adopted, and Ordered to be Published, by a Meeting of Gentlemen Friendly to Internal Improvements. Held in Boston, December 3, 1840. Boston: Dutton and Wentforth, Printers, 1840. Original printed pink wrappers; 39 pages; very good plus condition. Railroads included in this address: Liverpool and Manchester Railway; London and South-Western Railway; Garnkirk and Glasgow Railway; Manchester and Leeds Railway; Newcastle-Upon-Tyne and Northshields Railway; Brandling Junction Railway; Edinburgh and Dalkeith Railway; Newcastle-Upon-Tyne and Carlisle Railway; London and Greenwich Railway; and, Dundee and Arbroath Railway.
PLAN AND AGREEMENT FOR THE REORGANIZATION OF THE ATCHISON, TOPEKA AND SANTA FE RAILROAD COMPANY, Dated March 14, 1895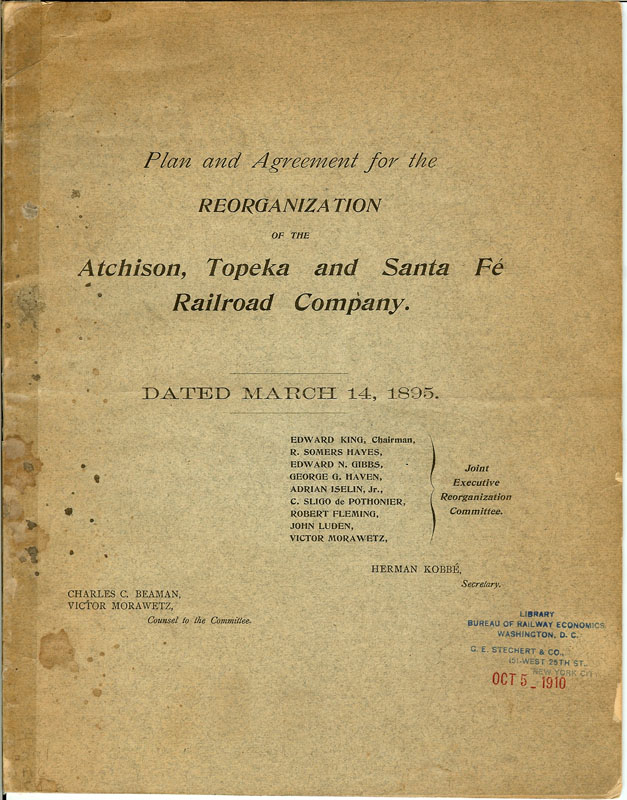 Introductory Circular at Request of: The New York General Reorganization Committee, The London Bondholders' Committee, and Messrs. Hope & Co. of Amsterdam (acting in behalf of Dutch Bondholders). Edward King, Chairman, Original printed gray wrappers; 27 pages; oversized. Some chipping to wrappers; however, interior pages are clean and bright. Plan: I. New Securities to be Created: II. Application of New Securities of New Company; III. Readjustment of the Securities of the New Company In Exchange for Existing Securities of the Atchison Company; IV. the Auxiliary Companies; V. Cash Requirements and Provision Made Thereof. Deposit of Securities. This is a working copy and has some changes written in contemporary pen.
REPORT OF THE GOVERNMENT DIRECTORS OF THE UNION PACIFIC RAILWAY TO THE SECRETARY OF THE INTERIOR FOR THE FISCAL YEAR ENDED JUNE 30, 1895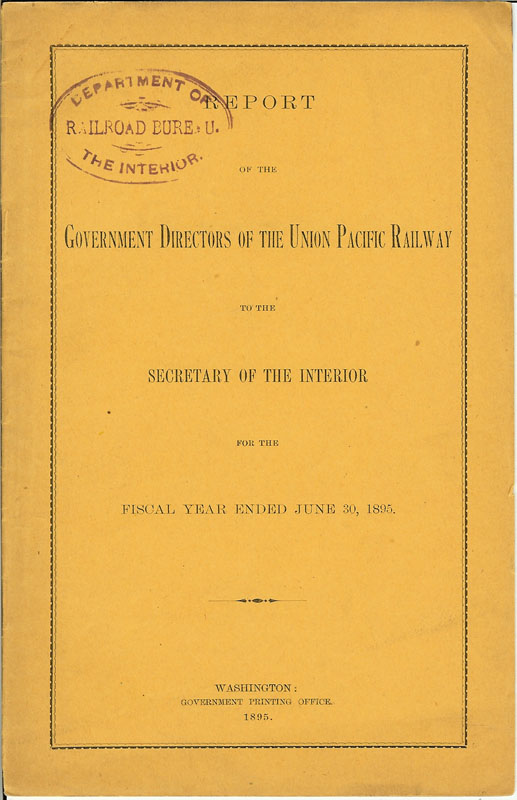 Washington: Government Printing Office, 1895. Original printed yellow wrappers; 15 pages. William J. Coombs, Government Director of Union Pacific Railway. Russell Sage and George J. Gould, trustees. Revenues, taxes, expenses, plus law suits pending against railroad. Near fine condition.
BETTERMENT WORK ON THE SANTA FE by Charles H. Fry, Associate Editor, The Railroad Gazette. Reprinted from The Railroad Gazette, November 30 and December 7, 1906. Original printed yellow wrappers; 32 pages. Condition: very good; missing back wrapper; front wrapper chipped; internal pages clean. One-page map of the Atchison, Topeka & Santa Fe Railway System (Page 2). Description of improvements, charts, graphs, statistics, and detailed narrative.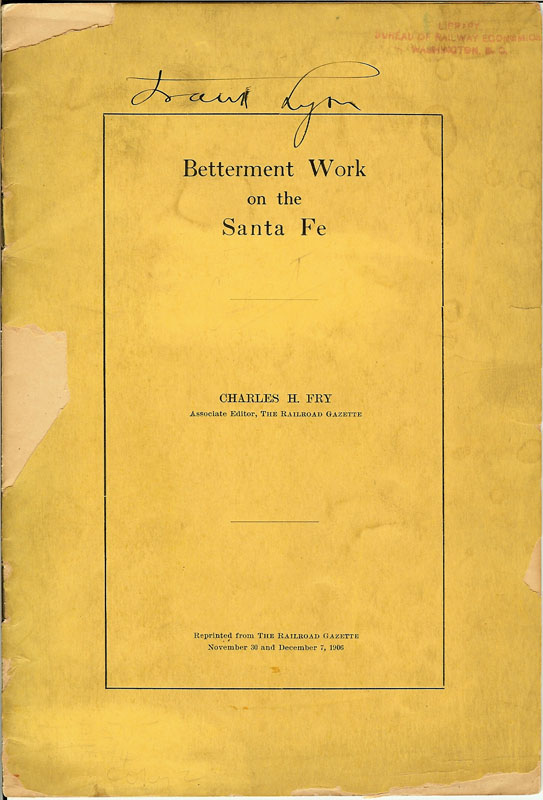 ANNUAL REPORT OF THE STOCKHOLDERS OF THE DENVER AND RIO GRANDE RAILROAD COMPANY for The Fiscal Year Ended June 30, 1906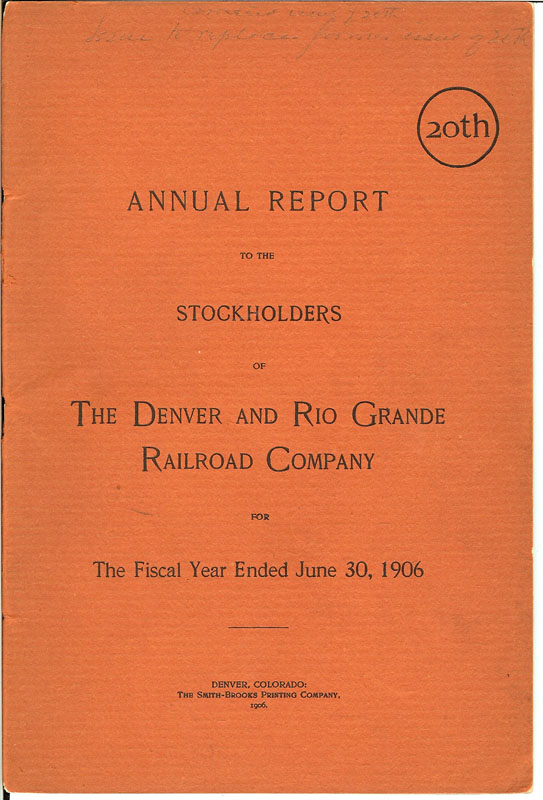 Original brown printed wrappers; 46 pages, plus foldout map of Denver & Rio Grande Railroad. Denver, Colorado: The Smith-Brooks Printing Company, 1906. George J. Gould, Chairman. Joel F. Vaile, General Counsel. Shadrach K. Hooper, General Passenger and Ticket Agent. Detailed reports of E.T. Jeffery, President; expenses, improvements, equipment, freight, passenger usage; etc. Very good plus condition; some light chipping around edges.
PENNSYLVANIA - NEW YORK SHORT LINE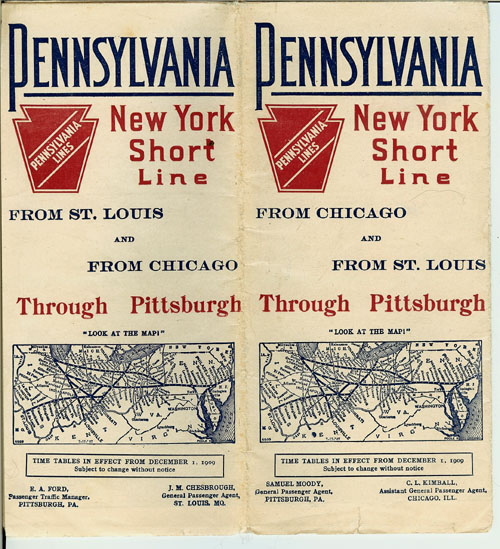 Pennsylvania Lines From Chicago and From St. Louis through Pittsburgh, Time tables and map. Issued December 1, 1909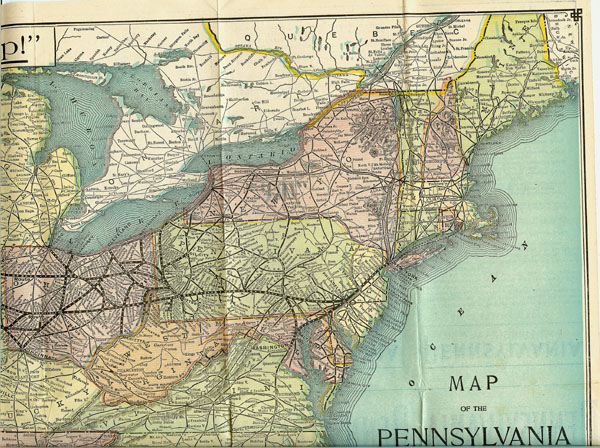 16 pages on front of folding brochure. Color map covering the entire back. Very good plus condition. Samuel Moody, General Passenger Agent, Pittsburgh, PA. C.L. Kimball, Assistant General Passenger Agent, Chicago, Illinois. J.M. Chesbrough, General Passenger Agent, St. Louis, MO.
Please view our other Railroad web pages: