Yes, we Accept: PAYPAL,
Venmo & SQUARE
We are always interested in purchasing, whether you have a single item or an entire collection for sale.
© 2022 Mt. Gothic Tomes
"... My whole theory of writing I can sum up in one sentence: An author ought to write for the youth of his own generation, the critics of the next, and the schoolmasters of ever afterward ...." from The Author's Apology, THIS SIDE OF PARADISE, 1st edition, 3rd printing, 1920.
TENDER IS THE NIGHT:
A Romance by F. Scott Fitzgerald,
1934
First edition, first printing, 1934, inscribed by Fitzgerald to the actress, Helen Hayes, and the writer, Charles MacArthur.
Superb association copy!
Charles MacArthur became a good friend of Fitzgerald, and visited Fitzgerald several times while Scott and Zelda were living in southern France. MacArthur's first visit with Fitzgerald was in 1926, on the Riviera (re: SOME SORT OF EPIC GRANDEUR, 1981, by Prof. Matthew J. Bruccoli). Fitzgerald composed the character of Abe North from the personality traits of Charles MacArthur and Ring Lardner.
Helen Hayes, one of the most respected actresses of the period, considered Fitzgerald one of her favorite writers (re: GIFT OF JOY, 1965, by Helen Hayes).
Charles MacArthur was one of the first people to visit the Fitzgerald's in the spring of 1927 after they had rented "Ellerslie," a house in Wilmington, Delaware.
While together, Fitzgerald and MacArthur were often prone to drunken pranks. At Grace Moore's villa, they made a humorous film with Ben Finney, called, Love's Betrayal, or a Simple Story of Incest. When attending the play, Grand Hotel, in New York, Fitzgerald and MacArthur were asked to leave due to their drunken disturbances. Throughout the second half of the 1920s, Fitzgerald and MacArthur became quite close, discussing their various writing projects with each other, including TENDER IS THE NIGHT and THE FRONT PAGE.
Charles MacArthur was one of Fitzgerald's most significant connections in Hollywood. MacArthur often provided Fitzgerald with introductions to some of the most influential figures in the industry. Introduction to Irving Thalberg provided Fitzgerald with his main character for his unfinished novel, THE LAST TYCOON .
| | |
| --- | --- |
| | "Pretty Penny," an Italianate Victorian estate built in 1858, located at 235 N. Broadway, Nyack, New York, was purchased in 1932 by Helen Hayes and Charles MacArthur . When the MacArthurs were in residence, "Pretty Penny" became a salon for various artists and actors, including Noel Coward, Edward Hopper, Katherine Hepburn, Vivien Leigh, Rosalind Russell, Laurence Olivier, John Barrymore, Cole Porter and numerous others. It was here F. Scott Fitzgerald left a first edition of TENDER IS THE NIGHT, signed to Helen Hayes and Charles MacArthur. |
On many occasions, especially while Fitzgerald was in Baltimore, trying to finish TENDER IS THE NIGHT and looking after Zelda, who was a patient at the mental hospital at John Hopkins University, Fitzgerald's daughter, Scottie, stayed with Helen Hayes and Charles MacArthur in Nyack, New York. Scottie also stayed with Helen Hayes and Charles MacArthur when Fitzgerald was in Hollywood, working on screenplays and living with Sheilah Graham.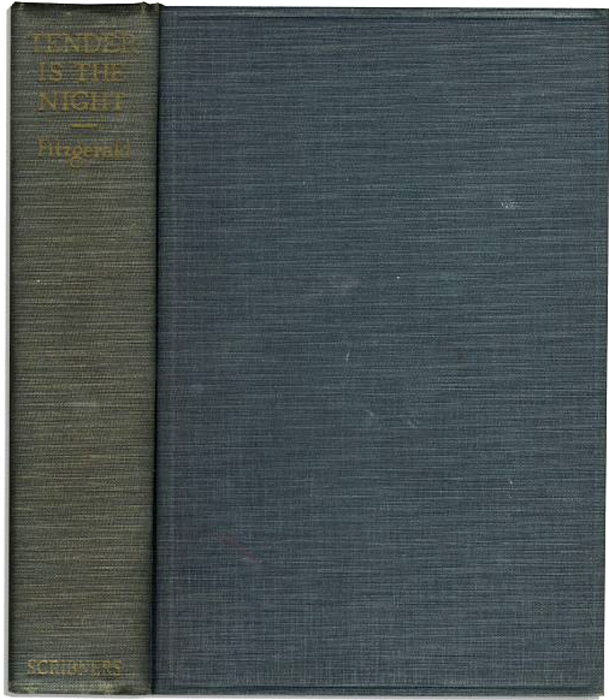 Book, Bruccoli A.15.I.a, is a first edition, first printing, bound in original dark bluish green cloth, 1 of 7,600 copies, published April 12, 1934 by Scribners, printed by the Scribner Press. Condition: very good; spine lightly sunned; covers clean and bright; internal pages clean and bright.
Dust jacket, first edition, first issue, is supplied and in near fine condition, with little or no fading; however, there are several fold marks on spine and a few short, closed tears.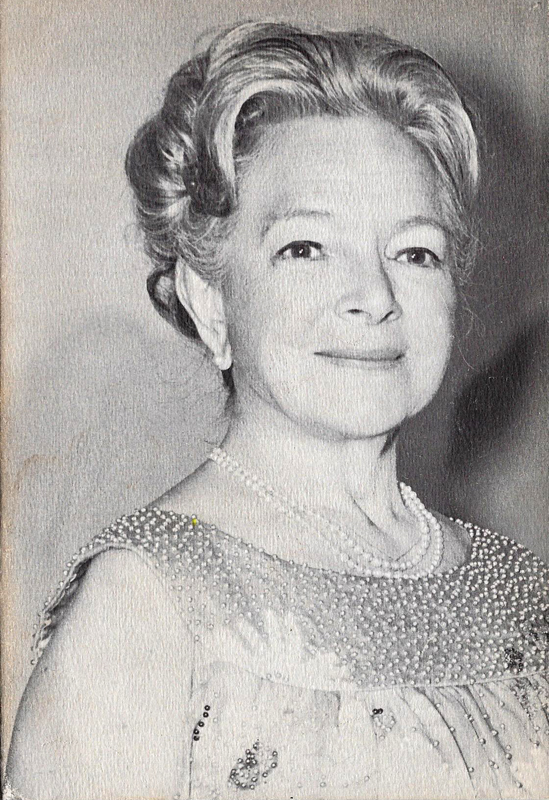 Helen Hayes
The book itself is said to have been purchased by Fitzgerald in a New York used bookstore, as Fitzgerald had no other copies of TENDER IS THE NIGHT to give to friends.
Charles MacArthur was also a good friend of and often a collaborator with Ben Hecht. Hecht was considered the archetypal screenplay writer of the 1920s through the 1940s. Hecht wrote the screenplay for Ernest Hemingway's FAREWELL TO ARMS, in which MacArthur's wife, Helen Hayes, starred Hecht and MacArthur wrote the highly successful play, THE FRONT PAGE, which was adapted into a movie called, My Girl Friday, with Rossalind Russell and Cary Grant. Hecht also completed such screen plays as Gone With the Wind, Gunga Din, Wuthering Heights, and Monkey Business (with Groucho Marx). Hecht was considered one of Hollywood's most important screenplay writers by Irving Thalberg, David O. Selznick and Alfred Hitchcock.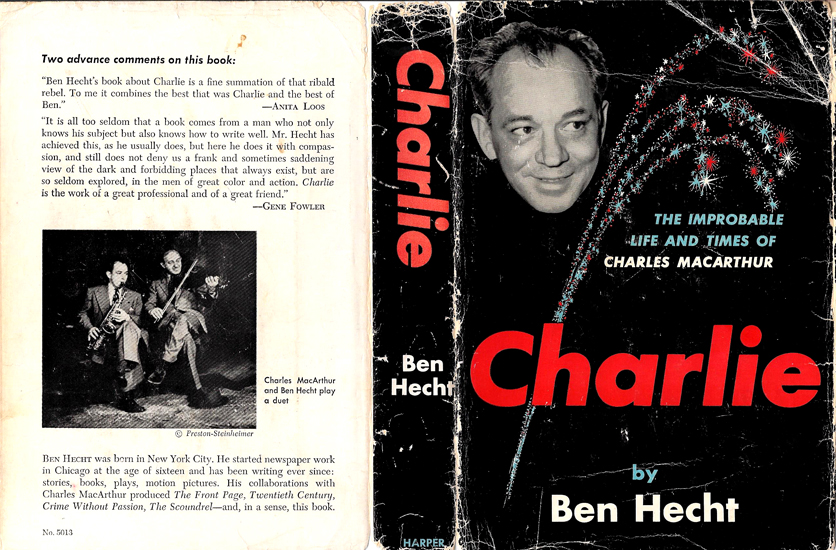 Charles MacArthur and Ben Hecht
For more books by and about F. Scott Fitzgerald, please click on the following links: