Yes, we Accept: PAYPAL,
Venmo & SQUARE
We are always interested in purchasing, whether you have a single item or an entire collection for sale.
© 2022 Mt. Gothic Tomes
"... My whole theory of writing I can sum up in one sentence: An author ought to write for the youth of his own generation, the critics of the next, and the schoolmasters of ever afterward ...." from The Author's Apology, THIS SIDE OF PARADISE, 1st edition, 3rd printing, 1920.
Please note: all our F. Scott Fitzgerald signatures and/or inscriptions have verifiable provenance. We invite you to inquire about any of the signed or inscribed Fitzgerald books that are of interest to you.
THE BEAUTIFUL AND DAMNED, 1922
First edition, second printing in second printing dust jacket, inscribed by F. Scott Fitzgerald to Henry Kingsley -- aka, Charles Kingsley, Scribners' representative in London, England.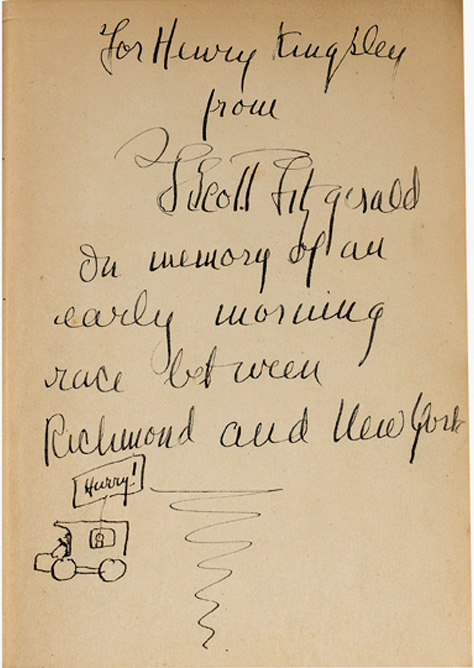 Charles Kingsley was asked by Scribners to take over their London office
right after the First WW in 1919. He moved to London with his family, and they rented a house in Richmond, known as the Old Palace. It was actually the gatehouse on Richmond Green and what little remains of a palace built by Henry the Vlll. And therefore, Fitzgerald's playful use of the name "Henry" being substituted for "Charles" in this inscription.

The inscription intended to commemorate Fitzgerald's afternoon with Charles Kingsley; and Fitzgerald requested for an advance for his trip out of Richmond. (Reference: descendent of Charles Kingsley from whom this book was acquired.)

Original second state dust jacket is very lightly sunned on the spine; chipped on head and toe; as well as chipped on front and back panels. The dust jacket was married to this book; however, it is a highly appropriate match as the light sunning on the jacket matches that of the spine on the book, as well as much of the rest of the condition on both jacket and book.
Both front and back panels are in very good condition, as are the inside flaps. Provenance for this inscription and signature is available.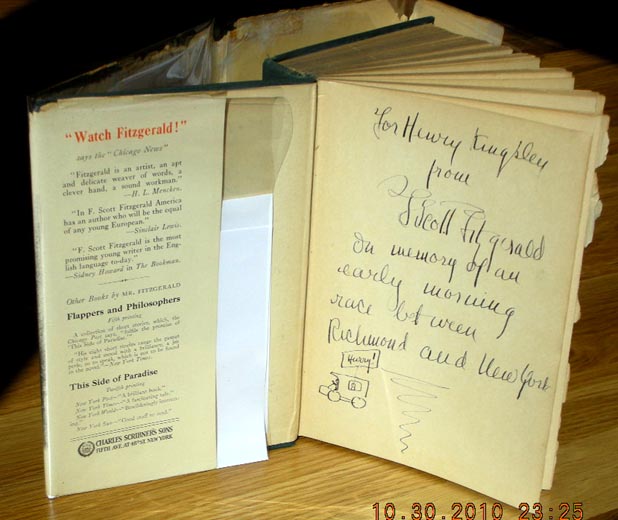 For more books by and about F. Scott Fitzgerald, please click on the following links: