Yes, we Accept: PAYPAL,
Venmo & SQUARE
We are always interested in purchasing, whether you have a single item or an entire collection for sale.
© 2022 Mt. Gothic Tomes
___________________________
RECOLLECTIONS OF NEW YORK CHIEF OF POLICE
By George W. Walling

AND HISTORIC SUPPLEMENT OF THE DENVER POLICE, A Review from Earliest Days to Present Time (1890). By. A. Kaufmann
An Official Record of Thirty-Eight Years as Patrolman, Detective, Captain, Inspector of Chief of the New York Police. Illustrated from Original Drawings and Photographs. Specially Issued for the Benefit of the Denver Police Mutual Aid Fund
1890
Copyright by Caxton Book Concern, Limited, 1887. Original brown cloth, gold-embossed binding; 675 pages, plus Roster of the Denver Police Department, and a 58-page directory of businesses and advertisers. Walling's memoirs are contained with 608 pages; the remainder concerns the Denver Police. Condition: very good; strong binding; bright and clean pages; some light fraying to top and bottom of spine; original endpapers replaced by marbled endpapers.
_______________________________________________
GENERAL LAWS OF THE STATE OF COLORADO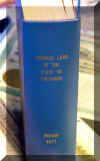 Comprising that Portion of the Revised Statutes of Colorado, and the General Acts of the Subsequent Legislative Assemblies of Colorado Territory for the Years 1870, 1872, 1874 and 1876, still remaining in force, and the General Laws enacted at the First Session of the General Assembly of the State of Colorado, convened November 1, 1876. Together with the Declaration of Independence, The Constitution of the United States, and the Amendments thereto, the Enabling Act, The Constitution of the State of Colorado, and the Proclamation of the President of the United States declaring the Admission of the State. Published by Authority. Denver: Tribune Steam Printing House, 1877. Rebound in modern blue cloth; new endpapers; original 1152 pages, with index. Condition: very good plus.
Price: $750.00
______________________________________________________
PORTFOLIO OF STATE CAPITOL
OFFICIALS AND MEMBERS OF THE TENTH GENERAL ASSEMBLY, COLORADO, 1895
Compiled and Published by The Williamson-Haffner Engraving Co., Denver, Colorado. Original green cloth binding with gold-embossing on front cover. Includes an article by E.E. Myers, Architect, "Description of the Colorado State Capitol." This is an illustrated 11-page article on the design and construction of the Colorado Capitol building with detailed floor plans. Throughout the remainder of this 80-page book are photographs of the Capitol interior, images and details of State House and Senate members. Condition: very good plus; bright and clean pages.
Price: $550.00
_____________________________________________________
PROVISIONAL LAWS AND JOINT RESOLUTIONS PASSED AT THE FIRST AND CALLED SESSIONS OF THE GENERAL ASSEMBLY OF JEFFERSON TERRITORY

Held At Denver City, J.T. (Jefferson Territory), November and December, 1859, and January, 1860. Published by Authority, Omaha, N.T. (Nebraska Territory): Robertson & Clark, Printers, 1860. This edition was published in 1935, by Courtright Publishing Company. 150 copies were published, bound in black morocco by the Publisher's Press Rooms and Bindery, 1842 Stout Street, Denver, Colorado, In the early 1960s, E.K. Koon, of Courtright Publishing, found 8 unbound copies of this 1935 publication when the Company was moving its inventory and equipment to the Empire Building, Denver. Fred Mazzulla acquired this 8-copy over-run. Subsequently, one unbound copy was found to be defective. Another copy was sold to Fred Rosenstock, a noted Denver book dealer. In August 1968, Fred Mazzulla had the other 6 copies bound by Lou Dieter of the Dieter Bookbinding Company. The book presented here is one of the six specially bound over-run copies of the 1935 edition discovered by E.K. Koon. In 1926, an 1860 original edition of this publication was sold by the Hudson Book Company for $3,000.00. Seven original editions of this publication have been catalogued; all of which are in institutions. This edition is bound in leather with gold print on spine. Frontispiece of Robert W. Steele; 303 pages; indexed. Also included, a copy of letter from Fed M. Mazzulla to Henry A. Fontaine, Jefferson County Public Library, giving the details of the history of this book. Condition: very fine.