Yes, we Accept: PAYPAL,
Venmo & SQUARE
We are always interested in purchasing, whether you have a single item or an entire collection for sale.
© 2021 Mt. Gothic Tomes and Reliquary, LLC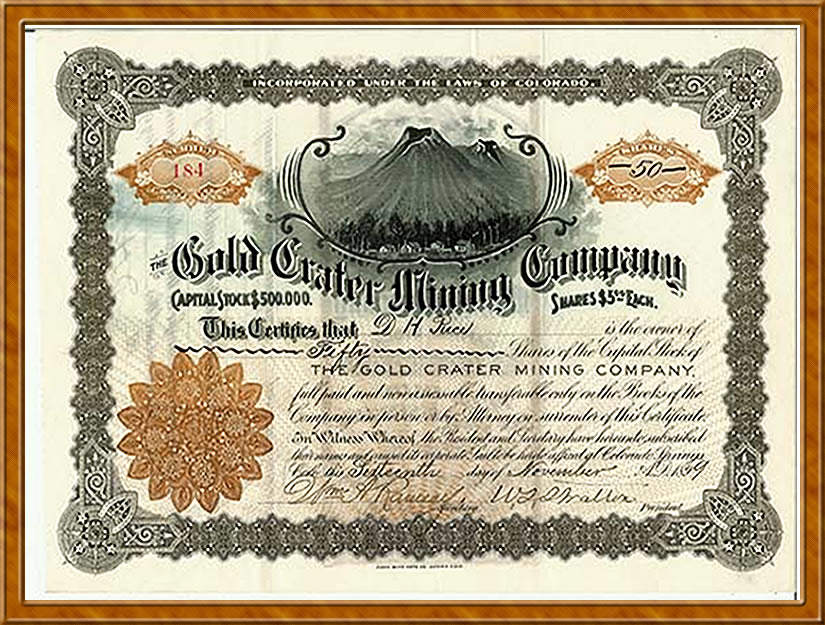 NELL'S TOPOGRAPHICAL AND TOWNSHIP MAP OF PART OF THE STATE OF COLORADO, exhibiting The San Juan, Gunnison & California Mining Districts, 1880.
Compiled from U.S. Government Surveys & other authentic Sources by Louis Nell, Civil Engineer, Stone & Co., General Agents, Denver. Note: This is an advance sheet of a Map of the whole State of Colorado, which will be published sometime during the Month of June 1880. Dimensions: 26 inches and 29 inches. Entered according to Act of Congress in the 1880 by Louis Nell in the Office of Librarian of Congress at Washington D.C. This map is the first Louis Nell published on any part of Colorado. With its publication, Nell's initiated a long series of highly detailed, excellent quality maps of Colorado, spanning the years 1880 through 1907.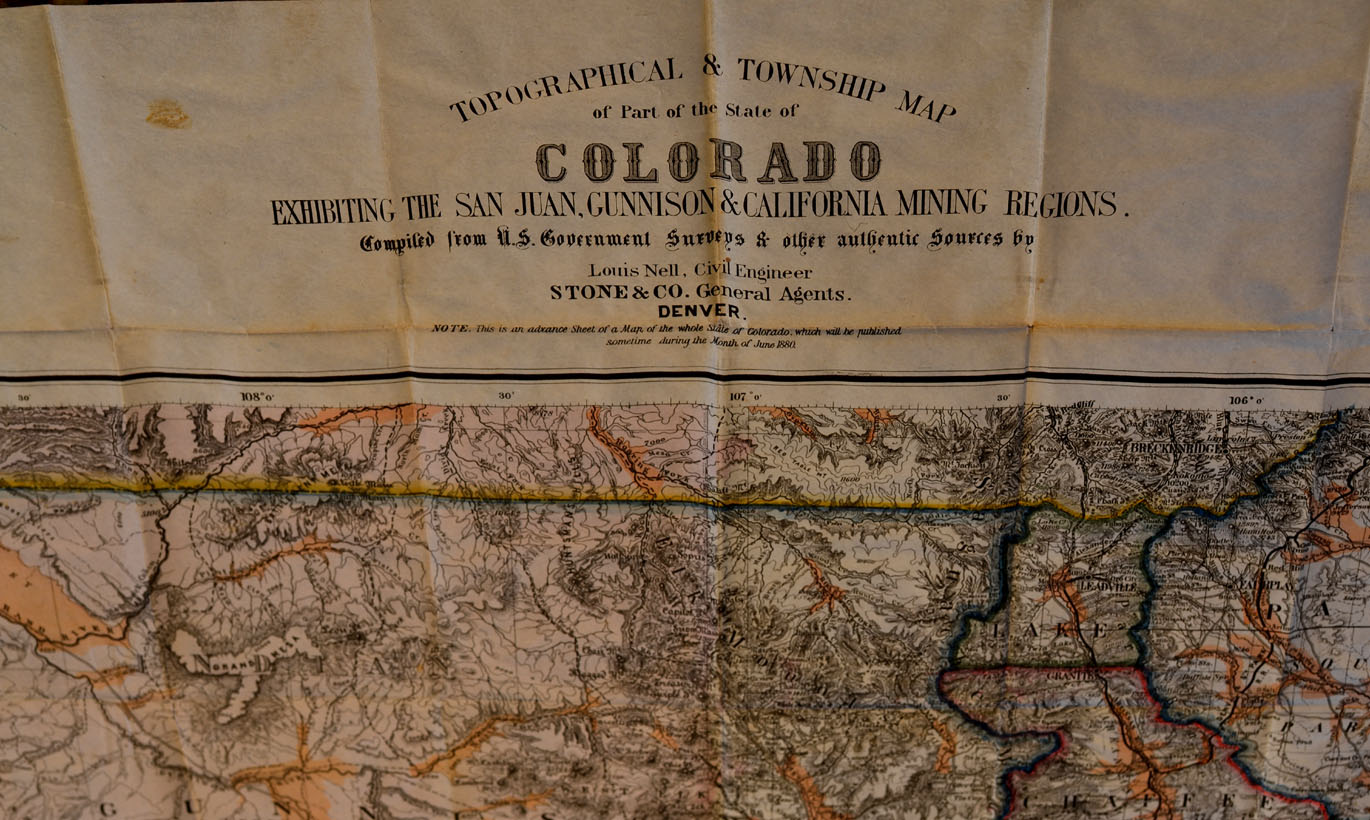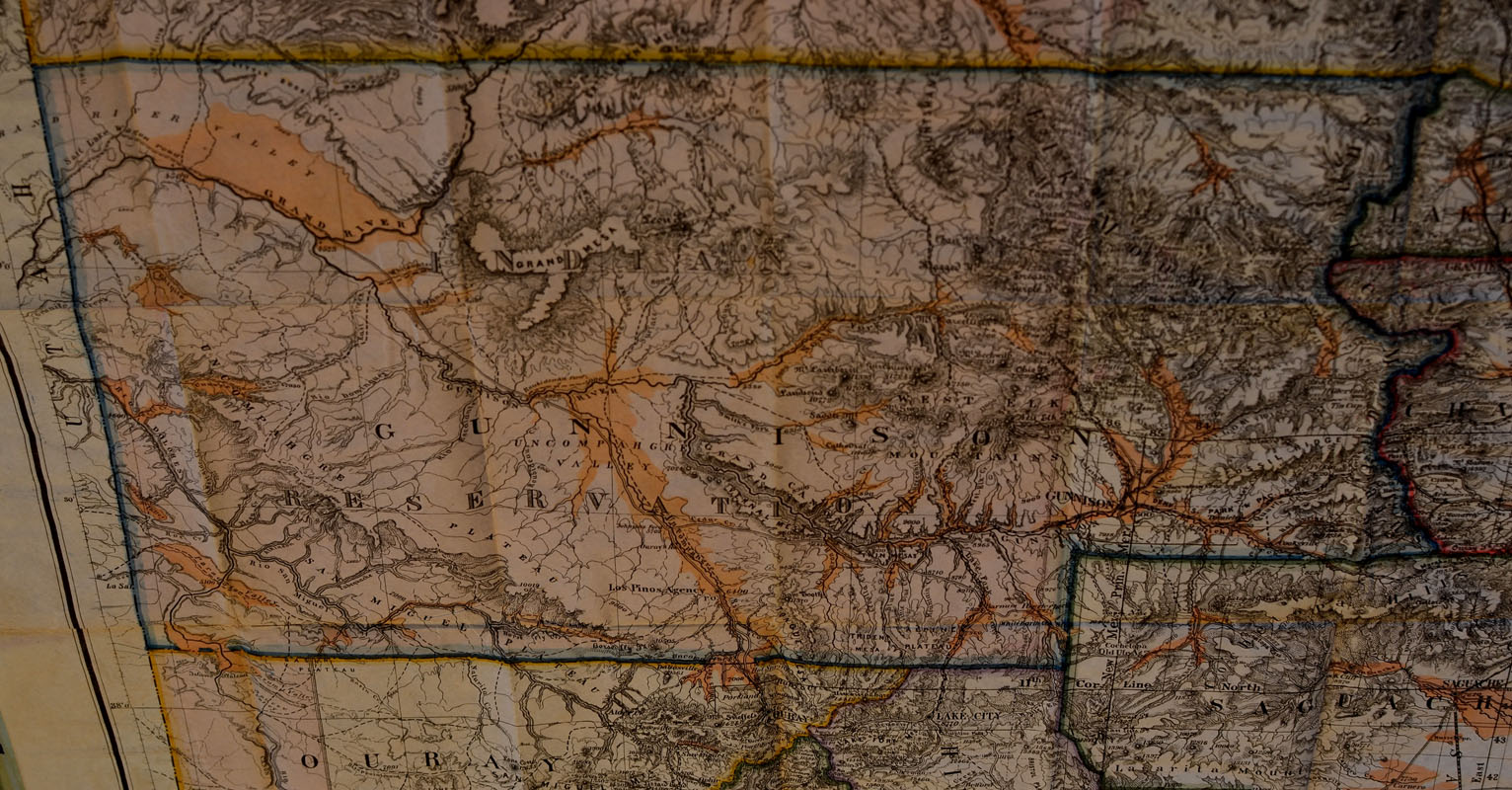 This particular map shows southwestern Colorado in transition, mostly due to it being largely unexplored. Note that Gunnison County is much more expansive than it is today, most of it being encompassed by the UTE INDIAN RESERVATION. Other notable details: a) the new town site of Aspen is located within Gunnison County, as is the entire Roaring Fork Mining District; b) the new town site of IRWIN and the Ruby Mining District is located and labeled – the mineral rush to the area being less than 6 months old; c) Hillerman, Tin Cup and Pitkin are labeled as being more significant than Crested Butte; d) Gothic is also labeled as being more significant than Crested Butte; e) "Wheatstone" is distinctly labeled as opposed to "Whetstone;" f) the Los Pinos Indian Agency is labeled in the southern part of Gunnison County; g) The Denver & Rio Grande Railroad is drawn leaving Denver, passing over La Veta Pass to Alamosa through Conejos and the Southern Ute Indian Agency to Animas in the southern San Juan Mountains, and the route to Gunnison over Marshall Pass is only "Proposed;" h) there is no town of Telluride listed yet; i) The Denver, South Park & Pacific Railroad is proposed over Alpine, through the Alpine Tunnel, down to Pitkin, and into Gunnison, but has not as yet completed to those locations; j) there are no railroads servicing the mining areas in and around Crested Butte, although gold, silver and coal districts are labeled; k) Lake City, Ouray, and Silverton are located; l) Howeville is labeled where the town site of Almont now exists; m) Highland is labeled for what became known as Ashcroft; plus many other early locations that changed with the years. OTHER THAN THE ASTOUNDING DETAIL THE SIGNIFICANCE OF THIS MAP IS THAT IT IS ONE OF THE EARLIEST KNOWN LOCATING TOWNS, MINING DISTRICTS AND CAMPS, MINERAL DEPOSITS, ROADS AND TRAILS, POST OFFICES AND VILLAGES, and important topographical features OF GUNNISON COUNTY, COLORADO. Note: Gunnison County stretches all the way to the border of the Utah Territory. Condition: very good plus to near fine; original gold-printed, burgundy cloth covers are not present.
Framed example, map without original cloth covers. SOLD
NELL'S MAP OF CENTRAL AND SOUTHWESTERN COLORADO, 1880, original pocket map.
NELL'S MAP OF COLORADO, 1880, pocket map
NELL'S MAP OF COLORADO, 1885, original pocket map.
NELL'S MAP OF COLORADO, 1889, original pocket map.
Nell's Topographical Map of the State of Colorado. Published by The Kendrick Book and Stationery Company, Denver, 1907. The Friedenwald Company, Photo-Lith., Baltimore.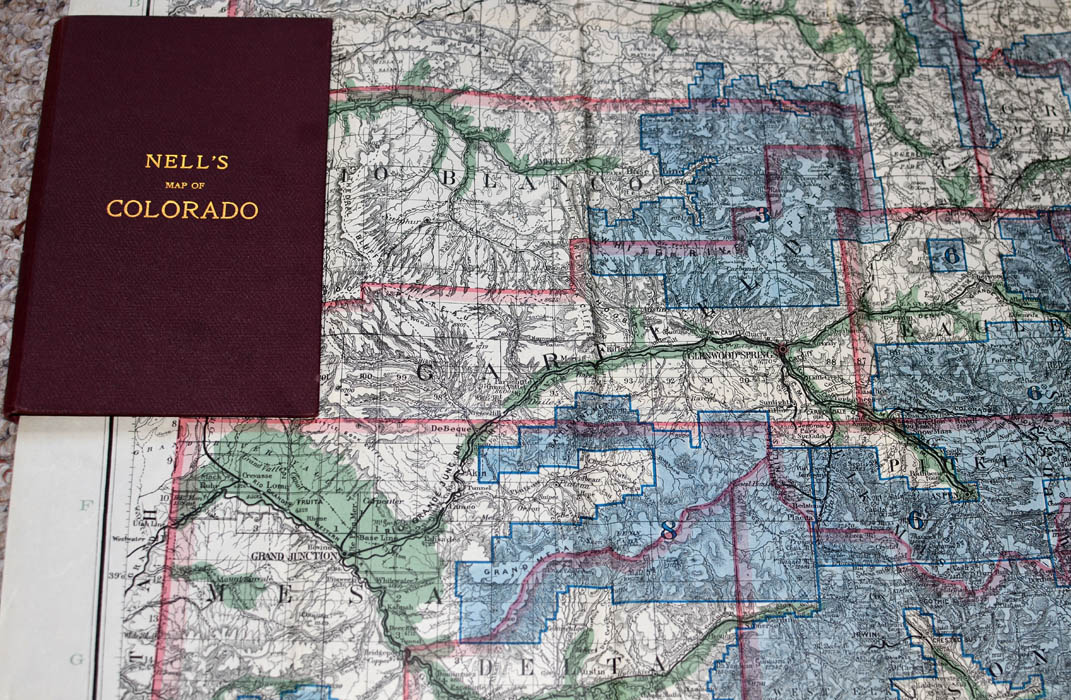 Dimensions: approximately 42 inches by 32 inches. Scale: 1 inch = 10 miles. Copyright by Louis Nell, Denver, Colorado, 1903. Designations of Forest Reserves. Complete with original gold-printed burgundy cloth covers and 12-page booklet: Index to Nell's Map of Colorado, showing population, census of 1900, of counties, cities and post offices. Also heights of mountain peaks. Special features of the map: gives the wagon roads and trails; the altitude of cities, towns, mountains, peaks and passes, timber reserves and irrigable lands. The Kendrick Book and Stationery Company, 801 - 805 Sixteenth Street, Denver, Colorado. C.A. Kendrick, president; and, H.E. Bellamy, vice president. Condition: near fine; map is clear, clean, and concise with some light and professional conservation to back folds; cloth covers are clean and bright.