Yes, we Accept: PAYPAL,
Venmo & SQUARE
We are always interested in purchasing, whether you have a single item or an entire collection for sale.
© 2022 Mt. Gothic Tomes
ROLLANDETíS MAP OF THE CITY OF DENVER, Pocket Edition, April 1st 1891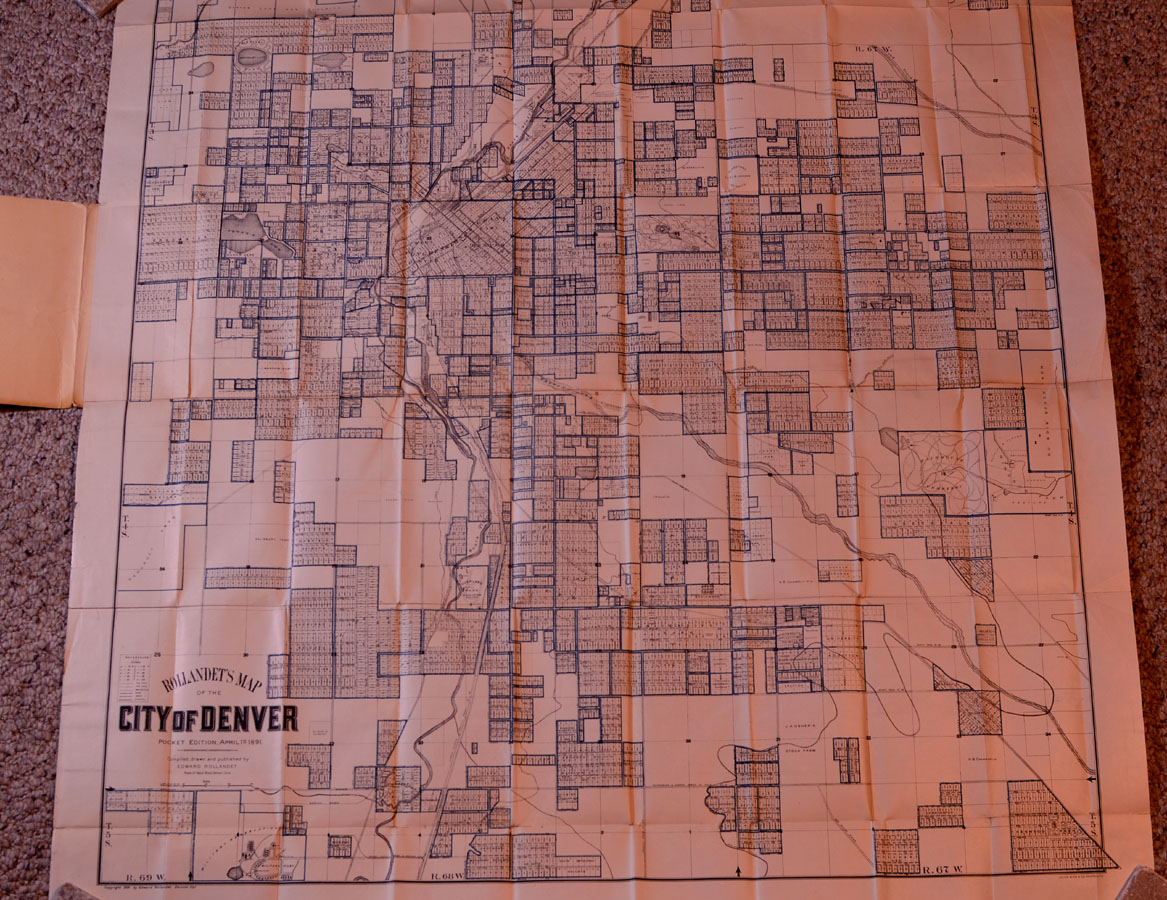 Rollandet, Edward. ROLLANDETíS MAP OF THE CITY OF DENVER, Pocket Edition, April 1st 1891, compiled, drawn and published by Edward Rollandet, Room 51, Tabor Block, Denver, Colo. Copyright 1891 by Edward Rollandet. Julius Bien & Co. Photo. Lith. Details include: City of Denver and additions; streets, blocks, and lots; topographical; railroads; townships; parks; rivers, streams, and lakes. 3-color. Dimensions: 35-1/2 inches in width and 36 inches in height. Very good condition in original stiff printed cream wrappers: reinforcement of hinges on back of map, also at corners of folds.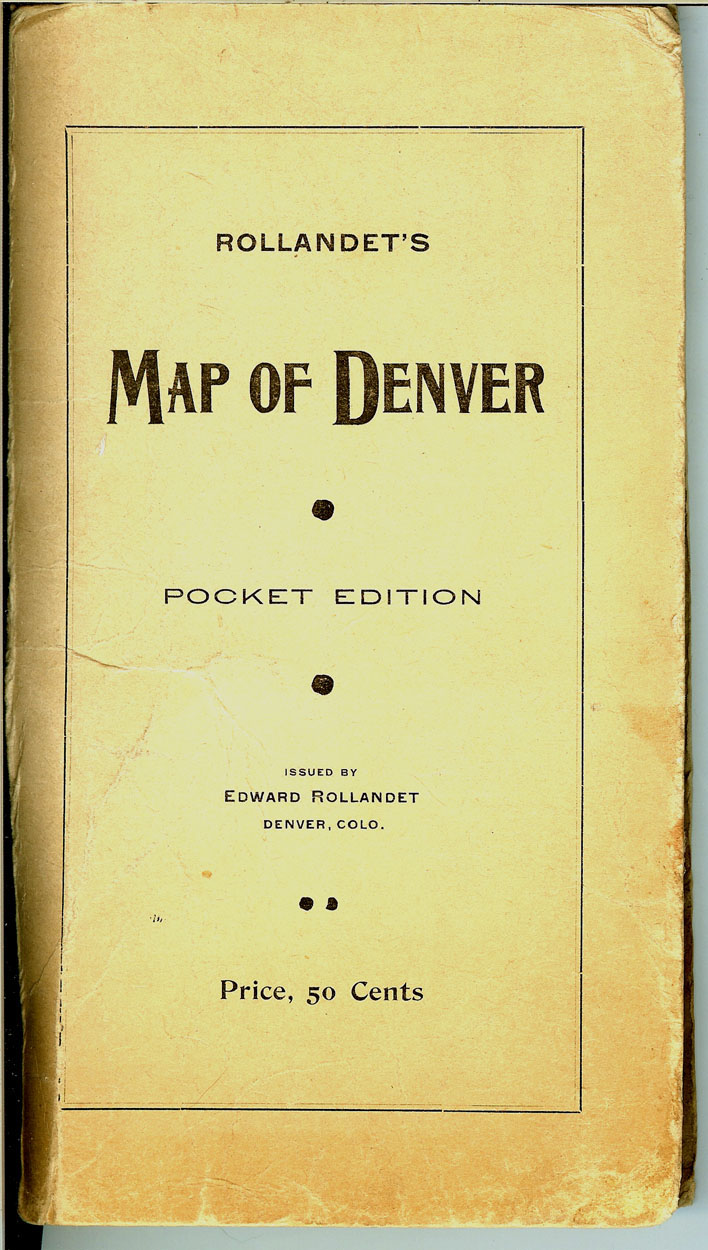 TOURISTSí MAP OF THE PIKEíS PEAK REGION IN COLORADO, 1884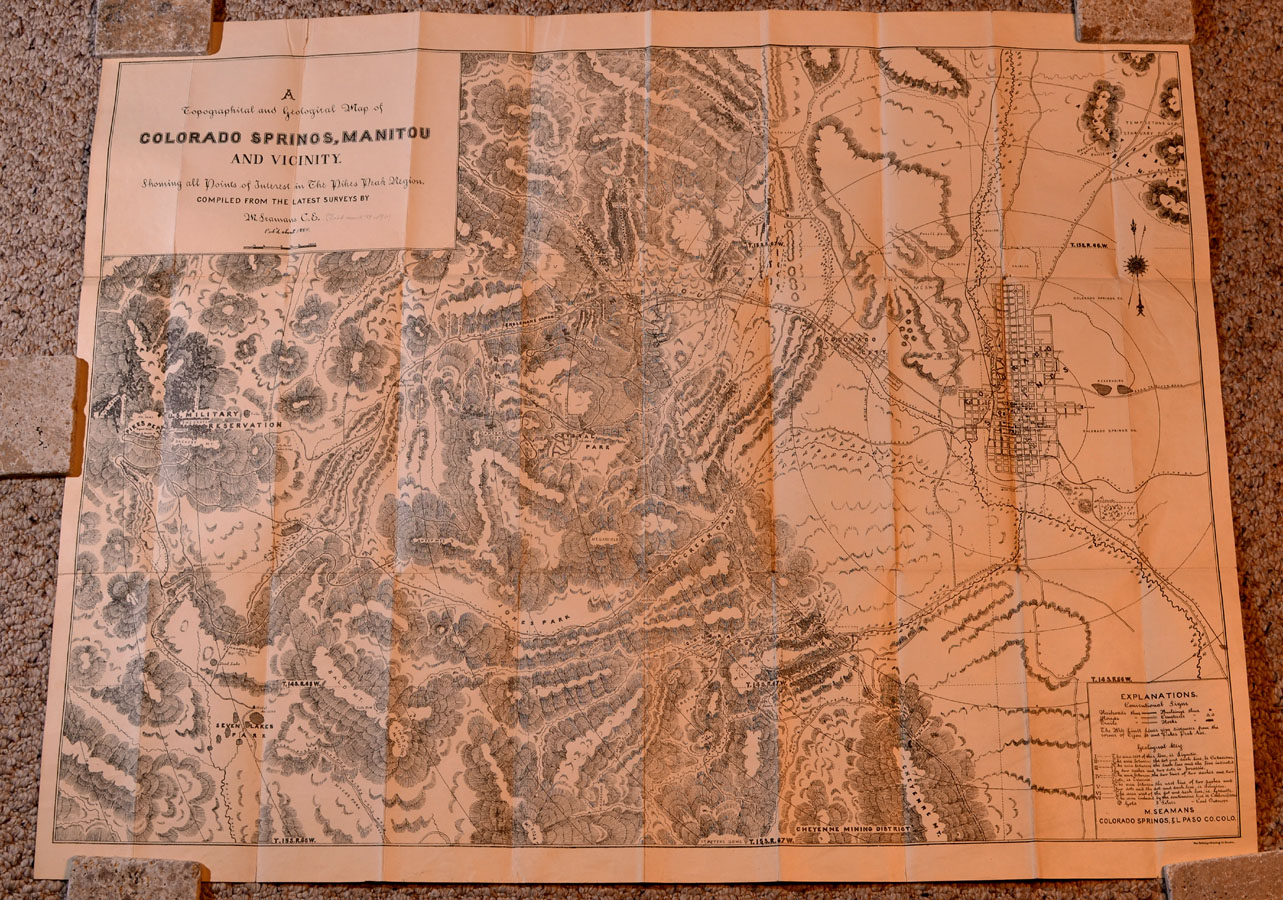 Seamans, Y.M., C.E. TOURISTSí MAP OF THE PIKEíS PEAK REGION IN COLORADO, A Topographical and Geological Map of Colorado Springs, Manitou and Vicinity, Showing All Points of Interests in the Pikeís Peak Region Compiled from the Latest Surveys. Published circa 1884 by The Heliotype Printing Company, Boston. Y.M. Seamans, Colorado Springs, Colorado. Includes plats of Colorado Springs, Colorado City, and Manitou Springs, and surrounding settlements; roads, railroads, and trails; townships and topographical features; U.S. Military Reservation at base of Pikeís Peak; Denver & Rio Grande Railroad. Dimensions: 28 inches in height and 36 inches in width; thick bond paper. Overall condition: very good plus; conservation repair on reverse along some fold lines and corners. In original printed stiff wrappers; condition: good plus.
SOLD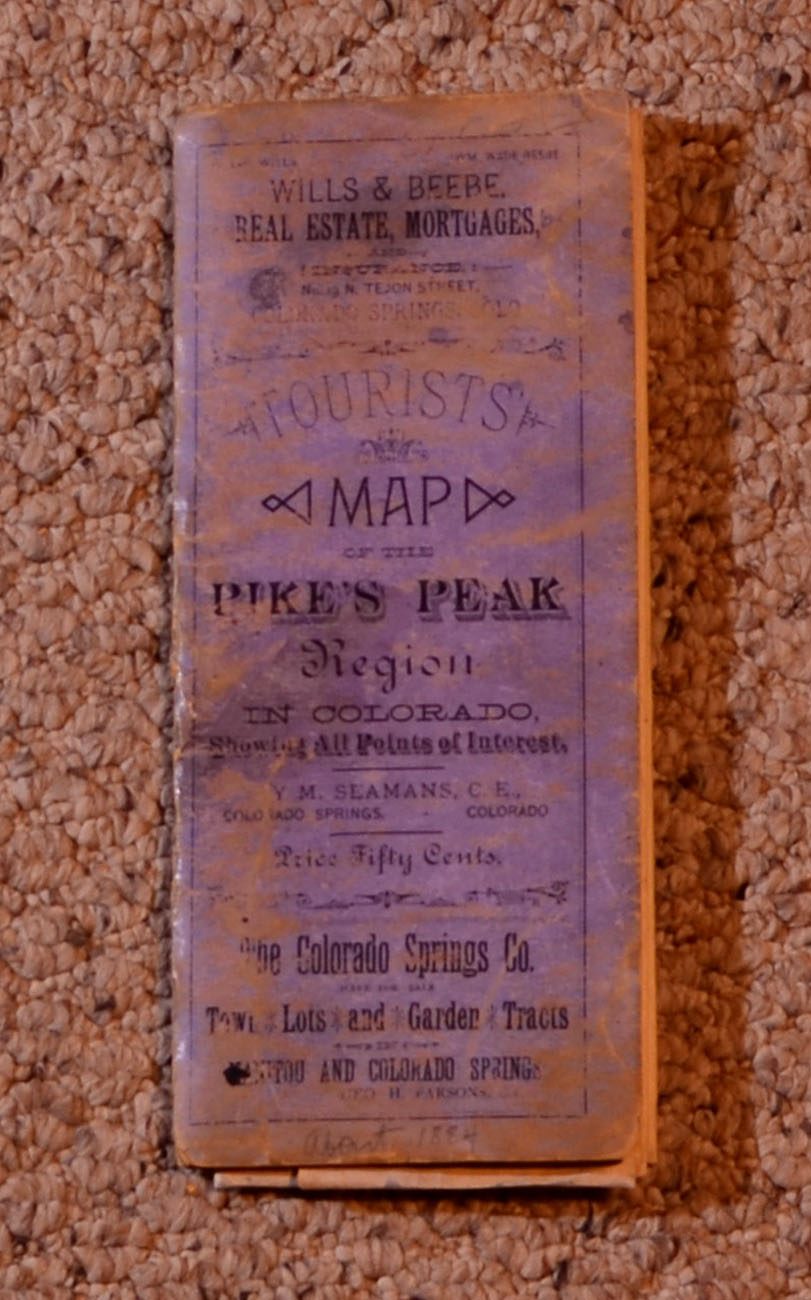 THAYERíS NEW MAP OF THE STATE OF COLORADO, 1878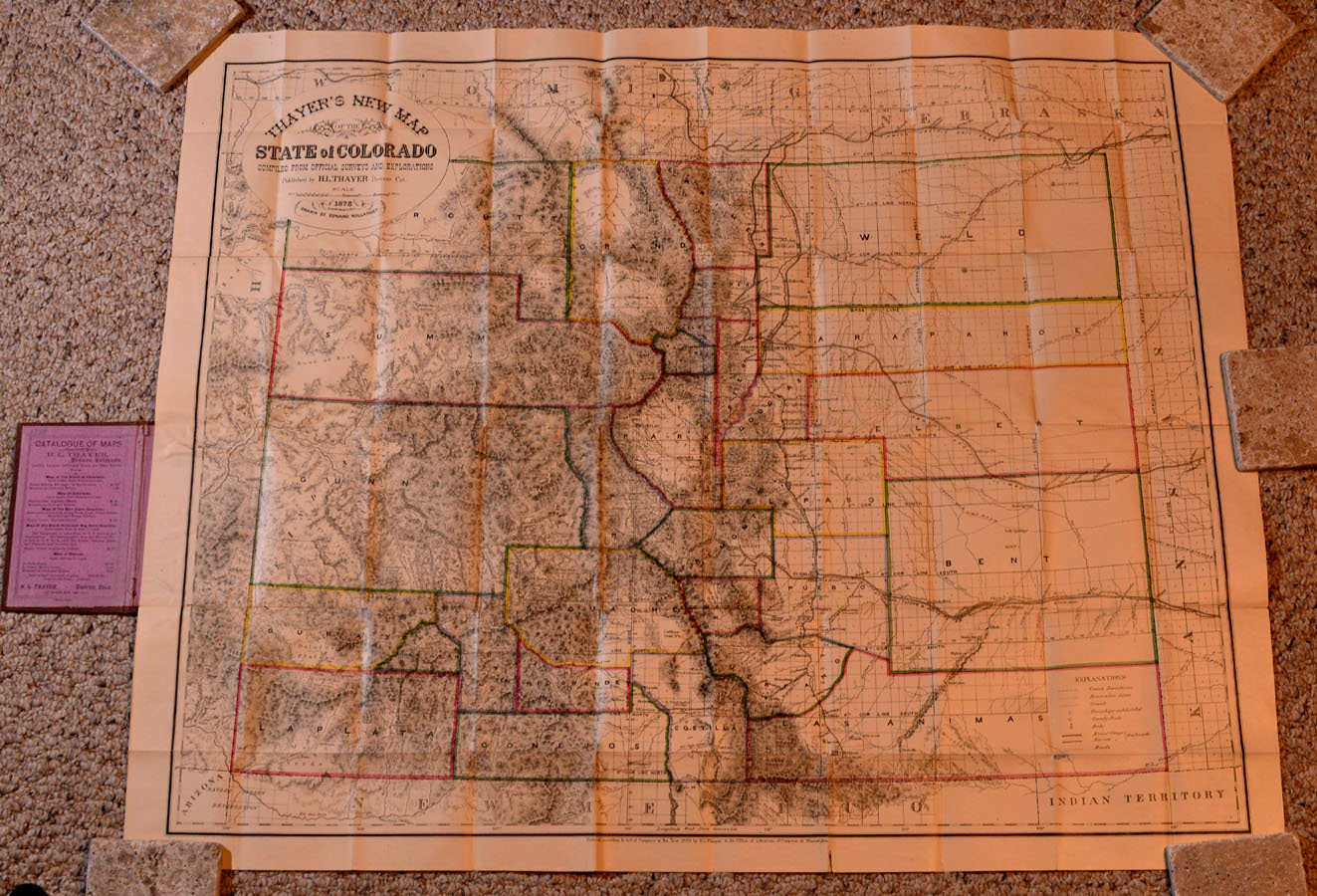 Thayer, Homer L. Thayerís New Map of the State of Colorado compiled from Official Surveys and Explorations, published by H.L. Thayer, Denver, Col., 1878. Drawn by Edward Rollandet. Lithograph map; counties outlined in various colors. Dimensions: 33-1/2 inches in width by 27 inches in height. In original brown cloth covers with tipped on title on front cover. Condition: very good plus, with some conservation reinforcement to some hinges and corners on back of map.
SOLD
PIKES PEAK PANORAMA, 1890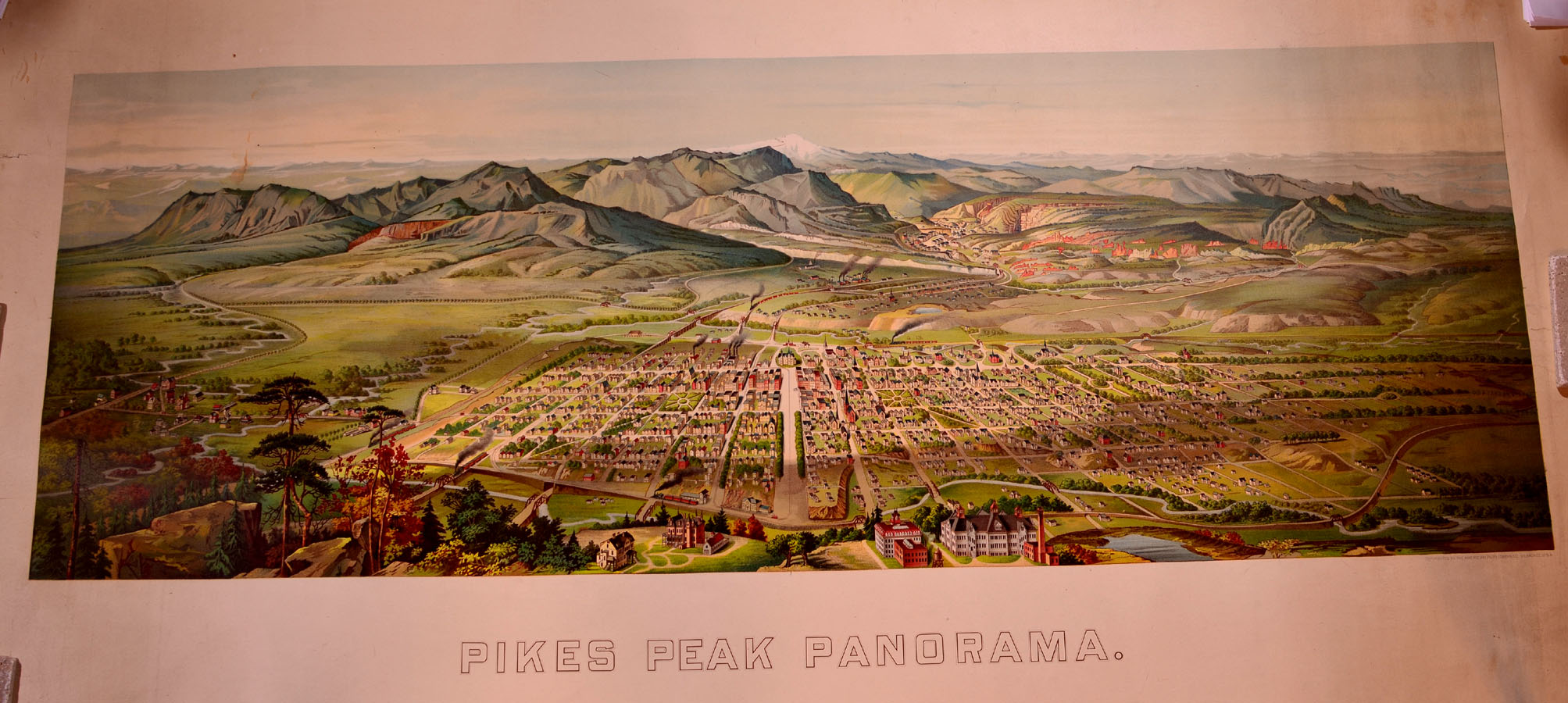 Wellge, Henry H. PIKES PEAK PANORAMA. Perspective map (birdís-eye-view) not drawn to scale, yet includes streets, blocks, buildings, and town additions.. Publisher: American Publishing Co., Milwaukee, Wisconsin, 1890. Dimensions: 48 inches in width by 24 inches in height. 4-color birdís-eye-view locating west from an imaginary location above the Printerís Home at the far east of the city limits. Highly detailed with Pikes Peak and mountains nearby. Several tears in borders repaired with conservation material on back. Very good plus condition.
SOLD