Yes, we Accept: PAYPAL,
Venmo & SQUARE
We are always interested in purchasing, whether you have a single item or an entire collection for sale.
© 2024 Mt. Gothic Tomes
(Rand, McNally & Co.'s) INDEXED COUNTY AND TOWNSHIP POCKET MAP AND SHIPPERS' GUIDE, COLORADO, 1911. Rand, McNally & Co.: Chicago and New York, Map Publishers and Engravers. Accompanied by a New and Original Compilation and Ready Reference Index, Showing in Detail the Entire Railroad System, The Express Company doing business over each Road, and Accurately Locating all the Cities, Towns, Post Offices, Railroad Stations, Villages, Counties, Island, Lakes, Rivers, etc. The Special Features of this Pocket Map are: Locating the Branch or Particular Division of Railroad upon which each Station is situated; the nearest railroad point of all local places; designating money-order post-offices; telegraph stations; and naming the express company doing business at the points where the several companies have offices. Population is given according to the 1900 Official Census. 62-page booklet/index. 5-color detailed Colorado map. Dimensions: 27-1/2 inches across by 21 inches in height. Near fine condition. Price: $325.00
Denver block, lot and plat map, circa 1887. Chas. H. Sage & Co.
(Sage, Charles H.) DENVER, COLORADO ADDITIONS, LOT AND BLOCK MAP, circa 1887. Chas. H. Sage & Co., "Our Specialty: Property on Rapid Transit Lines. Low Prices. Perfect Titles. Square dealing." Issued by Chas. H., Sage & Co., Real Estate Dealers, 1646 Arapahoe Street, Denver, Colo. 3-color map with the following dimensions: 33-1/4 inches across by 25 inches in height. Shows Kansas Pacific Branch of the Union Pacific Railroad; Denver, Texas & Gulf Railway; Denver, South Park & Pacific Railway; Denver & Santa Fe Railway; Denver & Rio Grande Railway. City Park in green. Section and quarter-section lines. Additions: Boston Heights; Villa Park; Evanston; Sheridan Heights; Berkeley and Berkeley Park; Gladstone Heights; Irvington; Swansea, etc. Since Fairmount Cemetery is not located on this map and was established in 1889-1890, we have dated this historical piece to be circa 1887. Very good condition; some conservation on back of hinges.
SOLD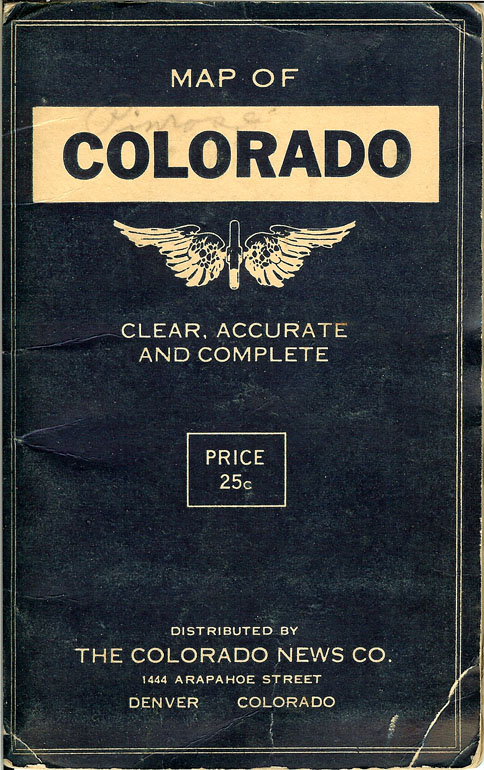 (Smith-Brooks Printing Co.) MAP OF COLORADO, circa 1918. Pocket map in original blue folder. "Clear, Accurate and Complete." Distributed by The Colorado News Company, 1444 Arapahoe Street, Denver, Colorado. Map Title: SMITH-BROOKS MAP OF COLORADO. Map dimensions: 21-1/2 inches across by 17-1/4 inches in height. Red, green and black print. Index of Colorado Towns and Cities along right-hand margin. State and national highways identified in red: Albert Pike Highway; Burlington Highway; Colorado to Gulf; Dallas-Canadian-Denver; Denver-Joplin; Denver-Lincoln-Detroit; Golden Belt; Golden rod; Kansas-Colorado Boulevard; Lincoln; National Old Trails road; National Roosevelt-Midland Trail; Pike's Peak to Ocean; Rainbow Route; Rocky Mountain; Spanish Trail; Union Pacific; and, Victory. Good plus condition: 3 inch strip of tape removed frtom near center of map with some paper loss. Price: $75.00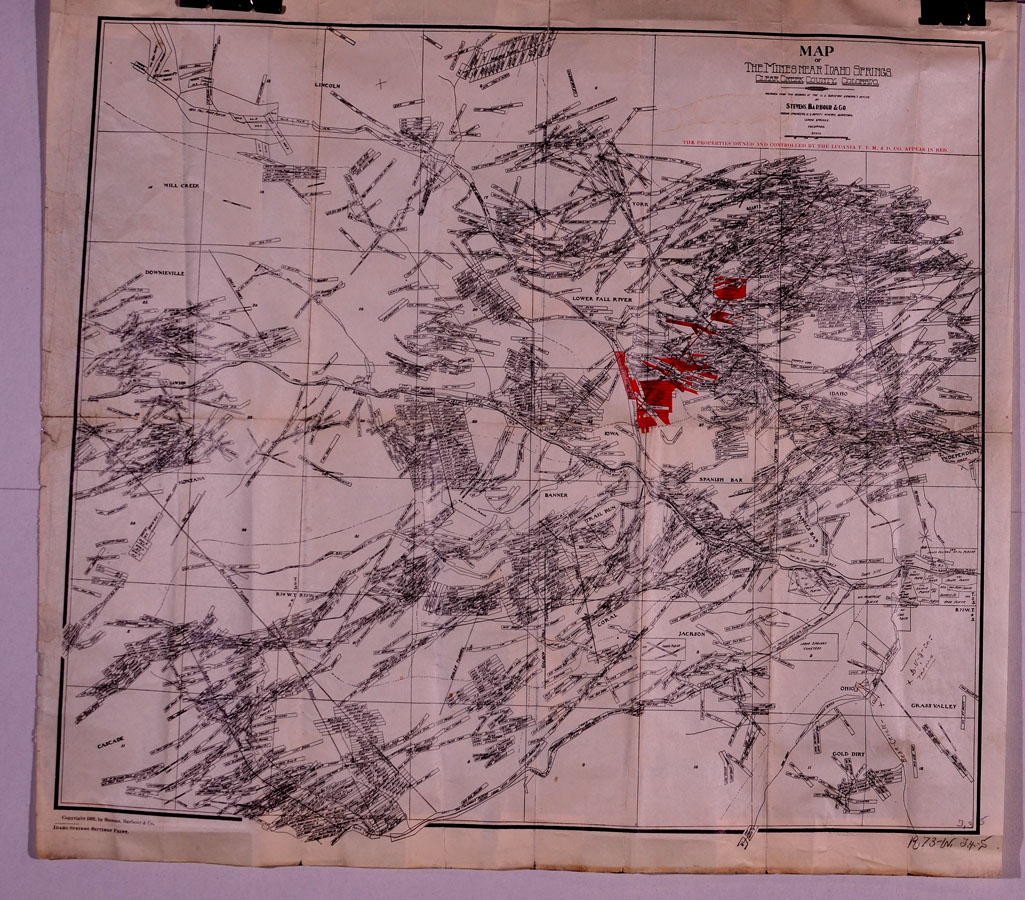 (Stevens, Barbour & Co.) MAP OF THE MINES NEAR IDAHO SPRINGS, CLEAR CREEK COUNTY, COLORADO, 1902. Prepared from the records of the U.S. Surveyor General's Office by Stevens, Barbour & Co., Mining Engineers, U.S. General Surveyors, Idaho Springs, Colorado. Dimensions: 18-3/4 inches across by 17 inches in height. Printed by the Idaho Springs Siftings Print, 1902. Condition: very good; folded. "The properties owned and controlled by the Lucania Tunnel, Transportation Mining & Development Company appear in red." Mining claims identified; roads and railroads; townships; towns and cities. Price: $400.00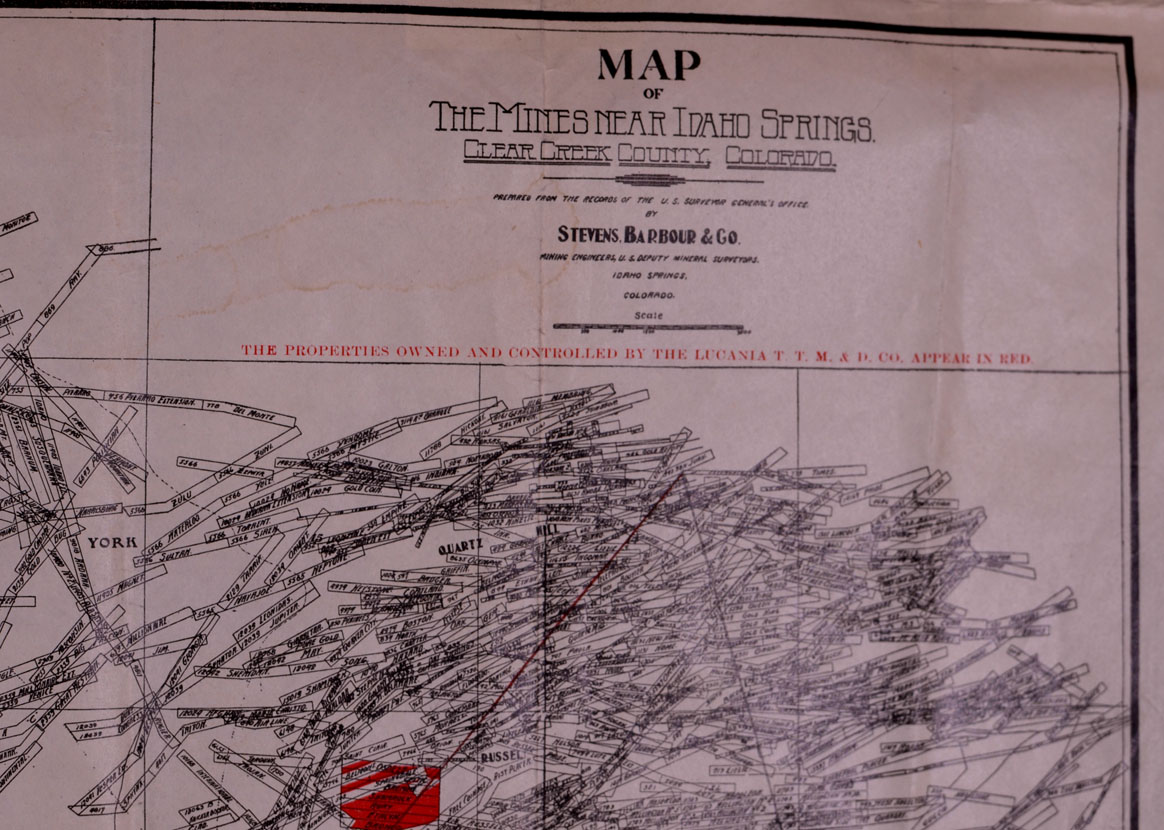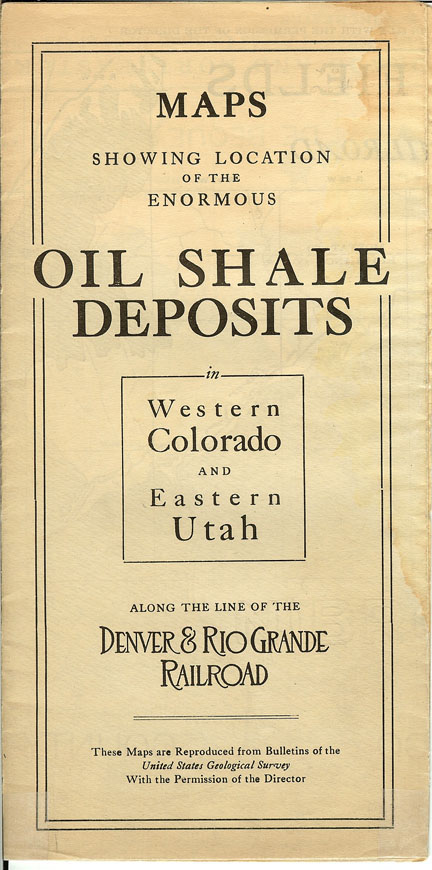 (Wadleigh, Frank A. and Winchester, Dean E.) MAPS SHOWING LOCATION OF THE ENORMOUS OIL SHALE DEPOSITS in Western Colorado and Eastern Utah along the Line of the Denver & Rio Grande Railroad. Pocket map, circa 1920. MAP OF NORTHWESTERN COLORADO AND NORTHEASTERN UTAH, Showing Areas of Green River Formation – Shaded Areas Contain Beds of Oil Shale. THE GREAT OIL SHALE FIELDS, Adjacent to the Line of The Denver & Rio Grande Railroad. "The Development of the Oil Shale Deposits Will Solve the Threatened World-Wide Oil Famine." Map of the Main Transcontinental Line of the Denver & Rio Grande Railroad adequately serves the Oil Shale Fields of Colorado and Utah. Also, Maps of Parts of Colorado and Utah showing present known extent of Bituminous Shale. Total of 3 maps on front and back of one she with dimensions of 17 inches across by 17-1/2 inches in height. The Carson Press, Denver. Two photographic illustrations. Very good plus condition; several very light stains. Price: $200.00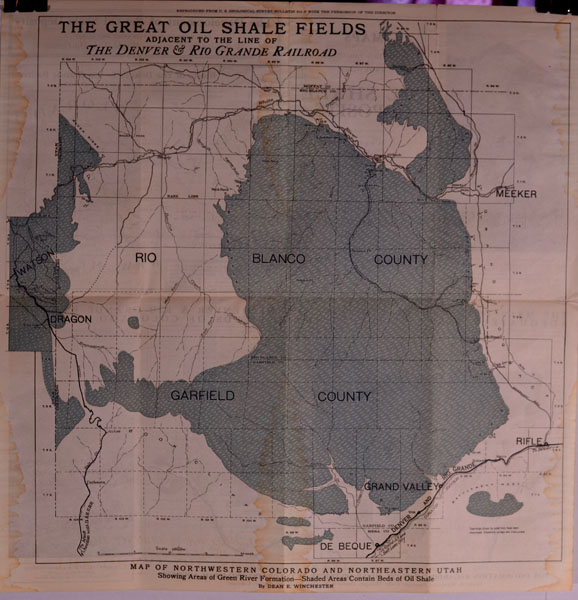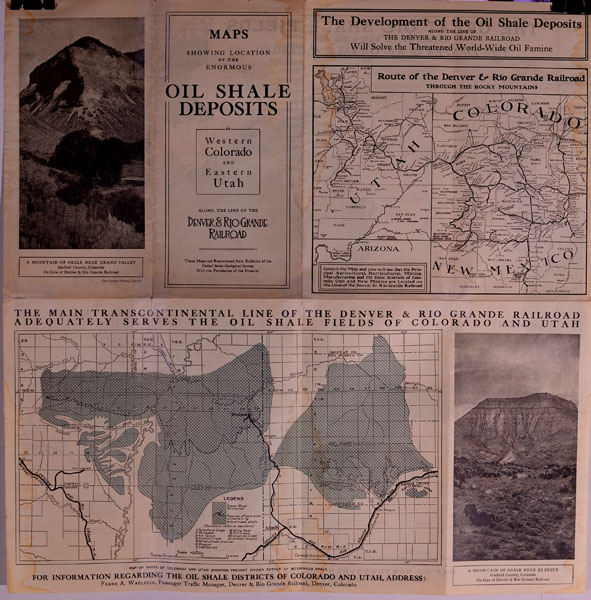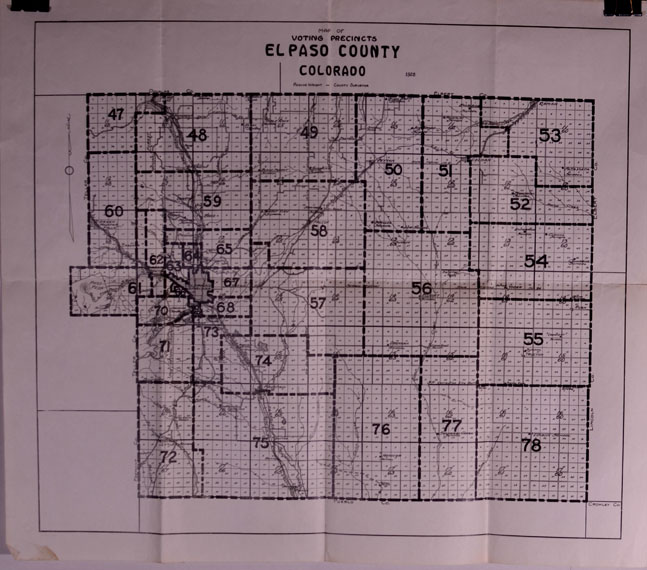 (Wright, Roscoe, El Paso County, Colorado) MAP OF VOTING PRECINCTS, EL PASO COUNTY, COLORADO by Roscoe Wright, County Surveyor, 1928. County lines; township lines; towns and cities. Dimensions: 21-1/2 inches across by 19 inches in height. Near fine condition; folded.
Price: $25.00
INDUSTRIAL MAP OF COLORADO, Second Edition, 1906, published by The Clason Map Company, Denver, Colorado. Pocket map. Original printed red cloth. Special feature: Gold Belt; Coal Fields; Forest Reserves; Irrigated Lands; Wagon Roads.